Oil: Anything can happen, and probably will
Richard Russell snippet
Dow Theory Letters
February 25, 2005
Extracted from the February 24th, 2005 edition of Richard's Remarks
The inflation/deflation battle continues. I follow 11 items that are extremely sensitive to inflation or deflation. This index has been climbing during most of February. When this Index heads higher, it is saying "inflation."
One of the eleven items in my Index is shown below. I'd say that oil and gold are the two most political items in the entire inflation/deflation universe -- Oil because every nation needs it, and gold because it's the only true money, despite what the world's central banks tell us.
The daily chart below shows that oil has established a powerful base in the 40 area, a base that will probably hold through anything except a global depression. After testing its 200-day moving average on February 5, oil has shot higher, and as you can see, oil is now well above both its 50-day MA and 200-day moving average (both of which are bullishly rising).
The P&F chart shows a target or "count" for oil at 64. With both China and India now moving to tie up sources of oil, anything can happen -- and probably will.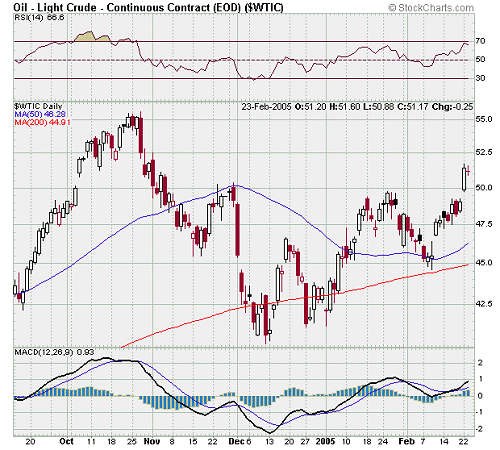 Richard Russell
Dow Theory Letters
©Copyright 2005 Dow Theory Letters, Inc.
Richard Russell began publishing Dow Theory Letters in 1958, and he has been writing the Letters ever since (never once having skipped a Letter). Dow Theory Letters is the oldest service continuously written by one person in the business.
He offers a TRIAL (two consecutive up-to-date issues) for $1.00(same price that was originally charged in 1958). Trials, please one time only. Mail your $1.00 check to: Dow Theory Letters, PO Box 1759, La Jolla, CA 92038 (annual cost of a subscription is $250, tax deductible if ordered through your business).