2 Picks in Energy for the End of 2011
Sean Brodrick
Weiss Research
October 28th, 2011
email: issues@e.weissinc.com
http://www.weissresearchissues.com
Since the previous update (August 31st), the volatility in crude oil and energy stocks has just been insane. Crude oil prices dropped about 25% and then climbed by about the same amount. Stocks have also gone through a heart-stopping roller-coaster of prices.
However, more recently, prices have recovered, and are showing strength. And one particular area of strength is dividend-paying stocks. In this final update to the Burning Oil report, Iíll tell you about two energy stocks that pay nice dividends.
First, letís look at your existing open and closed positions. In the most recent update, I recommended two additions; the Proshares Ultra Oil & Gas (DIG) and ConocoPhillilps (COP). I recommended a protective stop on DIG. I also recommended setting protective stops on the ProShares Ultra DJ-AIG Crude Oil and Kodiak Oil & Gas (KOG).
All three protective stops were hit by the huge price swings the market experienced in September and October. This is an especially bitter pill because both DIG and KOG are up nicely since then.
Here is what the portfolio shows now Ö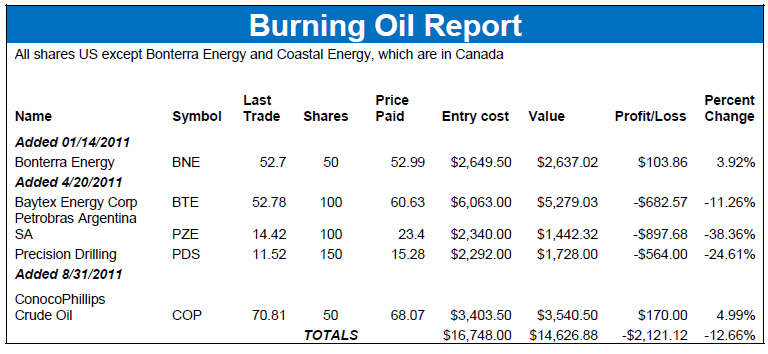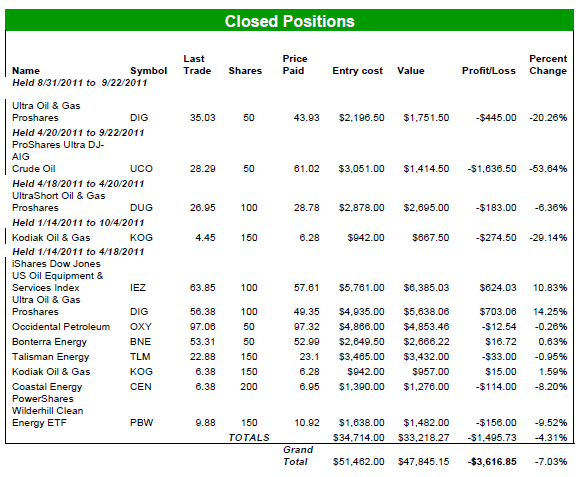 The tracked positions have reaped nice dividends on Conoco as well as Baytex Energy Corp (BTE) and Bonterra Energy (BNE on the TSX). I have added those dividends into the gains/losses on those positions. Still, the positions overall are disappointing. I did not foresee the extreme volatility in the market, and protective stops worked against many of these positions.
I continue to remain bullish on oil, and despite these huge price swings, the longer-term trend of oil remains up. Before I give you my new recommendations, here are some charts to consider...
3 Bullish Charts for Energy Prices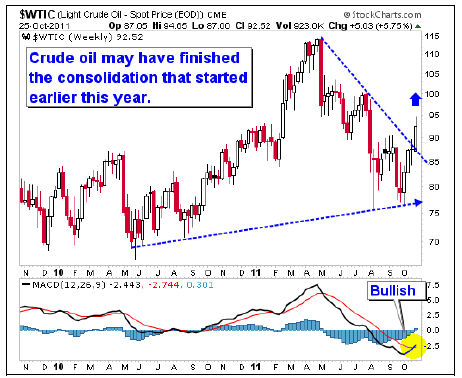 Looking at a chart of crude oil, you can see it seems to have finished the consolidation that started earlier this year. This kind of breakout gives crude oil a target of $114 a barrel.
What is driving this move in crude? I believe itís anticipated global oil demand. In 2010 the world consumed about 88.2 million barrels of oil per dayĖ2.7 million barrels per day more than in 2009. In 2011, the International Energy Agency expects that global oil demand grew by more than 1 million barrels per day to 89.3 million barrels per day.
But the big jump comes next year Ė in 2012. Thatís when the IEA expects global oil demand to expand by another 1.3 million barrels per day.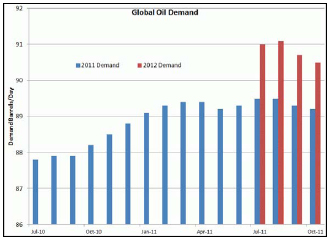 So whatís driving this expansion in oil demand? Well, itís not U.S. oil consumption, which continues to remain flat. And itís not consumption in Europe, either. Instead, itís consumption in the emerging markets, particularly the Asia-Pacific region.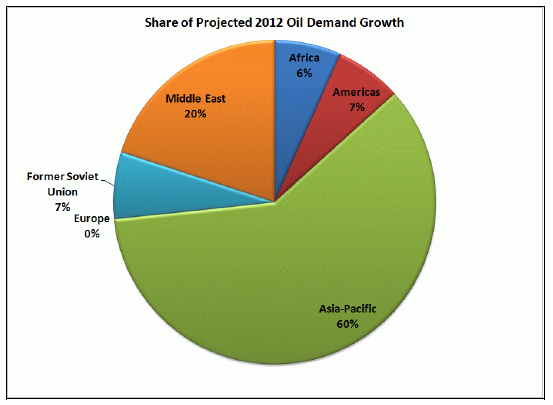 Chinaís economic growth is slowing down Ė to a projected 9.1%. In other words, Chinaís economy is expected to grow at about triple the pace of the U.S. economy. And developing markets like China are very inefficient compared to the developed world; it takes them much more energy to produce $1 of gross domestic product.
As for supply, at the end of 2010, OPECís spare capacity stood at 5.6 million barrels of oil per day. Today, sluggish non-OPEC output growth, rising demand, and supply disruptions have reduced the cabalís spare capacity to 3.25 million barrels of oil per day. Even assuming Libyaís 1.5 million barrels per day of production comes back online, oil supply will be tighter at the end of this year than it was at the end of last year. And thatís a big supporter of oil prices.
With the big picture firmly in mind, here are charts of your existing positions...
Bonterra Energy Corp. (BNE on the TSX)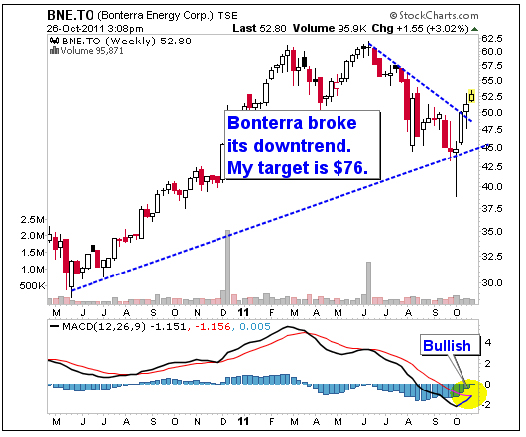 Baytex Energy (BTE)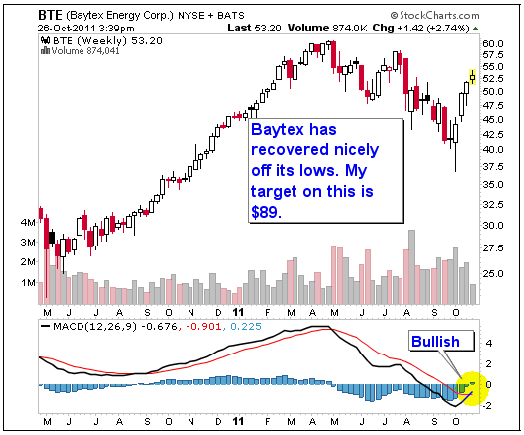 Petrobras Argentina (PZE)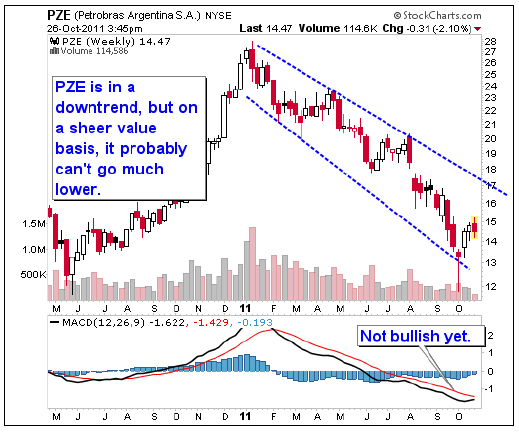 Precision Drilling Corp. (PDS)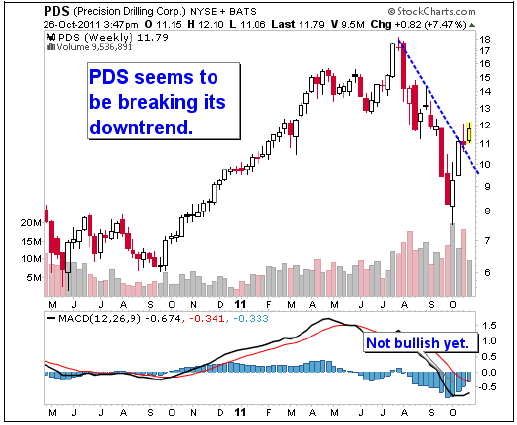 ConocoPhillips (COP)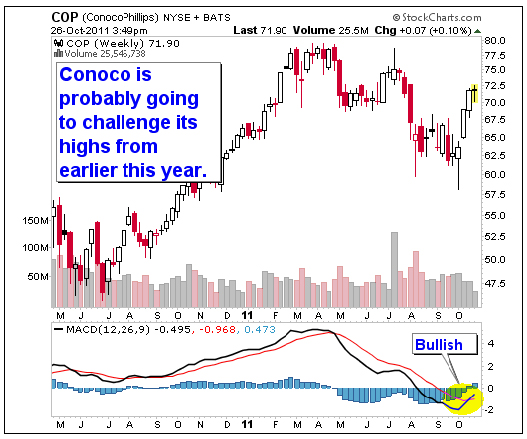 Here Are My New Recommendations...
Pick #1: Enerplus
Enerplus has been paying dividends since it went public in 1986. The companyís core assets are located mainly in western Canada, with some operations in the US. About 60% of its production is natural gas and 40% is crude oil.
This company pays a monthly dividend and recently sported a 7.5% annual yield.
The management is aggressively 230,000 acres of undeveloped land in the Bakken area, and over 100 acres in the Marcellus shale region, and is opportunistically acquiring in both regions.
The company expects 10% to 15% production growth through 2012.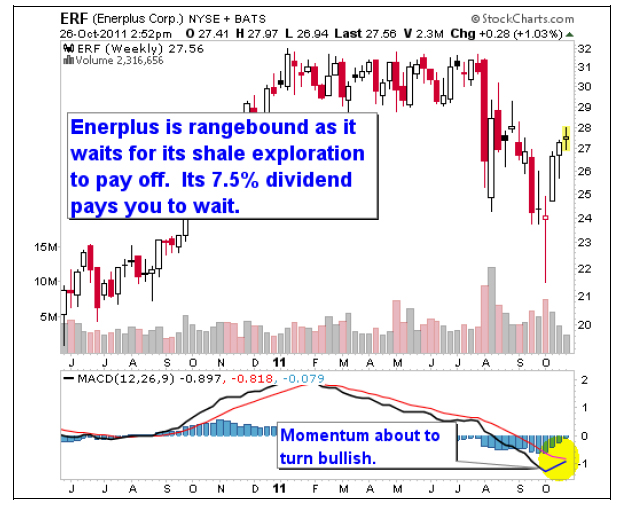 Looking at the chart, you can see that Enerplus has traded in a range for a long time as it waits for its exploration to pay off. Momentum has drifted lower for months, but now looks ready to turn higher.
I suggest 100 shares of Enerplus, symbol ERF on the NYSE, at the market.
Pick #2: Magellan
Magellan Midstream Partners (MMP on the NYSE) transports, stores, and distributes refined petroleum products and crude oil in the United States. Its pipeline system Ė consisting of approximately 9,600 miles of petroleum products pipeline system and 51 terminals; 6 marine petroleum terminals Ė transports petroleum products and liquefied petroleum gases from the Gulf Coast refining region of Texas through the Midwest to Colorado, North Dakota, Minnesota, Wisconsin, and Illinois. It also stores and distributes ammonia and biofuels.
Hereís the sweetener Ė Magellan pays a 5% dividend. Its dividend is expected to grow by 7.3% over the next three years.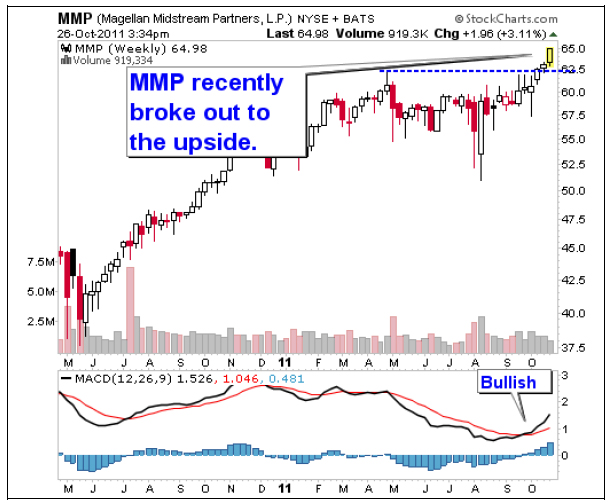 Looking at the chart, you can see that MMP recently broke out to the upside. My target on this is $79 a share, and the dividend will pay you to wait.
I suggest 50 shares of Magellan Midstream Partners, symbol MMP on the NYSE, at the market.
One More Suggestion...
I recommend you place a protective stop on Petrobras Argentina (PZE) at 12.00. While protective stops did exit you from some good positions, Petrobras either has to recover soon or itís time to get out.
I recommend you place a protective stop to sell Petrobras Argentina, symbol PZE on the NYSE, at $12.00, stop. This order is good till canceled.
Strategy for the Rest of the Year
This is the last update for this report. So, let me give you a strategy for the remaining open positions. Burning
With the exception of PZE, all the remaining open positions look positive. Two of them are already in positive territory. When and if they are up 5% from your entry point, place a 5% trailing stop.
That is, as the stock goes up, at the end of each day, you raise your trailing stop to 5% below the close. If the stock goes down, you get stopped out. If the stock keeps going higher, you keep raising the stop. And if the stock goes down by more than 5%, you are stopped out.
You can grab gains or exit these positions at any time as you see fit for your own investment needs. I think that crude oil and the energy complex are poised for a great end of year in 2011, and these picks should help you make the most of it.
Sean Brodrick
Weiss Research
October 28th, 2011
email: issues@e.weissinc.com
http://www.weissresearchissues.com
Copyright 2011, Published October 2011 by Weiss Research, Inc., 15430 Endeavour Drive, Jupiter, FL 33478, USA; Information contained within this report is strictly an informational publication and does not provide individual, customized investment/trading advice. Unless stated otherwise, the graphs, forecasts and indices published in this report are originally developed and researched by the staff of Weiss Research, based upon data whose accuracy is deemed reliable but not guaranteed. While every effort is made to simulate the actual experience of subscribers, all performance figures must be considered hypothetical. References to examples of past performance are not intended to provide a total picture of portfolio results, and past results are no guarantee of future performance.