Crude Oil & Natural Gas Technical Charts
Chris Vermeulen
Chris@TheGoldAndOilGuy.com
www.GoldAndOilGuy.com
August 26th, 2009
The Energy sector seems to be a mixed bag. The weakness of the US dollar has help to boost the price of oil. Currently crude oil is threatening to break above the June high which will most likely trigger a surge of speculate traders/investors for buy crude oil. If the US dollar does find support in the coming weeks we should see the price of oil slide back down to the $60 per barrel level.
Natural gas as most of you know from my weekly writings is not something I am drooling over yet. It was every exciting two months ago with the bullish breakout but we avoided getting caught in the whipsaw action because of my low risk entry rules which confirm short term strength before we put our money to work.
Below is a 4 month chart of the Crude Oil price
This chart clearly shows momentum is up and the price of oil trying to move higher as it trades at resistance of the June high. We are close to a possible low risk buy signal but depending on the price action this week will dictate what happens.
Below is a 4 month chart of the Natural Gas price
Natural gas I will say has on ugly looking chart. The only observation I can really get out of this is that gas is trading at the bottom of its trading range which is $3.30 area, and the top of the range is $4.20. This is a 27% trading range and could be a great small spec trade at this price level. This type of trade is for a high risk taking trader. I would like to see the price move sideways 1-2 more days here so I know its not making another leg lower from here.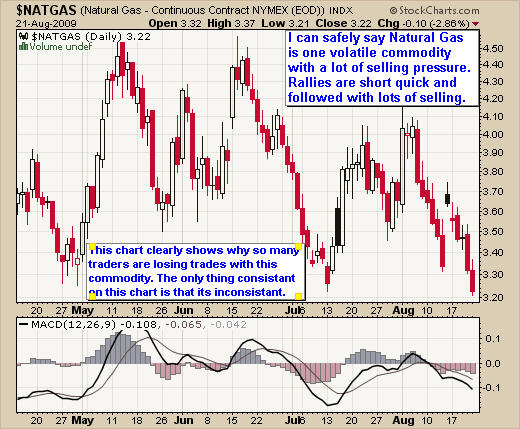 Energy Trading Conclusion:
There are several things which could happen here for oil and gas but in short my thought is if the US dollar continues to slide lower we will sell oil continue to rise and this will help boost natural gas prices some what. Because Nat Gas is at the low of its trading range there is a better chance we will see a higher price in the coming days for a small bounce. Natural gas has been underperforming the price of crude oil for 8 months which has happened in 2006 as well.
I continue to sit on the sidelines and watch the market unfold. Waiting is not the most fun but it is much better to wait than lose money on a bunch of high risk trades repeatedly.
Crude oil could have a low risk setup this week if all things work out. I am neutral on natural gas and not willing to jump on that rollercoaster.
If you would like receive my Free Weekly Trading Reports or my Real-Time Trading Signals for these funds please visit my website for more information: www.GoldAndOilGuy.com
Chris Vermeulen
August 26th, 2009
Chris@TheGoldAndOilGuy.com
Specializing in Oil Stocks, Oil ETF, Gold Stocks & ETF, Junior Mining and Energy Stocks listed in US, Canada and Australia.
Please visit my website if you would like to receive my free weekly trading reports or real time trading signals visit:
www.GoldAndOilGuy.com
This article is intended solely for information purposes. The opinions are those of the author only. Please conduct further research and consult your financial advisor before making any investment/trading decision. No responsibility can be accepted for losses that may result as a consequence of trading on the basis of this analysis.
---------------