Oil Stocks Will Continue To Under Perform The Oil ETF
Chris Vermeulen
Chris@TheGoldAndOilGuy.com
July 14, 2008
Oil stocks will under perform crude oil and the oil etf for the next several years - but Energy Juniors will outperform both.

The market is now setting up for a great entry point into junior oil Stocks!
When it comes to morbid fascination, this chart takes the Cake!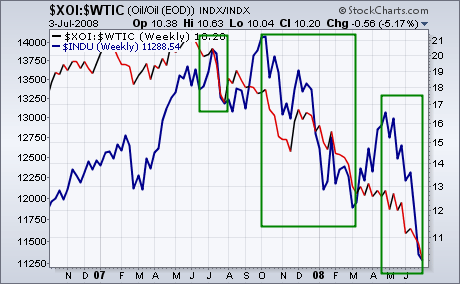 Chart 1 - Multi-Year ratio chart of Crude vs. Oil stocks
What we have here is an EXPLOSIVELY BULLISH ratio chart of West Texas Crude versus Major Oil stocks. In technical parlance, this chart has recently broken out of a multi-year reverse Head and Shoulders pattern (or Cup & Saucer depending on your interpretation) painting a target of 0.14 at the least.
Here's why the above Chart is so Significant: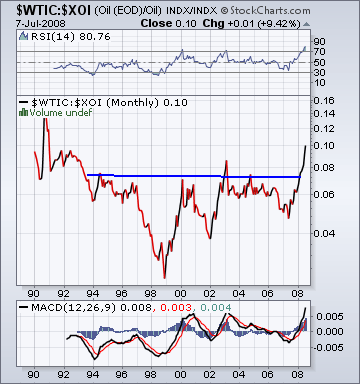 Chart 2- Dow (red) versus Oil Stocks/Crude Oil chart (blue)
Chart-2 Superimposes the above ratio against the Dow Industrials. In order to demonstrate the relationship, the ratio has been reversed to shows the Oil Stocks versus Crude (blue line).
What is imminently clear is that when Oil Stocks have underperformed against Crude Oil, the general direction of the stock market has been lower!
This in and of itself is no secret as we have all been frustrated by the lack of progress in commodity stocks versus the underlying commodities. But what is perhaps foreboding is that Chart-1 is telling us the relative underperformance is fated to go on for much longer – probably years. And by inference the Dow will remain in an extended Secular Bear Market. Confirming what we have been saying that returns on equities would be low if not negative for the next 5-10 years!
The highlight:
Now that we've painted the doom and gloom, there is some light at the end of the tunnel.
Chart-1 also shows the RSI is extended and the ratio is overbought. A pullback to the neckline (blue line) may soon begin and Oil equities will outperform Crude -- the Dow will also rebound. We are now approaching an excellent entry point into Oil equities.
Please note we do not think that Oil Stocks will show negative performance over the next 5-10 years but we do think they will lag Crude Oil itself. Superior returns can be captured through smaller energy explorers and producers that will benefit from market trends as well as company specific news such as promising drill results...this is the place to get set and the time is now!
---
Chris Vermeulen
Chris@TheGoldAndOilGuy.com
Specializing in Oil Stocks, Oil ETF, Gold Stocks & ETF, Junior Mining and Energy Stocks listed in US, Canada and Australia.
Please visit my website for more information.
http://www.TheGoldAndOilGuy.com
This article is intended solely for information purposes. The opinions are those of the author only. Please conduct further research and consult your financial advisor before making any investment/trading decision. No responsibility can be accepted for losses that may result as a consequence of trading on the basis of this analysis.
---------------