US Dollar Cycle Rotation To Boost Oil & Other Commodities
Chris Vermeulen
Chris@TheTechnicalTraders.com
http://www.thetechnicaltraders.com/
May 4th, 2018
Our recent analysis of the US Dollar has presented a very unique and interesting setup for traders - an opportunity for a general commodity rally with Oil leading the way.
Taking a look at this Daily chart of the UUP (US Dollar Index Bullish Fund) with our Advanced Dynamic Learning Cycles price modeling system applied to it, we can see that the cycle analysis is predicting a rotational top in the US Dollar over the next 2~5+ trading days before a new bearish price trend pushes this US Dollar fund back to below the $24 level. We have highlighted the Resistance Zone in red and we believe this rotating top will play out fairly quickly as an excellent opportunity for traders.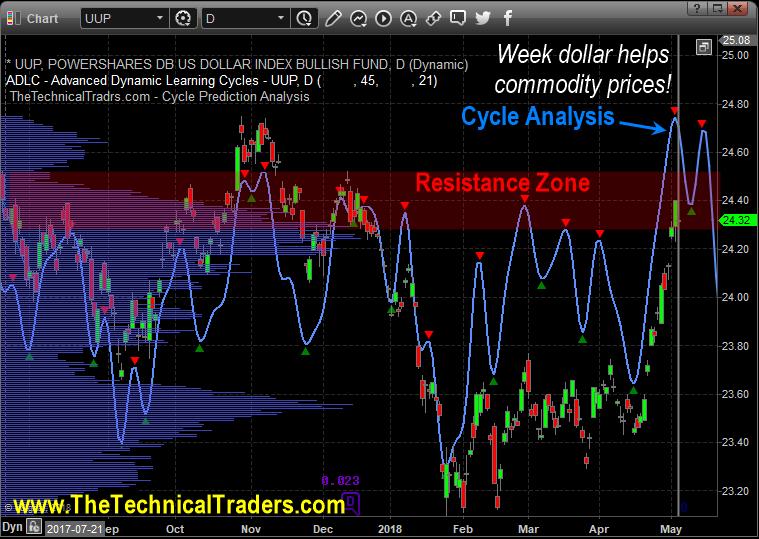 This general weakness setting up in the US Dollar should translate to strength in a number of commodities; Gold, Silver, Platinum, Oil and many others will likely see a 4~12% price increase if the US dollar contracts throughout this downward cycle rotation.
Oil is particularly interesting to us because we believe the rotational top in the US Dollar will result in support solidifying in Oil near or above $66 and launch Oil into a new upside rally to well above $70. It makes sense to us that weakness in the US Dollar with the corresponding upside pressure exerted on commodities will present an easy upside move in Oil for traders who see this move coming and are willing to take the trade.
Any Oil price move below $67 is well within our GREEN highlighted support zone and should be considered a BUY ZONE for this trade. Remember, as this rotational top in the US Dollar plays out, there could be some volatility in both the US Dollar and Oil, so spread out your trades over a couple days to reduce risk.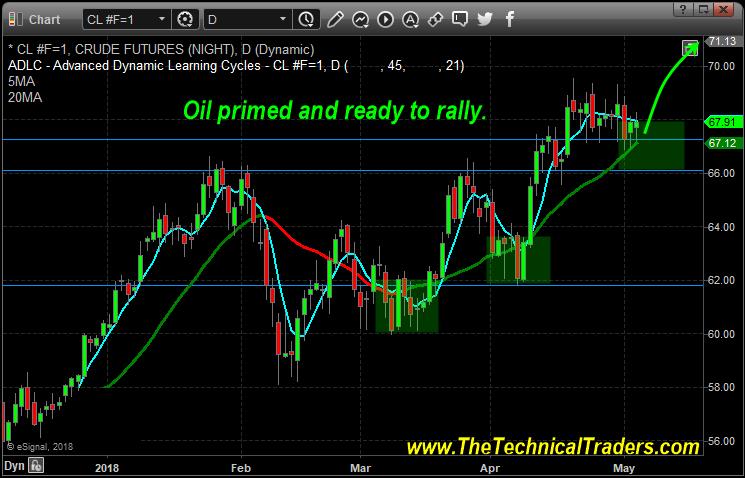 The upside potential for this trade is, in our opinion, 4~7% or more. Our modeling systems expect a 5.25% upside swing from this move currently and we believe the upside may be a little bit more than this expectation. We believe this is a solid trade setup and weakness in the US Dollar will be key to this trade playing out as we expect. Remember, all of this is expected to happen within the next 10 to 20 trading days, so you have time to position your trades and take advantage of this move.
You can receive our daily pre-market analysis with index, oil, and precious metals trade signals by joining our Wealth Building Newsletter.
Chris Vermeulen
Chris@TheTechnicalTraders.com
http://www.thetechnicaltraders.com/
May 4th, 2018