Light Crude Oil Makes a SWEET Signal
Chris Vermeulen
Chris@TheGoldAndOilGuy.com
March 7th, 2009
Light Sweet Crude Oil has been killing traders for months, as the price keeps bleeding lower week after week, sucking bottom pickers dry. After 8 months there seems to be light at the end of the tunnel for the oil bulls.
Crude Oil ETF's Hurt the Trading Account
Many traders have been hurt trading the crude oil etf funds; they are subject to contango, which I explained in a previous report a couple weeks ago. When trading oil and many other ETF's, which are to mirror an underlying commodity like oil, it is important to use the commodity prices for buy and sell signals not the oil funds. Many of the oil funds give a buy and sell signal (breakout) during most rallies or sell offs luring in novice traders to buy or short oil only to find out they bought at the ultimate worst time as the price rolls over on them. Here I show actual crude oil for these possible buy signals on the weekly and daily charts.
Light Sweet Crude Oil Trading Signals
The weekly chart clearly shows oil is trying to bottom and this could be confirmed as soon as Friday if the price stays above the resistance trend line. We will keep our eye on this because weekly buy signals are generally very powerful and are multi week moves.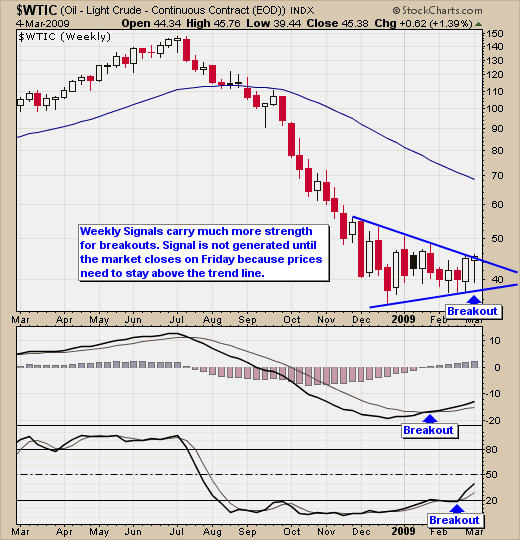 Daily Trading Chart – Light Sweet Crude Oil
The daily crude oil chart generated a buy signal today which is very exciting. Risk for this buy signal is over 17% which is too high for my blood. I will wait for a rally or pullback with a reversal before entering long. Keeping risk low is extremely important during volatile times, which we are in now.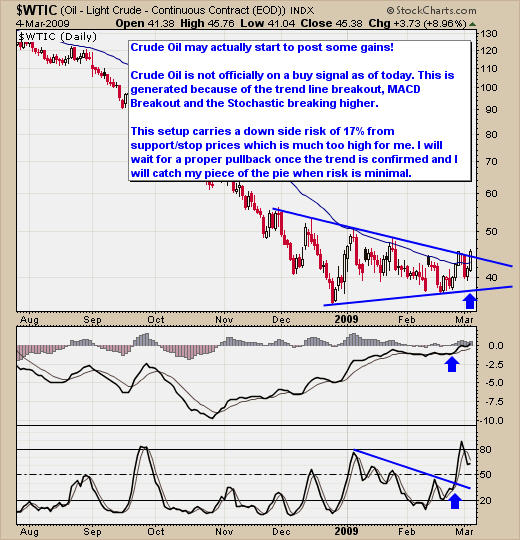 Light Sweet Crude Oil Trading Conclusion:
Crude oil has been trying to move higher for several months and today it finally looks like it's making some progress. It has a ton of work to do to continue higher but with the amount of traders and investors watching the price of oil I expect we will see prices push much higher over the next 6 months, if these buy signals follow through and hold strong till Friday.
There are several oil etf's and etn's to trade. I'm not really sure which one is the best anymore, as they all have really bad contango, the prices seem very random. Some US funds are DXO, USO and USL. A Canadian Fund which pays about 17% dividend is XTR.TO, my personal favorite but it does hold financials as well. Trading energy stocks could be a good place to start like XLE energy fund or XEG.TO for Canadians.
Chris Vermeulen
March 7th, 2009
Chris@TheGoldAndOilGuy.com
Specializing in Oil Stocks, Oil ETF, Gold Stocks & ETF, Junior Mining and Energy Stocks listed in US, Canada and Australia.
Please visit my website if you would like to receive my free weekly trading reports or real time trading signals visit:
http://www.TheGoldAndOilGuy.com
This article is intended solely for information purposes. The opinions are those of the author only. Please conduct further research and consult your financial advisor before making any investment/trading decision. No responsibility can be accepted for losses that may result as a consequence of trading on the basis of this analysis.
---------------