Energy Stocks Continue to Strengthen Their Case for a Relief Rally
Contributed by Olaf Sztaba
NA-Marketletter Energy
www.na-marketletter.com
February 18th, 2009
In our previous Energy Comment, we underlined the importance of the bottoming action from mid-October to the present. During this period, the sector has been engaged in a major project of technical repair including:
Returning to above/near their respective 50-day moving averages (50dMAs) and then attempting to turn these moving averages upwards.
Resisting sellers' and short-sellers' attempts to use the approach towards the 50dMA as a renewed opportunity to drive prices lower.
Strengthening internal momentum – some stocks have now been able to develop multi-week positive divergences in internal momentum.
Building bases for a possible longer advance.
The Energy sector has made some progress in the last two weeks. Both the XOI and the TTEN indices successfully resisted selling pressure and remained near their 50-day moving averages. Although this development has strengthened the indices' mid-term standing, it hasn't liberated them from lengthy range-bound trading. Only a decisive move above January highs would constitute a breakout from these basing patterns.
Therefore, in the shorter term, the Energy sector should continue its repair work, hold above the November lows and stay near their 50-day moving averages.
Given the mediocre economic situation,
could a rally be far behind?
In the last few weeks, the North American markets have had plenty of "incentives" to break down but each attempt was met by an equally swift riposte to the upside. This alone should indicate that many market participants have already cleaned out their portfolios and they are now looking for a signal to re-enter the market. The shift in market psychology could quickly trigger such buying and put oversold Energy stocks at the centre of a relief rally.
The long-term perspective
Despite the potential for a rebound, the long-term trend remains negative. The XOI and TTEN are below their falling 200-day moving averages; therefore,
tight stop-loss levels must be applied to all positions.
The Energy sector continues its repair work in building a base for a possible advance. The improved technicals should prompt the bulls to get a "shot" at a rally.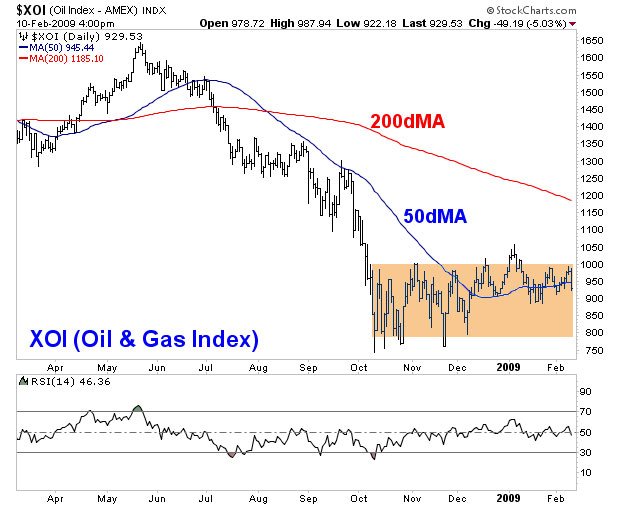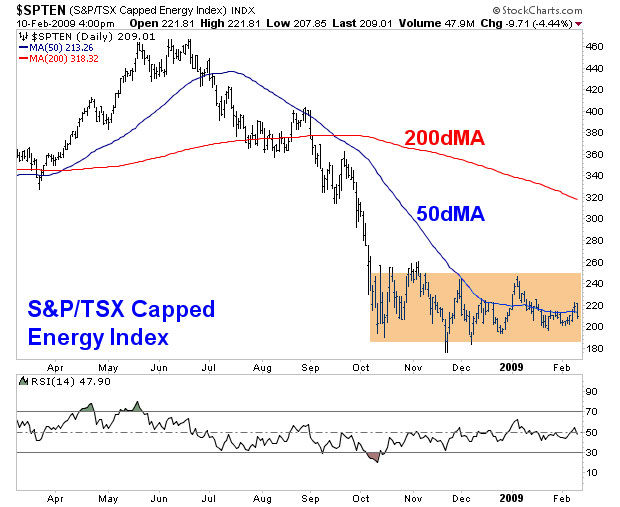 February 18th, 2009
Contributed by Olaf Sztaba
Email:
osztaba@na-marketletter.com
Website:
www.na-marketletter.com
About NA-Marketletter