Playing a Rebound in the Oil Sector
Steve Saville
email: sas888_hk@yahoo.com
October 18th, 2006
Below is an extract from a commentary posted at www.speculative-investor.com on 17th October 2006.
Oil and oil stocks proved to be great investments from around mid-2003 through to July of this year, but cycles change and over the past three months the oil sector has not been a good place to be invested. In fact, oil and oil stocks began to lose relative strength last year in the immediate aftermath of Hurricane Katrina. That was when oil peaked relative to gold and when oil stocks peaked relative to gold stocks and airline stocks (we sometimes refer to the airline sector as the anti-oil sector due to the tendency of airline stocks to trend inversely to the oil price).
As things currently stand there's plenty of fundamental and technical evidence that oil commenced a cyclical bear market (a 6-24 month downturn/consolidation within the context of a long-term bull market) in July of this year. However, the oil market has recently become so oversold that even if a drop to new correction lows lies ahead (we think it does) there will probably be a multi-month recovery prior to the start of the next downward leg.
As far as the oil sector of the stock market is concerned, the AMEX Oil Index (XOI) could be forming a large top (see chart below). A break below 1000 would complete the topping pattern and project a decline to around 800, but such a breakdown will probably not occur over the next few months. This is mainly because, as mentioned above, the oil price looks set for a rebound. In fact, if the broad stock market remains firm then it's quite possible that the XOI will move to a new high during oil's next counter-trend rebound...prior to embarking on a journey to sub-1000 territory.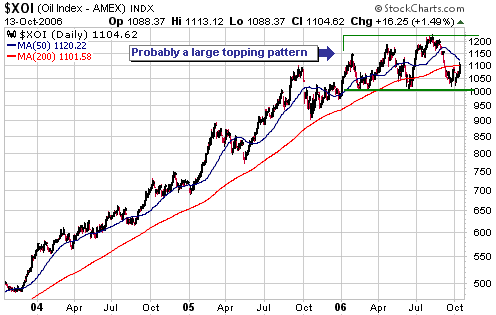 A move to new highs by the XOI at some point over the next few months concurrently with a rebound to a lower high by the oil price would actually be consistent with the way the combination of oil and oil stocks have peaked during past cycles. For example, during the 2000-2002 correction the oil price reached a major peak in September of 2000 whereas the XOI didn't peak until May of 2001.
So, given the high probability of a rally in the oil sector over the coming months and the possibility that the XOI will make a new high before this rally ends, is it worthwhile buying a few oil shares for a trade at this time?
Perhaps, but it's not a trade that appeals to us simply because there are other sectors that we like more in both the short- and the intermediate-term. In particular, we prefer precious and base metal stocks as short-term trades and long-term investments, and natural-gas-focused energy trusts as long-term investments. Also, we think the uranium sector of the stock market might provide traders with a better way of playing a rebound in the oil sector than oil shares themselves.
Unlike the oil price, which has trended lower in almost a straight line over the past couple of months in response to a short-term supply glut, the uranium price has remained in a relentless upward trend driven by a persistent deficit between newly-mined supply and commercial demand. Also, unlike the oil market, which is periodically subject to a large amount of speculation, the uranium market is always dominated by commercial interests (dealings between the producers and consumers of physical uranium). As a result, the uranium price doesn't surge in response to such things as fears of conflict in the Middle East and hurricane-related supply disruptions and then plunge when the fears dissipate.
But although uranium has been in an ultra-consistent upward trend for years, uranium equities have regularly been subject to large swings driven by the ebbing and flowing of speculative sentiment. In addition, speculative enthusiasm for uranium shares has tended to oscillate in synch with speculative enthusiasm for oil shares, so even though the uranium price has continued to grind upward over the past few months the uranium shares have sold-off along with the oil shares. This doesn't mean that uranium shares generally offer good value at this time (in general they don't), but it does mean that they have the potential to rebound from current oversold extremes at a faster pace than the oil shares.
In a nutshell, the coming rebound in uranium shares has the potential to be stronger than the coming rebound in oil shares because the uranium sector has dropped in sympathy with the oil sector despite uranium's increasingly-bullish supply/demand backdrop.
With regard to specific stock selection ideas, the world's premier uranium producer is Cameco (NYSE: CCJ). We think CCJ is an expensive stock, but it's been an expensive stock for years and this hasn't prevented it from being a much better investment than almost all of the major oil producers. Furthermore, valuation is often not a critical factor when selecting a stock for a 3-6 month trade.
In our opinion, a good way for a speculator to play the coming rebound in oil would be to buy CCJ in the low-to-mid 30s and place an initial 'stop' just below the support drawn on the following chart.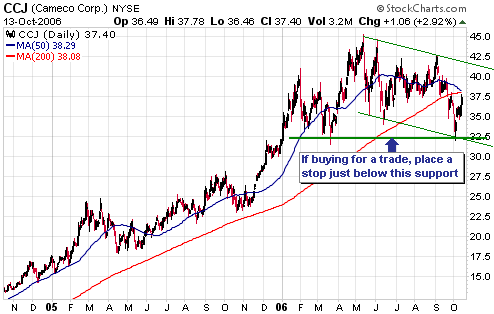 A uranium stock that offers both reasonable value and speculative merit is sxr Uranium One (TSX: SXR). Investors and traders should consider buying SXR shares near the current price, with traders placing a 'stop' just below the June low (see chart below).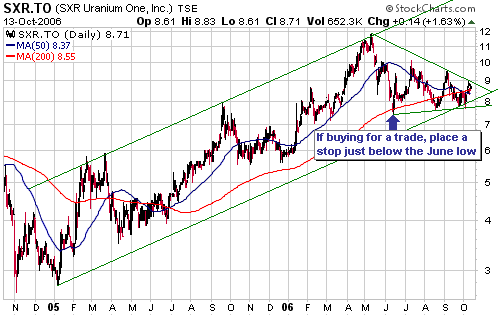 Steve Saville
email: sas888_hk@yahoo.com
Hong Kong
Regular financial market forecasts and analyses are provided at our web site: http://www.speculative-investor.com/new/index.html. One-month free trial available.
Copyright ©2006 speculative-investor.com All Rights Reserved