Natural Gas
Steve Saville
email: sas888_hk@yahoo.com
January 10, 2007
...despite everything that's happened, the NG price hasn't deviated far from the pattern anticipated by us early last year.
After being hit by the perfect bullish storm during 2005 (Hurricane Katrina + falling inventories + strong economic growth) the natural gas (NG) market was hit by the perfect bearish storm during 2006 (rising inventories + the Amaranth blow-up + mild weather + weakening economic growth). And those who were 'long' NG via Canadian energy trusts also had to contend with the downward pressure on their investments caused by the Canadian Government's about-face on the tax-related status of the trusts.
But despite everything that's happened, the NG price hasn't deviated far from the pattern anticipated by us early last year. In particular, the NG price appears to have made a cycle low in September of 2006, which is within the time-window when it should have made a cycle low based on its performance over the past 10 years. Also, once a cycle low was put in place roughly on schedule the expected pattern was a rally followed by a drop to test the low during the first two months of 2007. The rally occurred and the market now appears to be on track to achieve the aforementioned January-February test. As noted on the following weekly chart, a drop to the low-to-mid $5 area would constitute a test of the September-2006 bottom.
The risk is that the North American winter will continue to be far milder than usual, thus exacerbating the existing bearish supply/demand situation and resulting in the price dropping to new lows for the year following the coming rebound. This is, however, a risk we cannot handicap since we don't have any inside information on what's going to happen to the weather.
As far as the Canadian 'gassy' trusts are concerned, the Canadian Dollar's recent weakness will have been helpful in that it will have cushioned the impact of the pullback in the US$-denominated NG price.
We currently aren't doing any buying of these trusts for our own account, but that's only because we moved to what we consider a full position last November in the aftermath of the Canadian Government's tax bombshell (our total investment in energy trusts is slightly less than 10% of our overall portfolio value, which is as high as we want it). However, if we didn't already have a full position we would be doing some buying at this time.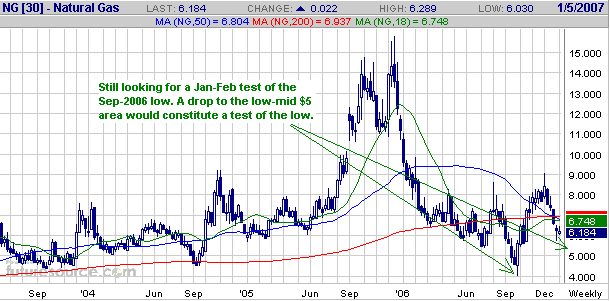 January 10, 2007
Steve Saville
email: sas888_hk@yahoo.com
Hong Kong
Regular financial market forecasts and analyses are provided at our web site: http://www.speculative-investor.com/new/index.html. One-month free trial available.
Copyright ©2002-2007 speculative-investor.com All Rights Reserved