Uranium Stock Hype
Dr. Clive Roffey : roffey@mweb.co.za
July 24th 2006
There is continual hype about uranium stocks and so I am detailing several this week
Eso Uranium (CA:ESO) formed a huge head and shoulders top pattern. It has tried to form a base but I would not touch this share until it has proved it can rise above the resistance at 65c. Leave this one alone.

Forum Uranium (CA:fdc) has mapped out a large potential base level at 30c. There is a resistance at 44c. I would nibble at this stock around 30c but wait for a full buy signal above 44c to break the neckline of the reverse head and shoulders pattern.

Magnum Uranium (CA:MM) has a flat top broadening pattern as a potential base formation. It needs a break above 78c to prove a serious reversal. But this is another nibble at current levels for the more adventurous.

Nova Uranium (CA:NUC) also had a major head and shoulders top pattern that has reached its downside count. There is no reason to buy this share at current levels until it reverses back above $1.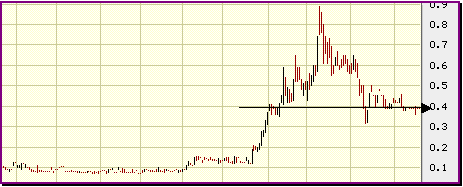 Star Uranium (CA:SUV) has developed a resistance at 40c. It will need a major effort from this stock to break above this level. There is strong resistance at 57c. Leave this one alone until it has broken back above 42c.

Titan Uranium (CA:TUE) has a serious base level at $1.50 with an equally serious resistance at $2.00. Until this stock has made up its mind which way to go it is better to wait for the break.

Universal Uranium (CA:UUL) has two major resistance levels that are trading above the current price. It has recently fallen to a new one year low. Forget about this stock until it has the strength to bounce back above the 60c level.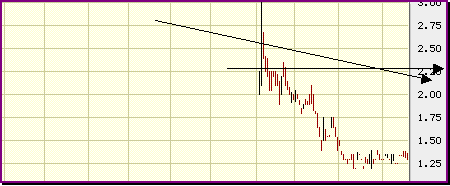 Western Uranium (CA:WUC) was a recent addition to the uranium hype bandwagon. It has fallen substantially from its original listing price and has no signs of recovery. Leave this one alone.

Powertech Uranium (CA:PWE) has just broken under a support level at $1.30 and needs to have a price reversal to break above $1.50 before I become interested in this share. Another to leave alone for the time being.

Uranium Equities (AU:UEQ) has a support level at 25c and resistance at 36c. This is yet another wait and see situation. For this stock to be of interest it needs to break back above 36c. Until then ignore it.

Valhalla Uranium (AU:VUL) broke upside out of its triangular pattern and hit the resistance at $1.50. This is the first U stock of interest. But I would wait for a pullback to test the $1.10 breakout level before climbing into this new addition to the uranium stock list.

Laramide Uranium (CA:LAM) has developed a strong support at $5 and overhead resistance at $7. It needs to break through one of these levels to prove the next trend direction. Until it does this share should be watched from a distance.

Maple mine (CA:MPM) is another stock with a strong support level and overhead resistance. This stock must break above $5.85 before it becomes of interest.
Dr. Clive Roffey at croffey@mweb.co.za
July 24th, 2006
Uraniumstocks are the subject of continuous hype and I will produce a monthly review of this sector.
For the time being watch them from a distance but do not get too close until the resistance levels are being penetrated.
'Uranium Stocks' and 'Gold & Silver Penny Stocks' are the sister publication to 'Gold Action' and is produced by Dr. Clive Roffey at croffey@mweb.co.za