Crude Oil and Natural Gas Update
Don Rodgers
Drodgers@entryandexitinvesting.com
March 28, 2007
Oil prices have certainly gained some strength over the course of the past week, moving to a high of $63.30, up from a low of $58.50, owing in large part to geo-political concerns and gasoline draw-downs. Natural Gas has seen a high of $7.33 moving up from a low of $6.81.
Oil, as you can see from the attached chart is trading right in between the long and the short entry. It is nearer the long entry than the short entry but going back over past charts, the $64.27 area which was a previous short entry, is now still overhead resistance. The long entry now is $64.84 with a target of $67.03, which is a very nice range long ($2.19 long range) if the entry is hit and validated. Previously, the short entry of $59.13 for a target of $54.14 yielded a nice return of almost $5.00 per barrel on a short move. To the short side we have a $2.45 range between the entry and target so pretty much indicates we are stuck in a narrow range trading pattern or some consolidation. The problem with consolidation patterns is they can just as easily break to the upside as to the downside or vice versa depending upon your bias.
If I were to use a system of coloured coded messages (red for sell, green for buy, orange for caution) I would have to say we are in an orange message for crude oil over the shorter term. Again, as I mentioned in the last column, if you are a long term bull on oil with lofty price targets then these moves are simply a distraction on the way to riches. If on the other hand you are somewhat more cautious and like your money to work for you over the shorter to mid-term then keeping a close eye on crude oil pricing will help you to make the decisions about whether to add or to subtract from your current positions.
Natural Gas is sitting right on top of the last short entry of $7.27 with a downside target of $6.94 with the current price as I write being $7.281. The long entry currently is $7.73 up to $8.03 and then from there $8.16 for $8.93 (see past columns for the latter moves). To the short side we are on top of $7.27 and if that is hit once again and continues lower then a move to $6.50 or lower with validating volume could deliver $6.14 to the downside.
The two charts below show both the short and long entries and targets. The price areas show in Red show the pricing areas used to project long entries and targets while those in Black show the pricing areas used to project short entries and targets.
Again, any questions, please do not hesitate to email me.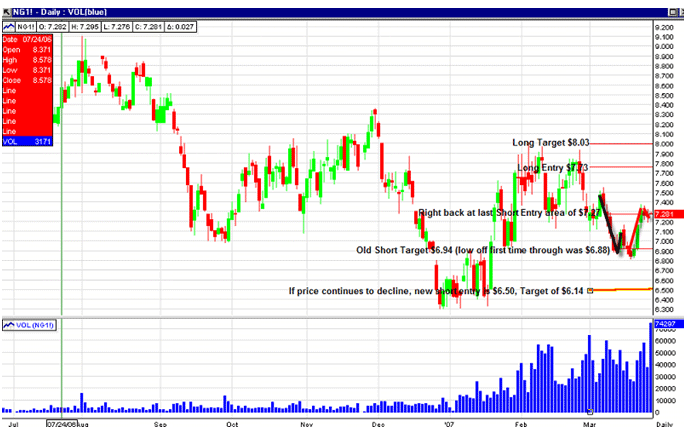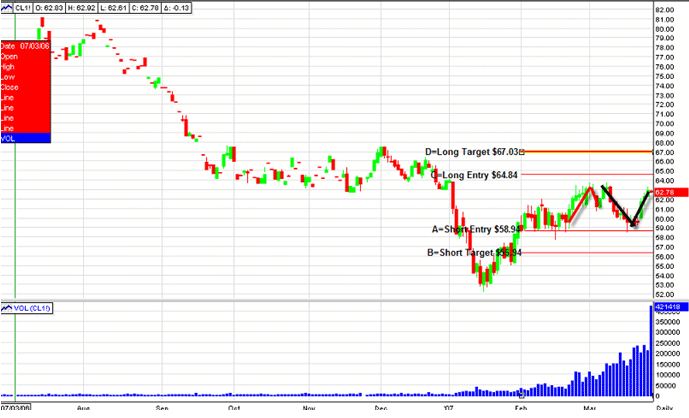 Don Rodgers
Drodgers@entryandexitinvesting.com
March 28, 2007
Please send me any requests for my technical analysis on your stock selections in the oil and gas sector and I will publish the analysis here. As a technical analyst I can easily say that news will trump any TA anytime.

Please feel free to visit my website at www.entryandexitinvesting.com.