Crude Oil and Natural Gas Update
Don Rodgers
Drodgers@entryandexitinvesting.com
March 13, 2007
Earlier last month I had expressed my concerns about oil and gas stocks not reacting to the increased price of crude (up 25% from the low of $49.90). The collective shrug of the investing communitiesí shoulders seemed to say it all. The price increase was not based on much more than speculation and for the most part oil and gas stocks treaded water or moved lower.
A few things happened with the price of crude. We did move up to the long entry of $61.43, after successfully taking out the first entry of $59.99 with a long target to $61.34. But, the volume did not validate the higher moves and even though we did see a closing price higher than the entry of $61.43, the volume was not enough to carry us up to the target of $63.98. Their were two attempts to do so and both attempts fell short of validating with volume, the higher price of crude. As a result the price fell.
So, a number of triggers kicked in. A long position taken at $59.99 with a target of $61.34 would have triggered the trailing stop at $61.84. Normally I would take half off the table at the first target area and use a trailing stop to trigger the second half of the trade, which in this case was .65 off the high for $61.84. By doing so you did not allow your trade to move against you as it headed lower and now, you can look at re-entering at a lower price once the uptrend shows itself.
The TRP or Trend Reversal Point from the second long entry at $61.43 is $58.85 (today thus far we have moved .05 lower than that) and the TRP from the first long entry of $59.99 is $58.70. Two areas to be mindful of if they confirm indicating the most recent long trend could be dissipating and reversing lower.
At this time the latest Short Entry is $59.89, with a target to $58.70 (just missing today) so it is heads up time for crude to see where we are headed to next.
Natural Gas has taken out the Short Entry we set at $7.27 March 6 with a target down to $6.94 which was hit today moved lower before settling in a bit in the area of the target.
No big surprises as the volume has been moving into and out of Natural Gas and Crude Oil in the areas we have indicated you should be watching. The charts are below.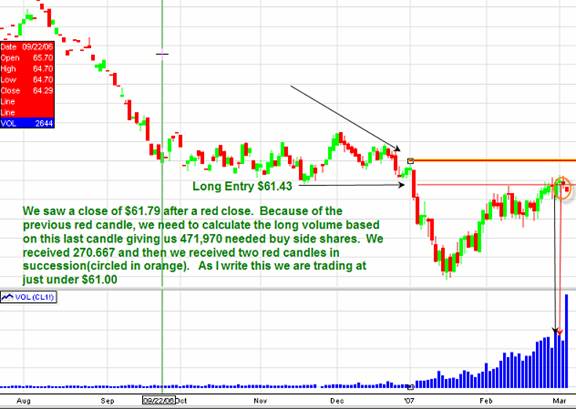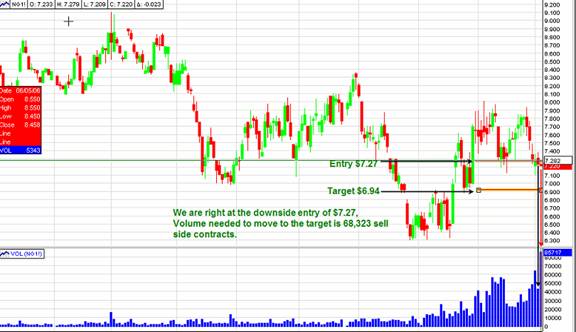 Don Rodgers
Drodgers@entryandexitinvesting.com
March 13, 2007
Please send me any requests for my technical analysis on your stock selections in the oil and gas sector and I will publish the analysis here. As a technical analyst I can easily say that news will trump any TA anytime.

Please feel free to visit my website at www.entryandexitinvesting.com.