Crude Oil Update
Don Rodgers
Drodgers@entryandexitinvesting.com
February 24, 2007
Despite the recent run up in the price of crude, the overall market seems to have shrugged its collective shoulders and walked away from these gains. A quick scan across daily charts for a number of oil companies, both major and junior's, indicates the recent run up in crude pricing is a blip at this time. It almost appears as if investors, at least institutional investors, are not jumping back into the oil sector with both feet at this time. With a number of refinery fires both in Canada and the United States, along with a smaller pipeline spill, the reduced refinery capacity has bolstered the price of crude the overall sentiment of the market seems to realize it is a short term problem and current demand is not excessive to cause a major hiccup for the important US economy demands. Rather than seeing the jump in energy stocks we witnessed last spring and into the summer as the price of crude jumped (raise your hands if you think all the talk about Peak Oil drove price speculation north), we are seeing a sideways or slightly down consolidation rather than a price escalation. Those companies that are seeing nice gains such as VNX.TO or BQI-AMEX, are doing so based on recent news events rather than crude oil price gains. Even CLL, which this week hosted an analyst tour of its Great Divide project as the company attempts to increase its analyst coverage, has not seen any significant gains.
Whether this indicates the energy sector is falling out of favour for the moment or is simply waiting to see if the crude price increase is for real is anyone's guess.
The chart below illustrates and confirms the latest moves last published. All the notes are on the chart.
The stock analysis requests are coming in every day and so far I have been able to answer most within a few hours of receiving them. I hope you are finding the information useful and informative.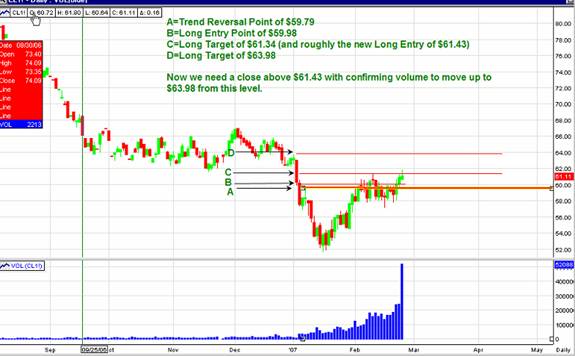 Don Rodgers
Drodgers@entryandexitinvesting.com
February 24, 2007