Natural Gas Pricing
Don Rodgers
Drodgers@entryandexitinvesting.com
February 13, 2007
From September through to the end of 2006, Natural Gas (NG) was not being asked to too many dances. There was a brief speculative move off the low of $7.42 set back on September 28 as traders felt colder weather would put in its usual appearance as we moved into winter. Unfortunately the cold weather did not show as expected and the moves to the high side were traded off and sold and we bottomed out at $6.19. Since then the extended cold snap in the North Eastern United States has significantly aided NG pricing and currently as this is being written, we are -.262 with the current price being $7.56USD. A quick comparison of two energy weather maps from February 7 and today's shows the below freezing area shrinking although it still is extending into Chicago and east to New York City, keeping the NG drive alive.
The low gas prices have curtailed a lot of drilling activity, so much so that rigs can be rented for significantly less than the going rate last fall. As drilling activity drops and less NG being transferred into storage, the slow gradual erosion of storage will help to some degree but most would agree this winters NG business has been a washout. With the normal March and April weakness showing up earlier than normal as warmer than normal temperatures prevail, we will continue to see temperature driven market pricing leading to some degree of volatility over the short term. If summer remains normal in terms of usage and the usual hurricane season cutting production along with lower storage, we should see prices firm up heading into next winter.
In our estimation we are going to have to see a significant move at the $8.16 level to push prices up and over $8.25 which is where many traders see NG moving to with the upside target being as high as $8.93. I have no idea how long it may take to move there and it did take oil a little more than three months to take out the crude oil pricing we had set.
Tonight's session for crude oil sees a current price of $59.36, down .53 from the previous close with the high of the session thus far being $59.76, which is exactly the Trend Reversal Point set out in the February 10 column.
Thank you for those who have asked for specific stocks be analysed and I will continue to email my analysis back to you. At one point I may use the lot of them here but for now I prefer to stick to Oil and Gas pricing.
The chart with notes on it for NG Pricing is below.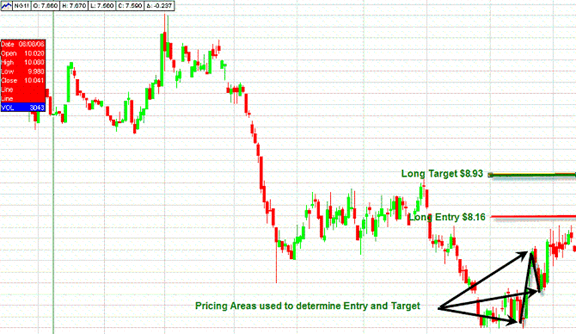 You can contact me at Drodgers@entryandexitinvesting.com. Please send me any requests for my technical analysis on your stock selections in the oil and gas sector and I will publish the analysis here. As a technical analyst I can easily say that news will trump any TA anytime.

Please feel free to visit my website at www.entryandexitinvesting.com.
Don Rodgers
Drodgers@entryandexitinvesting.com
February 13, 2007