Crude Oil Pricing-Where Do We Go From Here?
Don Rodgers
Drodgers@entryandexitinvesting.com
February 10, 2007
On October 10 of 2006, when oil was roughly $62.50, I published a series of price moves for crude oil, at the time indicating the price would move lower over the long term. The first attempt at hitting the target of $54.14 failed, coming within .72 of the target before rebounding and moving higher. The rebound off the then lows did not hold and we saw pricing hit the entry of $59.13 a second time and in January of this year, we hit the target of $54.14 and continued lower hitting $49.90 for the briefest of moments. It took almost three months for the target to be hit.
There was a secondary downside break at $51.65 down to $48.60. However, we had two closes of $51.96 and $51.81, both above the entry so therefore the projected entry price was not hit. Coming close does not count.
So, where do we go from here? Once the bottom was in place and we moved higher, I had a Long Entry of $56.16 with a target of $58.74 which was hit and the target taken out moving briefly higher before retreating. Long targets often can act as overhead resistance and that was certainly the case here. The second Long Entry is at $61.54 with a move up to $64.16 but we have yet to come near this entry.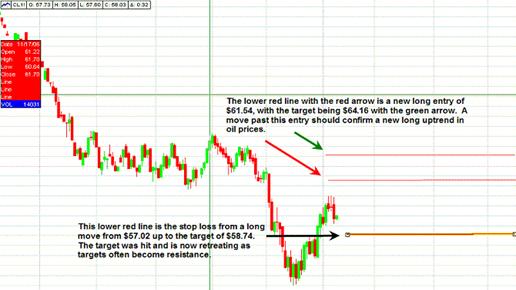 So, what we do here is watch and see what the big money is doing-the professional traders and follow their moves. On the way down from $59.13 to $54.14, there was a smaller secondary entry of $57.67 with a target of $55.58. The Trend Reversal Point from the entry of $57.67 is $59.76. Should we get over that indicating the recent downtrend is moving to an uptrend, then that brings us nearer the second long entry of $61.54.
What I do is to project where professional money is going to move into and out of a commodity or a stock By being aware of what professional money is doing, you can then begin to separate sector weakness or strength from your own equity positions. If for example oil is showing strong upward trending but your own energy stock(s) are moving in the opposite direction then you may need to take a look at the underlying reasons for that separate from the sector.
You can contact me at Drodgers@entryandexitinvesting.com. Please send me any requests for my technical analysis on your stock selections in the oil and gas sector and I will publish the analysis here. As a technical analyst I can easily say that news will trump any TA anytime.

Please feel free to visit my website at www.entryandexitinvesting.com.
Don Rodgers
Drodgers@entryandexitinvesting.com
February 10, 2007