Update of the AMEX Oil Index
David Petch
March 25th, 2007
The chart of the XOI is getting more and more interesting each week. The XOI has shot up the past few days and is set to break out of an apparent wedge structure; should it break to the upside then the next impulsive move is underway. The Bollinger bands are still contracting, indicating a contraction in volatility (sorry, not revealing much information in their current pattern). Fibonacci time extensions of various waves are shown mid-chart; I selected a crude Fib cluster, the dates are note very tight but have various dates from early to mid April. This corresponds to a turning point displayed on Figure 3. Short-term stochastics have the %K above the %D, breaking above a downtrend line of a stochastic triangle. If this is the start of the next impulse up, then hold on to your hats; the XOI leads the rise in oil prices (in general), so oil should be turning around sharply in the coming 1-2 months.
Figure 1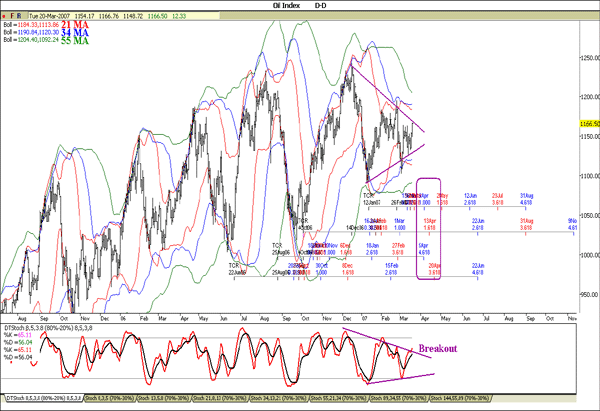 Blue lines represent Fibonacci price projections of upward trending wave price action projected off of their subsequent lows. Areas of line overlap form Fib clusters, which indicate important support/resistance levels. Various Fib clusters below the current price served as strong support; the strong Fib resistance level lies at 1230ish, the target for the next upward move if indeed wave 3.(1).[3] has commenced. Moving averages are near a focal point (50 day MA and 155 day MA essentially at the same spot), suggestive a change in trend is about to commence A Babson channel contains the footprint of the XOI since September 2005. The lower trend line has been tested twice this year, so a break to the upside can be expected. Full stochastics have the %K above the %D within the confines of a stochastics triangle. Should the %K break above the downtrend line of the triangle, it will signal an important breakout.
Figure 2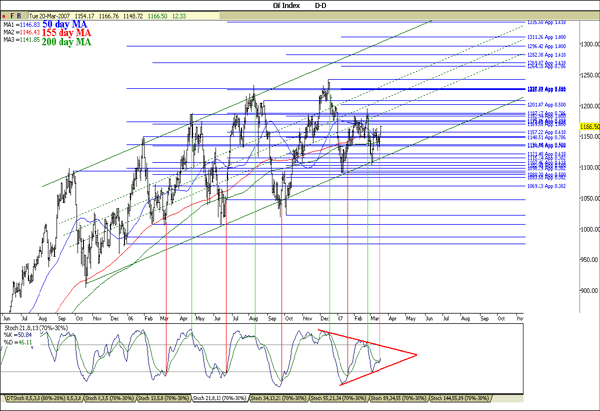 The weekly XOI chart is shown below, with Fibonacci time extensions of wave [1] at the top of the chart and Fib price projections of wave [1] on the right hand side (denoted in blue). The chart is shown in semi-log format to capture the potential move that lies ahead during the next 4-5 years. The 55 week MA Bollinger band is at 1009.93, up from last week's value of 1005.88. This suggests the XOI is still consolidating, but a breakout would negate this and the 55 week MA BB would slowly begin to curl over during the coming weeks ahead. A Fib date of April 6th is looming, which by chance corresponds with the approximate termination point of a stochastic diamond forming since early 2004. The %K is above the %D and is set to rise above the diamond structure. This would signal a very powerful move to the upside is going to occur. In July 2008, the upper trend line intersects a Fib time point, with a value of 2990. This would imply an near tripling in price from the current levels. Hang onto your energy stocks because they are going higher. There has been a lot of mud slinging at the oil sand companies, but answer the question, "where are we going to get oil from in the future?". Governments are going to screw up to much and when they finally "Bless" the oil sand companies it will be too late to avert an extreme energy shortage that is going to occur in the next 5 years. The only way people seem to realize there is no food at home is when they go to a bare cupboard. Some sort of planning should be in the eye of the public, but this is not the case. This bull market is going to be fueled by one crisis after the other (dollar, higher food prices, copper and silver shortages, higher oil prices and lack of gasoline, gasoline rationing, natural gas rationing, vehicle taxes on those that are not "green" etc. etc. etc).
Figure 3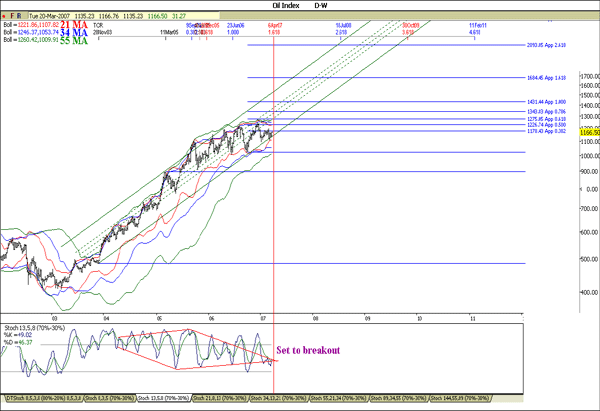 The mid-term Elliott Wave chart of the XOI is shown below. The preferred count is shown in colour and the alternate count is shown in circled grey. Given the setup present in the indicators, I change the count slightly to indicate the termination point of wave 2. Here is the clincher; if the XOI turns south before 1130 of any degree of significance, then the alternate count is in play. It is difficult to nail the precise turning point, but then again this is a probabilities game. Failure for the current move to be the preferred count implies the XOI is going sideways for another 6-8 weeks. Given the bottleneck in the indices, a breakout has to occur and it has a 99% probability of being much higher. Wave 2 is classified as a basic flat pattern (3-3-5). One thing amazing, the Elliott Wave charts look like any other chart, yet the greatest effort in time and though go into them.
Figure 4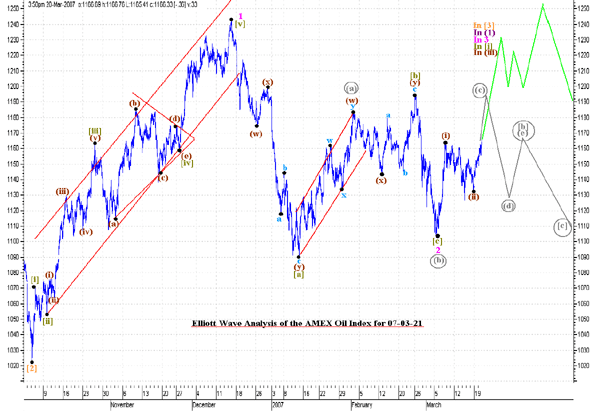 The long-term Elliott Wave chart of the XOI is shown below, with the preferred count shown in colour and the alternate shown in grey. Whichever pattern is correct, they both point to the XOI being much higher at year-end than the current prices.
Figure 5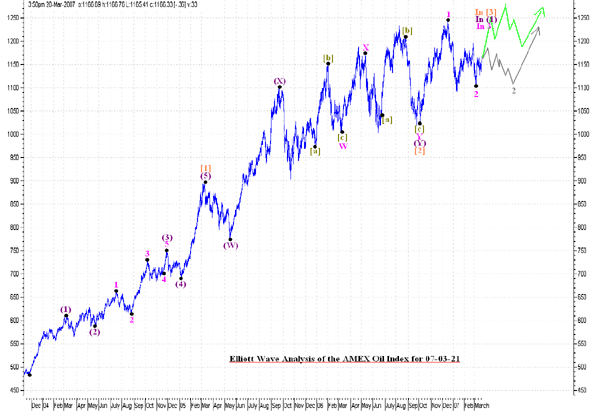 That is all for today. While the Captain is out catching fish (avoiding that dastardly crocodile with that clock in its belly), I will be back tomorrow AM with an update of the 10-Year US Treasury Index. This made in Manitoba article is time consuming, you would not believe how many mining companies have their feet somewhere in this province. In the paper last week, Manitoba was ranked the most politically stable place on the planet to open a mining company. On the basis of mineral deposits, it ranked 23rd, but weighting of political stability and mining potential put it at 12th out of 60.
Have a good day.
David Petch
March 25, 2007

email:
ITMmyFAV@aol.com

website:
www.treasurechests.info

If this is the kind of service you are looking for, we invite you to visit our site and discover more about how an enlightened approach to market analysis and investing could potentially aid you in protecting your finances and family life into the future.
And of course if you have any questions or criticisms regarding the above, please feel free to drop us a line. We very much enjoy hearing from you on these matters.

Disclaimer: The above is a matter of opinion and is not intended as investment advice. Information and analysis above are derived from sources and utilizing methods believed reliable, but we cannot accept responsibility for any trading losses you may incur as a result of this analysis. Comments within the text should not be construed as specific recommendations to buy or sell securities. Individuals should consult with their broker and personal financial advisors before engaging in any trading activities. We are not registered brokers or advisors. Certain statements included herein may constitute "forward-looking statements" with the meaning of certain securities legislative measures. Such forward-looking statements involve known and unknown risks, uncertainties and other factors that may cause the actual results, performance or achievements of the above mentioned companies, and / or industry results, to be materially different from any future results, performance or achievements expressed or implied by such forward-looking statements. Do your own due diligence.

Copyright ©2006-2007 www.treasurechests.info. All rights reserved.

Unless otherwise indicated, all materials on this page are copyrighted by www.treasurechests.info. No part of this page, either text or image may be used for any purpose other than personal use. Therefore, reproduction, modification, storage in a retrieval system or retransmission, in any form or by any means, electronic, mechanical or otherwise, for reasons other than personal use, is strictly prohibited without prior written permission.