Weekend Crude Oil Summary 2/21/09 - The Dumb Money
Richard Olney
olney_richard@yahoo.com
February 25th, 2009
Well another down month for Crude Oil. March Crude Oil expired at 38.94. Under the psychological level of 40. However the Oil Bullz say who cares about March Crude Oil? Its all about April Crude Oil now and the Oil Bullz claim they see light at the end of the tunnel. April Crude Oil closed at 40.03 on Friday on short covering as smart Oil Bearz prefer to go into the weekend flat.
A fellow trader forwarded me a bearish article on crude oil and I consider it a must read clink on this link. The article quotes Stephen Schork as saying "the dumb money" is flocking to energy funds.
I have been writing about this phenomena for weeks.
The latest COT report as of 2/17/09 states commericals covered 20% of their short positions into the Crude Oil weakness (linked). We do expect the commercials to cover into Crude Oil weakness as their hedging operations are profit centers. We need to keep an eye on the commercials. If the Commercials short covering continues confirmed by Crude Oil price appreciation then the Oil Bullz will have something. Since their covering occurred on substantial price weakness I will attribute this short covering to profit taking and March expiration. If Crude Oil price increases I would expect the commericals to increase their net short position.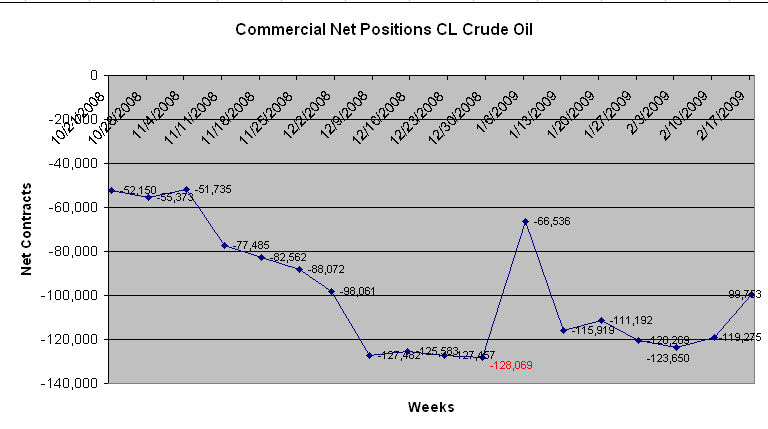 For oil inventories we are gushing with oil. The EIA reported last week that oil inventories were actually down 200K BBL when they were actually expecting an increase. Cushing Ok inventory was flat at 34.9M BBL. Coupled with an increase of Gasoline demand they bought that report. Having an occasional report come in with inventories being flat on the week is more neutral than bullish. However, what is important to us is how they trade it. For now, a Bearish EIA report is neutral, a Neutral EIA report is Bullish, and a Bullish EIA report may cause a huge price spike. Make no mistake about it folks, the inventory situation is as bad as can be and it should get worse before it gets improves.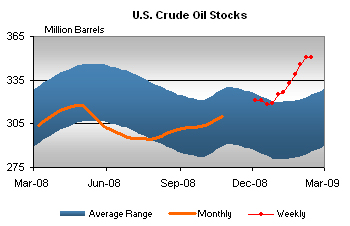 There are some bullish divergences in the oscillators. However that is all they are, smoldering ashes, unless there is a torche to ignite a flame. We have three potential catalysts for crude oil that we need to keep an eye on as potential risks to playing the short side. The first being a suprise draw on EIA crude oil supplies. The second being saber ratteling between the US, Iran and Israel over Iran's Nuclear program. Irans Nuclear program seems to be gaining attention lately as they are getting closer to allegedly creating a Nuclear bomb. No one knows how this is going to play out with leadership changes in the US and Israel. The third being government intervention in the financial system. Lots of unknowns with how the government will save the US financial system, however if the US should somehow get it right then we could see a massive short covering rally in the S&P500 as a higher tide lifts all boats.
Looking at the charts the trend is down. Looking at the pivot points for April Crude Oil the 13 SMA for daily pivot points is at 42.62. The Weekly continuous WTIC chart has price confined within a triangle which is a continuation pattern in a downtrend. We have a series of lower highs on the daily continuous WTIC chart which is bearish. Looking at the weekly USO chart, price is well confined within the down channel and we have a break away gap down. Not a bullish set up at all! Anyone who is calling a bottom here is making an "anticipation" reversal call against a trend. Although it is possible it remains unlikely.
For next week I expect crude oil to trade in a range between 37 to 42 next week. Last weeks low is 37.12 and last weeks high is 42.89. Heavy resistance resides at 42.50 +/- .50 pnt. It will take a pretty good spark to get oil over 43 next week. The dumb money is buying the lows at 37.xx. Going forward I would not hold shorts over the weekend due to risks with Government intervention or geopolitical events that tend to land on the weekend for maximum effect.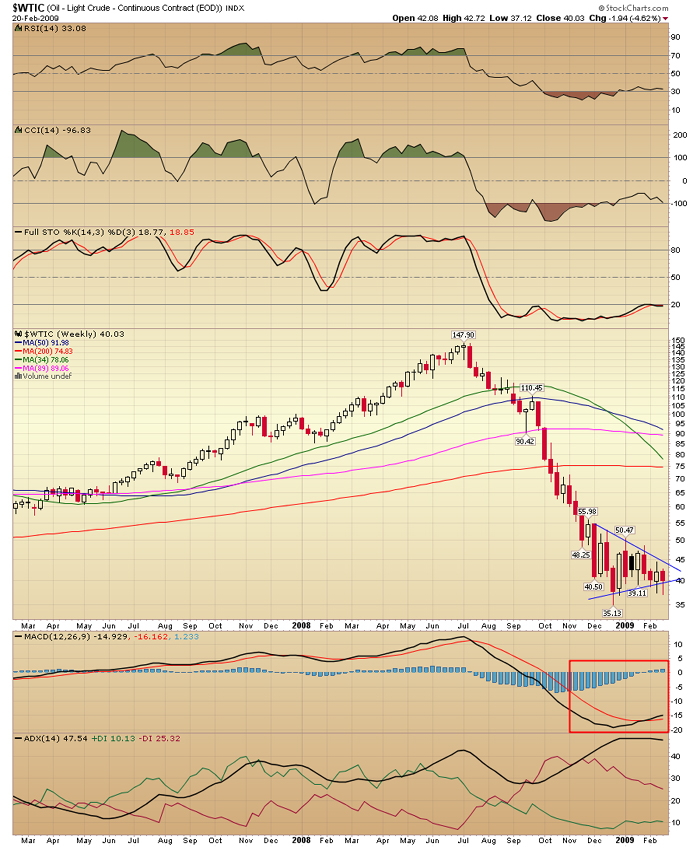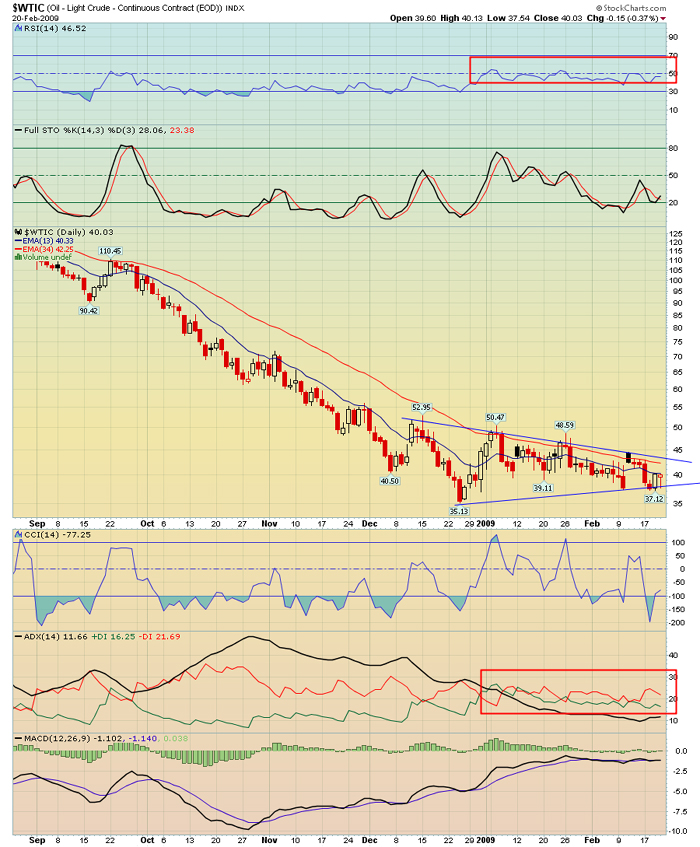 Richard Olney
olney_richard@yahoo.com
February 25th, 2009