Suez Weekly Market Monitor
Derek Mumford
Derek.mumford@suezenergyna.com
December 5th, 2006
ERCOT Power
ERCOT power launched the week with a sharp increase in prices. Late in the week prices took an even sharper decline as the gas market eased off.
ERCOT Prompt month deliveries closed at $59.80/MWh, increasing $2.29/MWh or 3.84%.
Prompt month prices remain down from 3 months ago by a difference of 23%.
ERCOT '08 finished the week at $75.07/MWh up 2.42%.
ERCOT '09 closed the week at $70.84/MWh up 1.51%.
The prompt month for the Houston Zone finished at $63.55/MWh an increase of 3.61% and the prompt month North Zone finished at $63.80/MWh up 3.59%.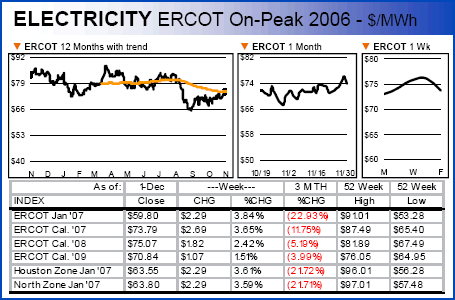 NYISO—NEPOOL Power
Northeast curves also reflected the early gains and late losses as seen in the ERCOT market. Prices across the region are holding close to their 52-week low.
Prompt month prices for the Northeast are 27% to 29% less than 3 months ago for the same trading month.
NYISO Zone J prompt month closed the week at $105.15/MWh increasing $1.10/MWh a change of 1.05%.
NYISO Zone A prompt month finished at $72.30/MWh a gain of $0.55/MWh or 0.76%.
Massachusetts NEMA prompt month closed up at $103.65/MWh a change of 1.01% or $1.05/MWh.
Massachusetts SEMA prompt month finished the week at $96.65/MWh, increasing 1.09%.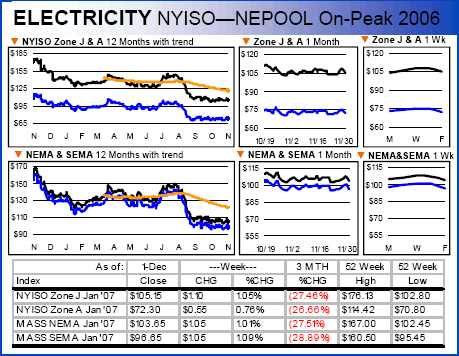 PJM Power
PJM power in the eastern and western region held a fairly close relation as prices increased in the early week and declined in the latter part of the week.
Cinergy prompt month finished the week at $59.40/MWh, a change of 1.52% increasing $0.90/MWh.
NI Hub prompt month finished up $1.35/MWh to close at $61.30/MWh, a change of 2.20%.
PJM West Hub prompt month gained $0.75/MWh closing at $73.25/MWh, a change of 1.02%.
PSEG prices for the prompt month closed at $77.78/MWh, a change of 0.96% or $0.75/MWh.
Compared to 3 months ago, PJM prices are 22% to 24% less for the same trading period.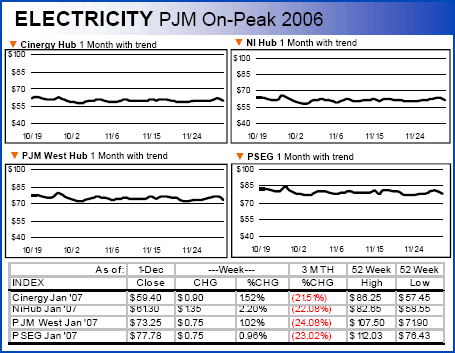 Natural Gas Market
Natural gas ramped up early in the week. It soon peaked and began to decline late in the week. NYMEX prices for the prompt month finished the week at $8.42/MMBtu an increase of 3.84% or $0.32/MMBtu.
January 2007 prices are 24.74% lower than 3 months ago for the same delivery period.
NYMEX Cal. '07 closed at $8.42/MMBtu a change of 3.64%, up $0.31/MMBtu.
NYMEX Cal '08 finished the week at $8.53/MMBtu; NYMEX Cal '09 closed at $8.06/MMBtu. Algonquin, Transco Z6, and Tetco M3 prompt month closed at $1.49/MMBtu, $1.63/MMBtu, and $1.13/MMbtu respectively.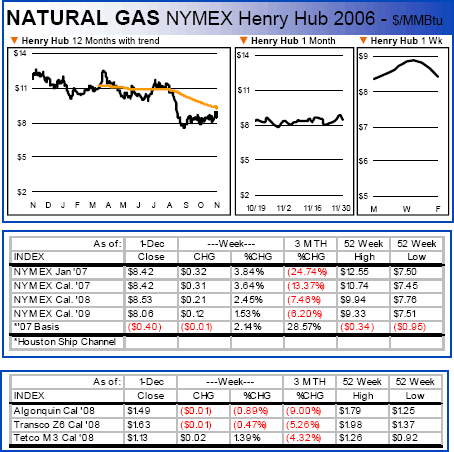 Natural Gas Storage: Gas in Storage Decreased 32 Bcf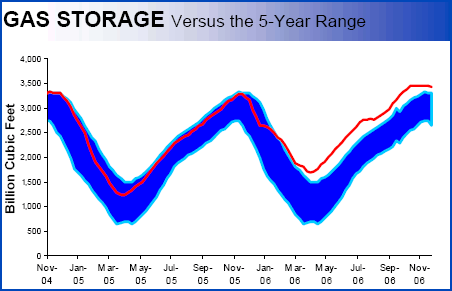 Working gas in storage was 3,417 Bcf as of Friday, November 24, 2006, according to EIA estimates. This represents a net decline of 32 Bcf from the previous week.
Stocks were 185 Bcf higher than last year at this time and 230 Bcf above the 5-year average of 3,187 Bcf.
In the East Region, stocks were 62 Bcf above the 5-year average following net withdrawals of 28 Bcf.
Stocks in the Producing Region were 113 Bcf above the 5-year average of 897 Bcf after a net withdrawal of 5 Bcf.
Stocks in the West Region were 55 Bcf above the 5-year average after a net addition of 1 Bcf. At 3,417 Bcf, total working gas is above the 5-year historical range.
(Source: EIA)
OPEC May Seek Higher Oil Price on Weaker Dollar
OPEC may seek higher oil prices because of the dollar's decline against the euro, the pound and the yen, signaling growing support for a cut in crude production when members meet next week.
"Everyone is concerned" by the drop in the dollar, Qatari Oil Minister Abdullah Bin Hamad al-Attiyah told reporters today in Abu Dhabi, United Arab Emirates.
The Organization of Petroleum Exporting Countries, the supplier of 40 percent of the world's oil, prices and sells its output in dollars.
The group, which agreed to remove 1.2 million barrels a day from Nov. 1, should reduce sales for a second time when it meets in Nigeria on Dec. 14, officials from Iran and Venezuela said yesterday.
"Gulf oil producers may seek higher prices to compensate for the rising cost of importing nondollar goods and services, which make up about two thirds of imports," Simon Williams, an economist for HSBC Holdings Plc, said in a phone interview from Dubai.
The dollar has fallen about 11 percent against the euro this year and by 3.8 percent in the past two weeks to end at $1.3336 per euro on Dec. 1, the lowest in 20 months.
This year's decline against the euro is the biggest since a 16.7 percent loss in 2003.
The Fed's Major Currency Dollar index, which gives a trade-weighted value for the dollar against a basket of seven currencies, has lost 6.6 percent this year.
"Inflation Anxieties"
"The weaker dollar is on their agenda because of inflation anxieties and because it erodes the value of their dollar-denominated overseas assets," Williams said.
The Gulf states, including Saudi Arabia, Iran and Kuwait, pump about 70 percent of OPEC's daily output.
Crude oil for January delivery was at $62.80, down 63 cents, in after-hours electronic trading on the New York Mercantile Exchange at 11:04 a.m. in London.
The contract earlier rose as much as 39 cents to $63.82 a barrel.
OPEC agreed to cut daily output at a meeting Oct. 20 in Doha, Qatar.
By then, increasing stockpiles of crude had caused the price to slide by more than a quarter in New York from its July 14 record high of $78.40 a barrel.
Edmund Daukoru, Nigeria's top oil official and OPEC's president, said the 11-member producer group may trim supplies further to prop up prices.
Oil prices "could be a little higher," Daukoru told reporters in Abu Dhabi today.
International Oil Companies
The weak dollar could also put more pressure on international oil companies such as Exxon Mobil Corp., Royal Dutch Shell Plc and ConocoPhillips that are already absorbing rising costs of boosting capacity, Jim Mulva, Conoco's chief executive officer, said today.
"All goods and services that are priced other than in dollars ends up costing more," Mulva, who heads the third- largest U.S. oil company, said in an interview in Abu Dhabi today.
Shell, Europe's largest oil company, decided to go ahead with a project this year to build the world's biggest plant to convert gas into diesel fuel and base oils in Qatar at a cost of as much as $18 billion, three times the original estimate for the venture.
(Source: Bloomberg)
Derek Mumford
Energy Analyst
Suez Energy Resources
Derek.mumford@suezenergyna.com