Suez Weekly Market Monitor
Derek Mumford
Derek.mumford@suezenergyna.com
November 29th, 2006
ERCOT Power
ERCOT saw some early week gains, but this soon gave way to a continued decline for the remainder of the week.
ERCOT Prompt month deliveries closed at $54.41/MWh, decreasing $1.62/MWh or 2.97%.
Prompt month prices remain down from 3 months ago by a difference of 23%.
ERCOT '08 finished the week at $73.25/MWh down 1.13%.
ERCOT '09 closed the week at $69.77/MWh down 1.36%.
The prompt month for the Houston Zone finished at $59.41/MWh an increase of 1.49% and the prompt month North Zone finished at $58.41/MWh down 1.05%.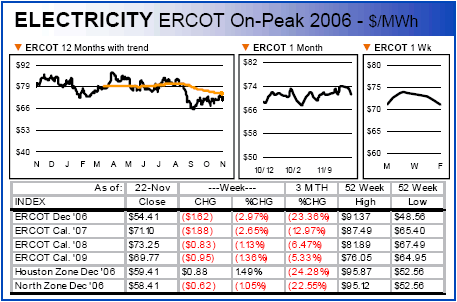 NYISO—NEPOOL Power
Northeast power curves also saw an early week gain but that soon gave way as the week continued and gas prices dropped.
Prompt month prices for the Northeast are 16% to 24% less than 3 months ago for the same trading month.
NYISO Zone J prompt month closed the week at $85.35/MWh decreasing $4.45/MWh a change of 5.21%.
NYISO Zone A prompt month finished at $62.50/MWh a loss of $4.80/MWh or 7.68%
Massachusetts NEMA prompt month closed down at $82.35/MWh a change of 5.22% or $4.30/MWh.
Massachusetts SEMA prompt month finished the week at $73.35/MWh, decreasing 5.86%.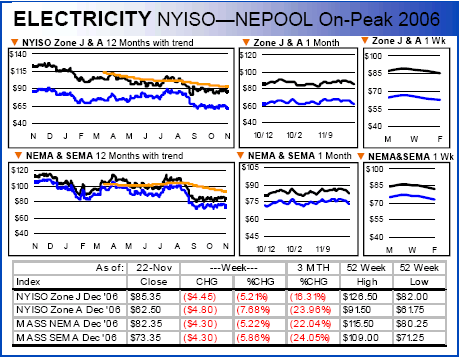 PJM Power
PJM power prices in the east and the west saw an early gain but that soon changed and prices declined prices for the remainder of the week.
Cinergy prompt month finished the week at $52.60/MWh, a change of 4.09% decreasing $2.15/MWh.
NI Hub prompt month finished down $2.50/MWh to close at $55.00/MWh, a change of 4.55%.
PJM West Hub prompt month lost $3.90/MWh closing at $62.00/MWh, a change of 6.29%.
PSEG prices for the prompt month closed at $68.00/MWh, a change of 5.74% or $3.90/MWh.
Compared to 3 months ago, PJM prices are 6% to 24% less for the same trading period.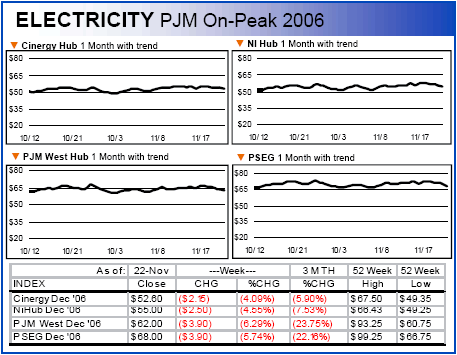 Natural Gas Market
Natural gas began the week on a steep incline but gradually declined as the week continued.
NYMEX prices for the prompt month finished the week at $7.72/MMBtu a decrease of 5.21% or $0.40/MMBtu.
December 2006 prices are 24.99% lower than 3 months ago for the same delivery period.
NYMEX Cal. '07 closed at $8.11/MMBtu a change of 2.77%, down $0.23/MMBtu.
NYMEX Cal '08 finished the week at $8.32/MMBtu; NYMEX Cal '09 closed at $7.93/MMBtu.
Algonquin, Transco Z6, and Tetco M3 prompt month closed at $1.50/MMBtu, $1.64/MMBtu, and $1.12/MMbtu respectively.
Natural Gas Storage: Gas in Storage Decreased 1 Bcf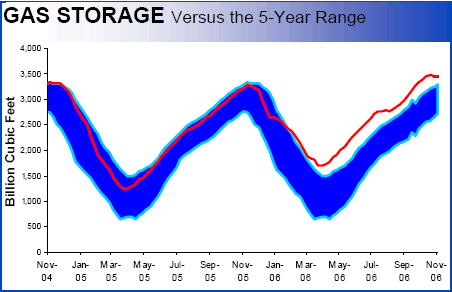 Working gas in storage was 3,449 Bcf as of Friday, November 17, 2006, according to EIA estimates.
This represents a net decline of 1 Bcf from the previous week.
Stocks were 174 Bcf higher than last year at this time and 240 Bcf above the 5-year average of 3,209 Bcf.
In the East Region, stocks were 72 Bcf above the 5-year average following net injections of 2 Bcf. Stocks in the Producing Region were 114 Bcf above the 5-year average of 901 Bcf after no net change in stock levels.
Stocks in the West Region were 54 Bcf above the 5-year average after a net drawdown of 3 Bcf. At 3,449 Bcf, total working gas is above the 5-year historical range.
(Source: EIA)
Oil Shares Signal a Rebound
Oil stocks are signaling that crude prices may rebound to a record in 2007.
Shares of Nymex Holdings Inc, owner of the biggest energy exchange, have more than doubled since their Nov. 16 sale, the best performance for any initial public offering this year. The value of energy industry IPOs in 2006 is more than double that of last year, reaching $7.4 billion after KBR Inc., the builder of liquefied natural gas plants and refineries, raised $473 million Nov. 15.
Benchmark U.S. crude oil is likely to average $70 a barrel next year, according to Dallas hedge fund manager Boone Pickens. Economist Ed Morse at Lehman Brothers Inc., the fourth-largest U.S. securities firm, predicts $72. Either would top the average price for New York oil futures so far this year, $66.73 a barrel, and set a record.
"I keep thinking we're right at the bottom on oil," Pickens, who has correctly predicted rising energy prices for the past three years, said in a Nov. 22 interview. "I don't see why the run is over if the global economy continues to grow."
"People have been beating up on energy stocks lately, but there aren't a lot of other sectors out there making that kind of money," said David Foley, who helps manage $600 million at Grove Creek Asset Management in New York.
Investment strategists including James Paulson of Wells Capital Management in Minneapolis said this summer that energy markets had peaked and were poised to collapse.
Crude oil dropped as much as 30 percent from a record $78.40 a barrel on the New York Mercantile Exchange in July to its low this month. Natural gas futures, falling all year as inventories of the fuel swelled, reached a four-year low in September. Gas has almost doubled in the two months since then.
When the prices for oil, fuels and natural gas start to rise may depend on how quickly winter weather spreads across the U.S., Pickens said. So far, warm temperatures have kept demand for heating fuels in check.
As recently as July, when both oil and natural gas were falling, Halliburton Co. had expected to shelve the sale of its KBR unit because of a lack of demand. Instead, the IPO was completed with shares selling at $17, the top of the range the company predicted, and gaining 22 percent in their first day of trading.
"The outlook is very strong," said Jason Putman, an analyst who helps manage $60 billion at Victory Capital Management in Cleveland. Putman's firm bought shares of KBR on optimism it will benefit from a building boom in LNG terminals. "The next three to five years look about as good as they ever have for LNG, and for energy in general."
Oil producers and refiners have been unable to keep pace with rising global demand for crude oil and refined fuels, and prices have doubled in the past three years.
"There are no clear signs that enough capital has yet been deployed in this sector to alter fundamentally today's tight conditions," according to a note to clients from Morse, Lehman's chief energy economist.
"A generation of underinvestment in the sector lies behind recent capacity constraints," Morse wrote.
Energy companies are selling shares to finance new projects, including Reliance Industries Ltd., owner of India's largest refinery. Reliance sold stock in its Reliance Petroleum Ltd. unit earlier this year, raising $601 million for construction of a 580,000 barrel-aday refinery.
"We are in a good oil and gas market and investors are trying to take advantage of that," said David Frischkorn, a managing partner at Dahlman Rose & Co., a New York-based brokerage that specializes in energy and shipping. "Cash flows have been very, very good and will continue to be good."
The increase in energy IPOs reflect confidence that enough oil and gas can be found to exploit today's high prices, said Daniel Yergin, chairman of energy consulting firm Cambridge Energy Research Associates and author of "The Prize," the Pulitzer prizewinning history of the oil industry.
"This is a growth period as the industry rebounds from the contraction it went through five or six years ago," he said.
(Source: Bloomberg)
Derek Mumford
Energy Analyst
Suez Energy Resources
Derek.mumford@suezenergyna.com