Suez Weekly Market Monitor
Derek Mumford
Derek.mumford@suezenergyna.com
February 13th, 2007
ERCOT Power
ERCOT power prices stayed constant until the middle of the week where they increased slightly. At the end of the week, prices decreased somewhat as they reacted to the declining natural gas market.
ERCOT Prompt month deliveries closed at $60.94/MWh, increasing $0.87MWh or 1.43%.
ERCOT '08 finished the week at $74.82/MWh up 3.13%.
ERCOT '09 closed the week at $71.06MWh up 3.09%.
The prompt month for the Houston Zone finished at $64.44/MWh an increase of 0.57% and the prompt month North Zone finished at $62.94/MWh up 0.59%.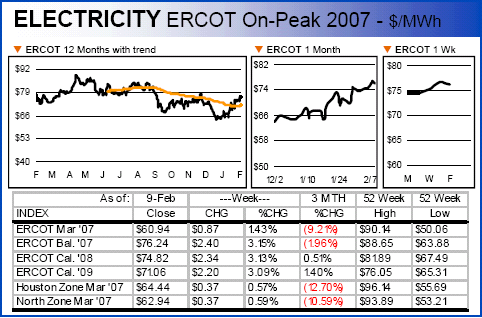 NYISO—NEPOOL Power
Northeast power prices increased steadily throughout the week.
Prompt month prices for the Northeast are 4% to 14% less than 3 months ago for the same trading month.
NYISO Zone J prompt month closed the week at $93.50/MWh increasing $2.00/MWh a change of 2.14%.
NYISO Zone A prompt month finished at $65.50/MWh a gain of $2.00/MWh or 3.05%.
Massachusetts NEMA prompt month closed up at $82.50/MWh a change of 1.82% or $1.50/MWh.
Massachusetts SEMA prompt month finished the week at $76.00/MWh, increasing 1.97%.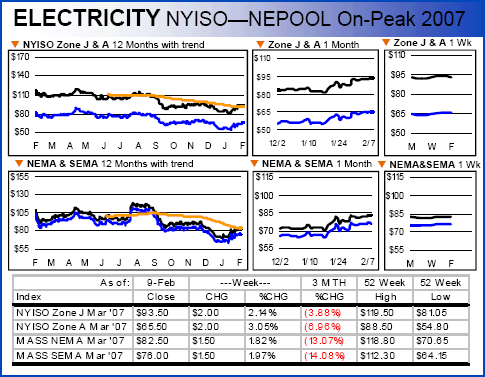 PJM Power
PJM power prices stabilized in the early week and saw gains a few days later leading prices to close a few points above the previous week.
Cinergy prompt month finished the week at $59.25/MWh, a change of 4.81% increasing $2.85/MWh.
NI Hub prompt month finished up $1.75/MWh to close at $59.25/MWh, a change of 2.95%.
PJM West Hub prompt month gained $2.50/MWh closing at $68.50/MWh, a change of 3.65%.
PSEG prices for the prompt month closed at $73.03/MWh, a change of 3.42% or $2.50/MWh.
Compared to 3 months ago, PJM prices are 5% to 8% less for the same trading period.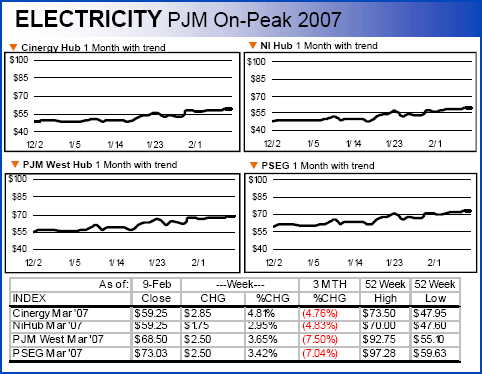 Natural Gas Market
Natural gas prices started the week at a steady pace before increasing slightly at the end of the week.
NYMEX prices for the prompt month finished the week at $7.83/MMBtu an increase of 4.48% or $0.35/MMBtu.
March 2007 prices are 11.78% lower than 3 months ago for the same delivery period.
NYMEX Bal. '07 closed at $8.27/MMBtu a change of 4.33%, up $0.36/MMBtu.
NYMEX Cal '08 finished the week at $8.46/MMBtu; NYMEX Cal '09 closed at $8.03/MMBtu.
Algonquin, Transco Z6, and Tetco M3 prompt month closed at $1.49/MMBtu, $1.63/MMBtu, and $1.15/MMbtu respectively.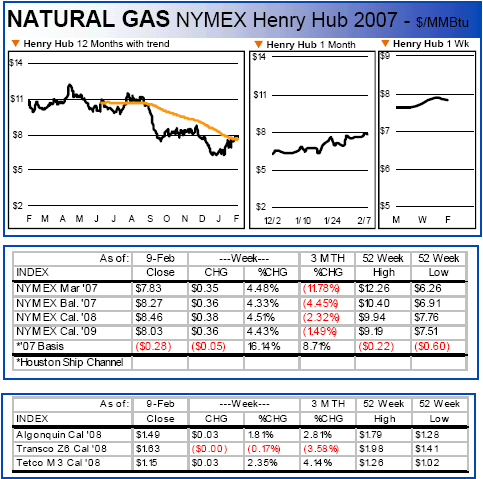 Natural Gas Storage: Gas in Storage Decreased 224 Bcf
Working gas in storage was 2,347 Bcf as of Friday, February 2, 2007, according to EIA estimates.
This represents a net decline of 224 Bcf from the previous week.
Stocks were 26 Bcf less than last year at this time and 378 Bcf above the 5-year average of 1,969 Bcf.
In the East Region, stocks were 238 Bcf above the 5-year average following net withdrawals of 139 Bcf.
Stocks in the Producing Region were 137 Bcf above the 5-year average of 607 Bcf after a net withdrawal of 63 Bcf.
Stocks in the West Region were 3 Bcf above the 5-year average after a net drawdown of 22 Bcf.
At 2,347 Bcf, total working gas is within the 5-year historical range.
(Source: EIA)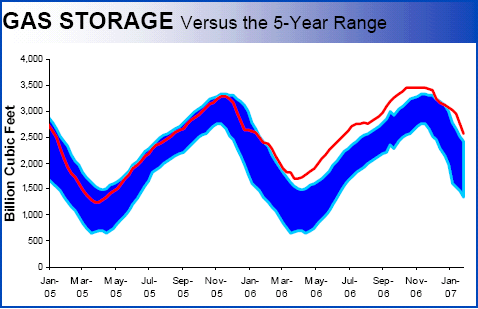 Nymex Natural Gas Declines on Ample Supplies, Milder Weather
Natural gas fell in New York amid abundant supplies of the furnace fuel and forecasts showing a return to more seasonal temperatures next week.
U.S. utilities, manufacturers and power stations held 2.347 trillion cubic feet of gas in underground storage caverns as of Feb. 2, 19 percent higher than the five-year average, the government said. Meteorologists predicted higher temperatures next week across sections of the central U.S. after a month of frigid weather in the heating fuel's biggest markets.
"The weather forecasts are showing a break in the cold weather," said Chris Jarvis, energy analyst at consultant Caprock Risk Management in Hampton Falls, New Hampshire. "If we get this warm spell, then natural gas will have trouble holding even these levels here."
Gas for March delivery dropped 37.8 cents, or 4.8 percent, to $7.449 per million British thermal units at 10:06 a.m. on the New York Mercantile Exchange. The price has climbed 13 percent in the past month.
"A warm-up next week is now for real," said Joe Bastardi, lead meteorologist at Accu-Weather Inc. in State College, Pennsylvania. Bastardi predicted the cold that has gripped the central and eastern U.S. since the middle of last month.
Meteorologists at MDA EarthSat Energy Weather said the central U.S. will return to normal temperatures during the Feb. 17 through Feb. 21 period, with below-average readings lingering across the eastern third of the country. Above-average temperatures will reach across the entire eastern half of the nation from Feb. 22 through 26, MDA said.
"One last push of colder air is seen into the Midwest and East this coming holiday weekend before a major thaw commences," MDA's lead meteorologist Matt Rogers said in today's report.
Technical Factors :
Technical factors also helped fuel today's decline, analysts said. Technical analysts study price charts and volume graphs to glean clues to how trading might flow in the future.
Natural gas failed on at least two attempts to rally past the $8.035 two-month high from Feb. 5, a bearish signal, said Wendell Tucker, a broker at Capitol Commodity Services in Indianapolis.
"They tried to run it up last week," Tucker said. "It just stalled out."
Benchmark gas climbed 4.7 percent last week. The increase in prices would normally be a bullish indicator, assuming it showed people buying gas contracts and holding them. The fact that open interest was declining at the same time prices were going up, however, shows that people were exiting the market as they were buying contracts, Jarvis said. That happens with traders holding short positions, or bets for a decline, he said.
Traders holding short positions have to buy gas to close out their position. Open interest is the total number of option and futures contracts that have not been closed, liquidated, or delivered.
"When you see prices going up, you want to see that confirmed by rising open interest," Jarvis said.
(Source: Bloomberg)
Derek Mumford
Energy Analyst
Suez Energy Resources
Derek.mumford@suezenergyna.com