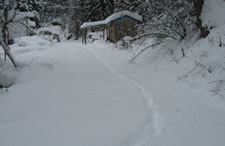 Buying and Selling Irrational Behavior
Bob Moriarty
December 7, 2005
Anytime you buy or sell a stock, you should be buying and selling irrational behavior. Hopefully that of others.
You should buy shares when they are irrationally cheap and sell them when they are irrationally expensive. Those are subjective concepts but they work. Certainly in hindsight it's obvious when things are absurdly cheap or absurdly expensive. For example, if you think real estate is absurdly cheap right now, you may be on the wrong website, there isn't very much you can learn from us.
I went to British Columbia last week to look at a gold mine. I think I found a gold mine but I did so by stumbling into a gas well. This was all after following a bear down a path through 18 inches of snow in December. That's about as irrational as I ever get. Except when I fly under the Eiffel Tower.
Months ago Running Fox Resources began to advertise on both 321gold and 321energy. The company is one of those incredible Vancouver stories. Not a good story up until about five years ago, either. If you go to SEDAR and look up Running Fox and trace it backwards, it's been through eight iterations in the last 20 years. That has to be about a record for any of the companies I am willing to follow or invest in. But six years ago, Attorney Michael Meyers of Vancouver took over the company to both protect his investment and to clean it up. Eight may be the magic number both in China and Vancouver because by drilling a gas well, Mike found a gold mine.
Many Canadian investors have heard of the Brett property in BC. It, too, has a checkered past. In 1993 they discovered 54 feet of 1.1 ounce gold which shot the stock up to $5 before collapsing with everything else after Bre-X. Early in 2004 Running Fox signed an option with Mosquito Consolidated Gold Mines (sounds like a name required by truth in advertising laws) to acquire a 50% interest in the property by spending $500,000 in exploration.
It's an interesting property. Over the years its had the stock geochemical surveys and trenching, 10,000 meters of diamond drilling and an additional 2,800 meters of RC drilling with 459 meters of underground development. In 1996 the operation took a 291 tonne bulk sample and sent it off for refining and came up with over 27 GPT AU and 63 GPT AG. Running Fox owns 50% by completing its $500,000 commitment and the property has a 2% NSR payable to Vicore Mining Developments.
This year's drilling on the Brett showed gold in 15 out of 17 holes. The best 4.3 feet had 5.1 ounces of gold per ton. Another hole measured 10 feet of 1 ounce gold within 30 feet of .3 ounce gold. [there are a few pics for 321gold readers here].
If that was all that Running Fox had in its stable it would be interesting but not a lot more. A market cap of $7.8 million Canadian would make the stock fully priced at $.35. But Running Fox just completed a giant gas well which the market is totally ignoring. And nothing gets more irrational than that.
Part of the irrational behavior can be laid at the feet of the Running Fox. Running Fox President Mike Meyers announced the intention to participate in a gas well in mid-August. The well came in. It came in big time and it's located in the center of big time gas well country. The timing in a way turned out to be a disaster. Basically you have to announce information as it becomes available. The operator released the information the day before, so Running Fox had to put out a press release on Thursday November 24th and it was splashed all over the US. Except it was Thanksgiving and the U.S. was essentially closed. So the stock actually has fallen two cents since the announcement. The price is as irrational as it can be but having to release news in the U.S. on Turkey Day is a real bummer.
I like the company but they do realize they could have done a better job of releasing the information. Once it was released in however limited form, it would be improper to re-release it.
When talking about the value of oil or natural gas, you have to have some benchmarks to use. Like real estate, energy deals can be valued in three ways. (1) the value of current production (2) reserves and (3) future potential for more oil/gas deals.
When the operator flow tested the well, it came in at over 5 MMCF per day. (million cubic feet or 1000 units) The operator has determined that long term the well should be flowed at 3 MMCF. I'm going to use today's figure for natural gas of $14. One day's production at 3 MMCF is 3000 times $14 or $42,000 US per day. But you have to deduct transportation and processing charges of about 28-30%. And you can add the value of the very important condensate rich liquids which sell at a premium to spot oil. Basically you can figure the absolute maximum gross figure for the well per day is about $42,000 as of today's prices. That works out to $15.3 million US per year, gross before deductions at $14 gas.
Running Fox invested about $2.7 million Canadian in the well. Until they get their $2.7 million back, they get 30% of the house take. So Running Fox is going to get something like $200,000 to $300,000 per month for the next nine to sixteen months or until their initial costs have been paid and then they will be getting about $100,000 to $200,000 Canadian monthly until hell freezes over or the well runs dry. I work the first year figures out to about $3.0 million Canadian for the first year and $1.5 million Canadian thereafter.
If you invest $2.7 million in anything and get a return of up to $3.0 million in the next year and $1.5 million a year thereafter, that's what we call in Miami, "El Goodo Dealo." When the investing company has a market cap of about $7.8 million and the return is about a third of that, it's like having a PE of 3. And that's totally irrational.
But you also have to consider the value of the reserves in the well and this is a lot easier to determine. Right now, my sources tell me, a BCF (Billion cubic feet) of sweet natural gas in the ground is worth $5 million US. Since the well has an estimated 30 to 45 BCF in place, Running Fox can claim 4.5 BCF to 6.75 BCF at a value US of between $22.5 million to $33.75 million. Unlike the gold and silver business, guys in the oil patch tend to be very conservative. Those resource in place figures come from the operating company and there is a fair chance they will actually increase slightly. So based on the in place resource, Running Fox's participation in only this well is worth something between $22.5 million US to $33.75 million US. And the company is selling for between 1/3 and 1/4 of that. That's also pretty irrational. My figures are a bit high, you need to reduce the gross amount by about 30% due to the processing charge but you also need to add in about 10% because of the liquid condensates.
And you do have to figure in the value of the participation based on what they can do in the future. Remember that when Running Fox began doing this deal, natural gas was about half what it is now. By participating in the one well, Running Fox earned the right to participate in all the wells drilled in 28 sections in the same Pincher Creek area of Alberta. Nearby wells have been producing for as long as 35 and 42 years. Most North American gas wells have a 3 to 7 year life, long life is considered to be 10 to 15 years, 40 years is world class. Wells in Pincher Creek last an incredible 40 to 50 years.
No one could give me a hard number but here's how to think of it. They can drill two to three wells per section. Not all will hit paying gas deposits but the potential is there for 54 to 81 wells. All paying a potential 150% return. I'd say that's worth a lot more than $.35 a share. Enough so that I went out and bought a couple hundred thousand shares. Look at the last week and 200,000 of those shares traded are sitting in my account. That's what I consider rational.
I have been on the road for 95% of the time for the last three months looking at new iron, moly, silver and gold projects and I have seen some wonderful opportunities. But in the last five years I have never seen a stock so clearly undervalued as Running Fox. The gold is worth something but by all three measures of what a gas well is worth (and remember the three are cumulative) Running Fox is irrationally cheap. I cannot say what it is worth or where it will go. I can suggest it could be dangerous trying to buy the shares, don't even consider putting in a market order or the brokers will whack you silly. Running Fox is about to go for a run.
Running Fox advertises on both 321energy and 321gold. They have not paid for this article and it is my opinion and only my opinion. As always, we want to remind investors they are responsible for their own investment decisions. I do own shares in RUN. I am biased.
Running Fox Resources
RUN-V $.35 Canadian [Dec 5, 2005]
22.5 million shares outstanding, 26 million fully diluted.
Running Fox website.
Bob Moriarty
President: 321energy