Meridian's Energy Insights
For the week ending July 14th
Crude Oil – Long Term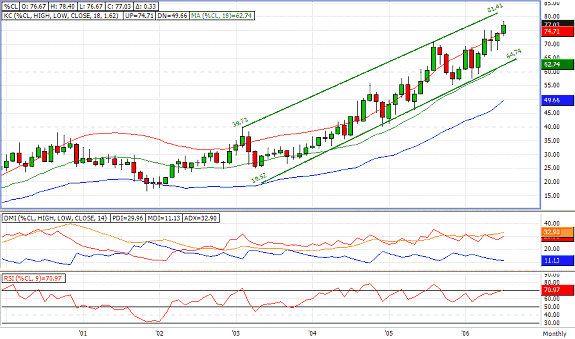 My Long Term view of Oil is predicated on the monthly continuous chart going back several years. Since 2003 Crude Oil has been rising in what I call a linear regression channel. Very little has changed on this long term chart since my last writing. We are still very much in a long term uptrend. What I find interesting is that the RSI (bottom pane on chart) is not what I would call over-bought. Even though August Crude Futures finished at $77 a barrel this week, we could still see higher Crude Oil prices ahead of us. But, to re-iterate my concerns - this price action is not due to a fundamental supply shortage but rather to geo-political concerns. This week provided us all with a "slap in the face" kind of wake up call. In a few short days since my last writing, we have seen all hell break loose in the Middle East. For my regular subscribers, this week I go into some detail about what has happened and what may yet happen in the volatile Muslim world. So, for the foreseeable future, all technical indicators continue to point to higher prices. There is no sign of the fear abating in the marketplace. Only a break below the $61 mark would put the Long Term linear regression channel to the test.
Natural Gas – Long Term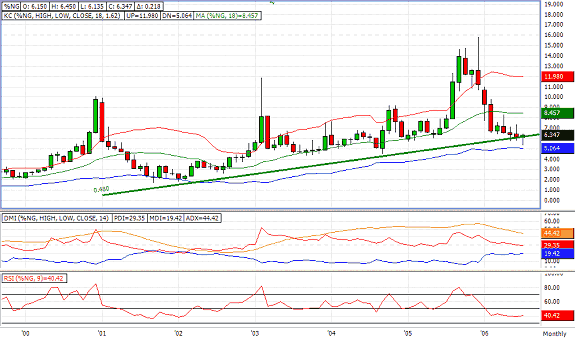 My Long Term view of Natural Gas is centered around a monthly continuous chart going back several years. Note the long term trend line is sloped upwards from left to right.
Last week I made the comment…"…this week gave me a jolt of fear as we slipped below this trend line. From here we could see lower Natural Gas prices unless we get some blistering hot weather that causes power generation companies to dramatically ramp up their usage of natural gas..."
Blistering hot weather we have, to say the least. Several mid-west states this week saw record temperature records shattered. Natural Gas responded slightly and we finished the week right on the trend line.
Market gurus this week were out in full force pointing out that higher Natural Gas futures prices are evident into 2007. Yes, this may be so but it does not guarantee us higher prices. In fact, I have seen several cases on the futures markets over the years for various commodities where deferred months simply came down in value to reflect current realities in the market.
So, for now we continue to cling to the trend line. Caution remains in order.
Crude Oil – Intermediate Term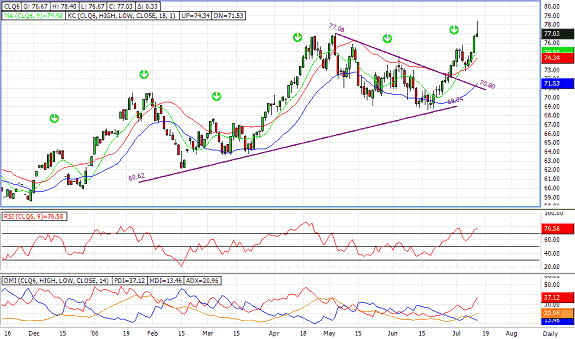 My Intermediate Term view of Crude Oil is determined by looking at a daily price chart going back about 1 year. This Intermediate Chart argues that we are still in a bull market for crude Oil with higher bottoms and higher tops being recorded.
So far this year Crude Oil pricing has been dominated largely by Iran and its efforts to press ahead with a nuclear enrichment scheme. This week, Iran was supposed to have decided whether or not to accept an offer of political and economic incentives that would see a halt to Uranium enrichment efforts. Of course, Iran rejected these overtures and a fresh wave of violence is now sweeping across the Middle East.
Last week I specifically stated... "...it looks like the Iranians are stalling. If the market can press through the $75.85 level, a run at $77 would be in the cards…"
Well, it turns out my technical target was right on. August Crude Futures finished the week at $77.03.
Last week, I also stated... "...on the above chart, I have pasted some green arrows at certain locations. What fascinates me is how crude Oil moves in cycles..."
Almost as if on cue, we experienced a decline in price to mark the end of a 6 week cycle. We are now into a fresh cycle which could take us much, much higher. This cycle is being given some added impetus with the events unfolding in the Middle East. For my regular subscribers this week I offer insight as to where I see the current cycle going and I offer commentary on details that are driving price.
To explore how to become a regular subscriber to Merv's Energy Central with Meridian, visit www.themarkettraders.com for details.
Natural Gas – Intermediate Term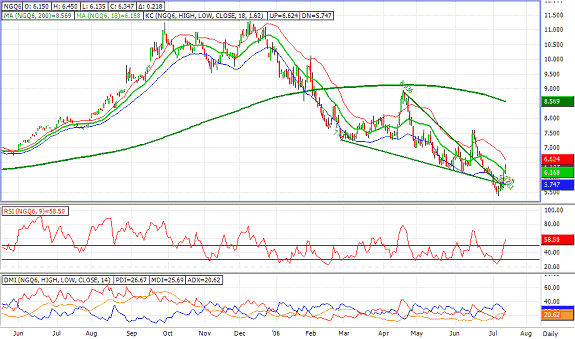 As with Crude Oil, my Intermediate Term view is derived from price action on a daily chart going back about 1 year.
As I noted above in my Long Term observations, we recovered a bit this week and remain perched right on the long term uptrend line. Technically, this recovery has some interesting implications. Price action this week, took us above the 18 day moving average and the 9 period RSI above the critical "50" level. Now, we need this momentum to keep going. It's just that very simple. Any back-tracking from here could be problematic. For some "close-up", short term, fundamental details on Nat. Gas, including the latest inventory storage data consider subscribing to Merv's Energy Central with Meridian. Visit www.themarkettraders.com for details.
To Subscribe to the Meridian Report, please be sure to visit www.themarkettraders.com
The information contained in this report represents an opinion on the market and is a reflection of conditions at the time of its publication. Readers entering into positions based on information outlined in this report should make certain these recommendations meet with their personal risk tolerance levels and investment objectives. This report is derived from information from sources believed to be reliable but no independent verification has been made as to its accuracy or completeness. Any reproduction of this report in part or in whole without the express consent of Meridian is strictly prohibited.