Geopolitical Price Meters
Peter McKenzie-Brown
Email:
pmbcomm@hotmail.com
languageinstinct.blogspot.com
November 21, 2007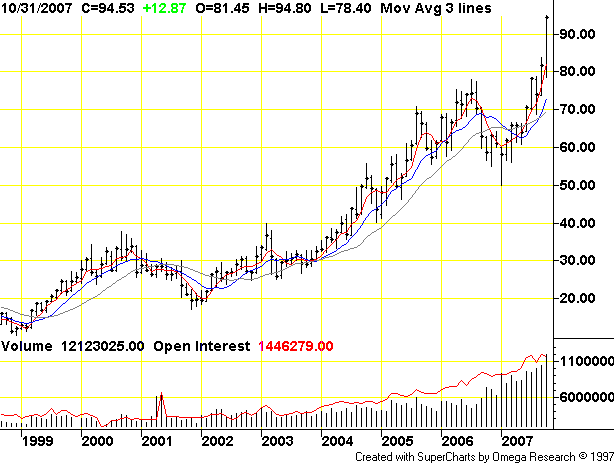 This is the month to celebrate the
anniversary
of a watershed event. As the graph shows, as this chart began oil prices on the NYMEX hit their lowest point in the last decade. What the chart does not show is that it was also the lowest level in the last 30 years. More than that of any other commodity, the price of oil is influenced by political and economic geography – complex events better known as geopolitics. Because geopolitics is largely unpredictable, so is the price of oil.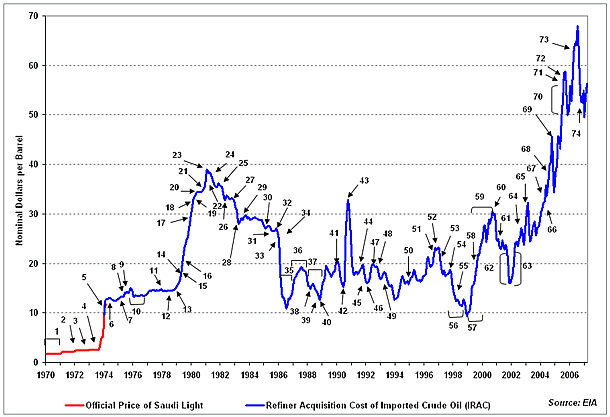 The US Government's Energy Information Administration has developed a geopolitical chart to illustrate the connections between oil and geopolitics since 1970. At this writing, the chart identifies 74 events during a 26-year period, and is current through January 2006. For details, go to this site. (The EIA uses a different measure of oil prices than the one provided by the NYMEX. That explains the discrepancies between this chart and the one at the beginning of this post.)
With this article, I am offering another "Geopolitical price-meter" for crude oil – a reference that gives those interested the opportunity to read links that describe the connections between oil prices geopolitical events and petroleum prices. I will periodically link this chart to authoritative articles about the influences on oil prices, but I have no plans to go back to 1970.
The articles I am citing are not definitive. Like all journalism, they represent "a first rough draft of history". However, each gives a sense of issues when the article was written, and each describes geopolitical factors that influence oil prices.
1. 2007/09/28 "
Oil prices surge on storm threat; Brent hits record high,
"
Agence France Presse
2. 2007/01/28 "
Saudis signal efforts to control oil prices
,"
International Herald Tribune
3. 2006/10/21 "
Oil Prices Drop Despite OPEC Call to Cut Output
,"
Washington Post
4. 2006/07/17 "
Record Oil? Not Yet
."
Forbes
5. 2005/11/11 "
Oil prices hover at 4-month lows but analysts warn of cold weather ahead
,"
Forbes
6. 2005/06/20 "
Oil's Price Climbing Toward $60 Level: Overheated Markets Ignore OPEC Talk Of Producing More,
"
Washington Post
7. 2005/09/01 "
Hurricane Katrina: The Oil Supply; Gas Prices Surge as Supply Drops
,"
New York Times
8. 2005/05/13 "
Recovering dollar drops oil below key $50 level
,"
Financial Times
9. 2005/01/20 "
Oil prices on a tightrope: Agency warns of another possible surge
,"
International Herald Tribune
10. 2004/10/11 "
Oil prices surge to new high
,"
Guardian Unlimited
11. 2004/01/08 "
Oil prices stay high, OPEC says wants them lower
,"
Forbes
12. 2003/10/01 "
Russia and Saudi in step over oil price defense
,"
Forbes
13. 2003/3/20 "
Putting Oil Prices in a Wartime Context
,"
TheStreet.com
14. 2002/11/25 "
The price of war and peace for US economy
,"
The Christian Science Monitor
15. 2002/01/02 "
Global Oil Glut Contains Subtle Dangers
,"
New York Times
16. 2001/10/04 "
Oil, Politics and the New Global Fault Lines
,"
New York Times
17. 2001/09/11 "
Price of crude tops $30 a barrel
,"
Guardian Unlimited
18. 2000/12/04 "
Forbes Faces: Saddam Hussein
,"
Forbes
19. 2000/12/24 "
Oil price fall unnerves Gulf states
,"
BBC News
20. 2000/26/09 "
Top Of The News: Oil Prices On Slippery Slope
,"
Forbes
21. 2000/29/03 "
OPEC move hits oil prices
,"
CNN
22. 1999/24/10 "
An Oil Outsider Revives a Cartel
,"
New York Times
23. 1999/22/03 "
OPEC Is Prepared to Reduce Oil Production to Raise Prices
,"
New York Times
Peter McKenzie-Brown
Email:
pmbcomm@gmail.com
languageinstinct.blogspot.com
November 21, 2007