Oil Market update
by Clive Maund
www.clivemaund.com
November 10, 2006
On 13th October a bullish Oil Market update was posted, since which time oil stocks have risen substantially, but oil itself has remained depressed. The picture for oil, however, has grown increasingly bullish.
On the 6-month chart for West Texas Light Crude we can see that, after a rather severe decline in August and September, a much more gentle downtrend set in, with oil drifting slower lower as it dug into support. Oil has been declining now almost continually for nearly 3 months, nearly 4 if you take the decline to have started from the July peak. This fact, combined with the more recent downtrend having taken the form of a bullish Falling Wedge, points to a new uptrend soon, especially as a bullish hammer candlestick appeared at the end of last month, when the price probed support at still lower levels.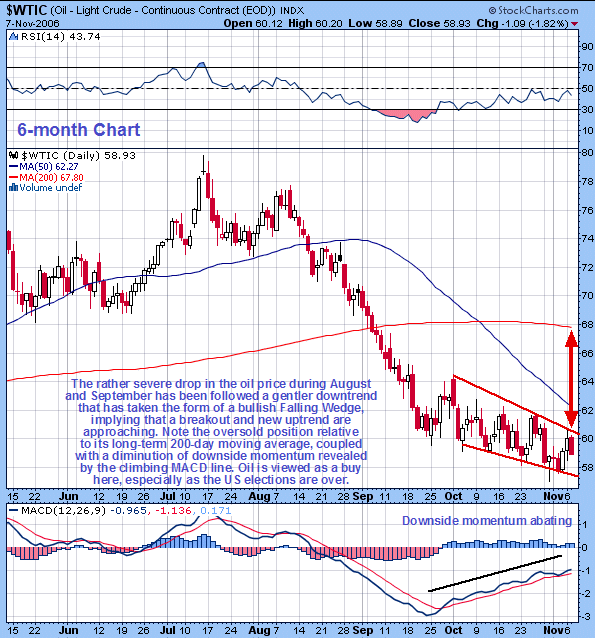 There is a school of thought that puts forward the view that oil prices have been driven down to improve the Republican chances in the election. This may well be true, and if it is, it obviously makes a rally much more likely, now that the votes have been cast.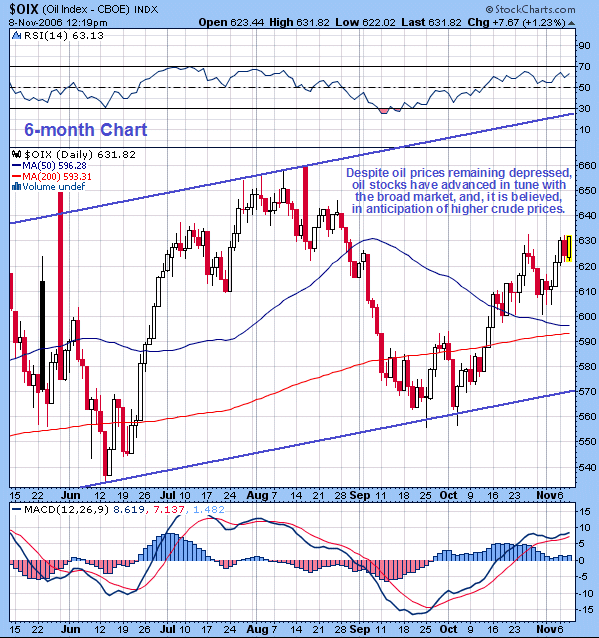 Clive Maund
support@clivemaund.com
November 10, 2006
Clive Maund is an English technical analyst, holding a diploma from the Society of Technical Analysts, Cambridge and lives in Copiapo, Chile.
Visit his subscription website at
clivemaund.com
.[You can subscribe
here
].
No responsibility can be accepted for losses that may result as a consequence of trading on the basis of this analysis.
Copyright © 2003-2006 CliveMaund. All Rights Reserved.