Oil Market Update
by Clive Maund
www.clivemaund.com
October 14th, 2006
The steep drop in the price of oil in recent weeks looks disconcerting to oil bulls on shorter-term charts, but on the 5-year Light Crude chart we can see that all it has done is retreat back across its long-term trend channel to support near the lower boundary of the channel, where it appears to be basing in readiness for renewed advance.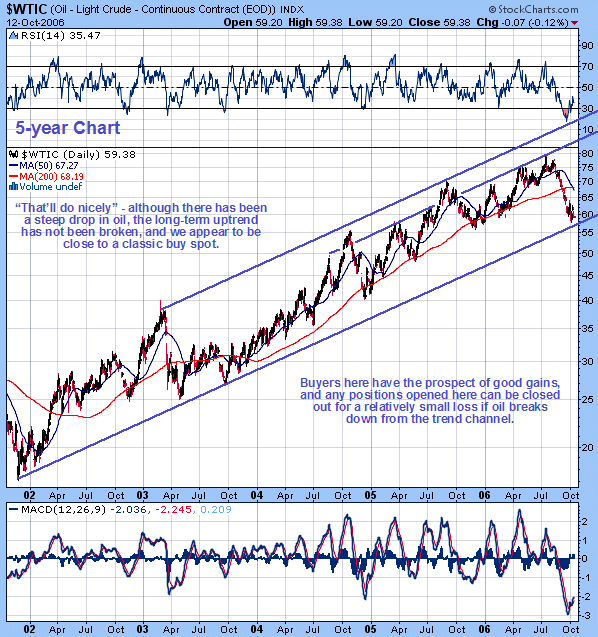 The 1-year chart shows the recent steep downtrend, which is as yet unbroken, and it could drop a little more without violating the long-term uptrend. However, the action in oil stocks suggests that this downtrend will soon end.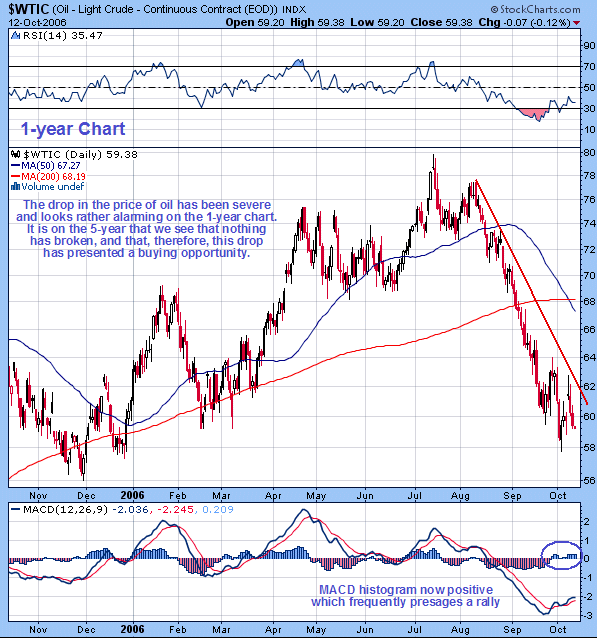 The 5-year chart for the OIX oil stock index reveals that, although the rise in oil stocks has slowed this year, the long-term uptrend is certainly not broken, and until it is, it would be wise to assume that it is still in force. This being so, with the index looking like it is basing above the lower boundary of a channel that started to form late last year, we appear to be at a buy spot for another move in the direction of the primary trend soon.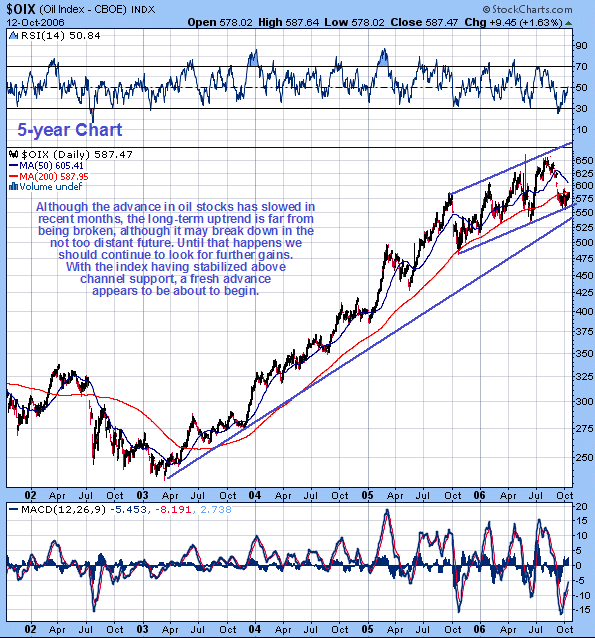 We can see the rather fine base area that has formed in recent weeks in detail on the 1-year chart, above the lower boundary of a perfect parallel channel. Note the 2 positive looking candlesticks when it probed the support of the trendline intraday and closed near to the day's high. Downside momentum has abated as the base has formed, and the MACD histogram shown at the bottom of the chart has moved into positive territory, a development that frequently presages a rally.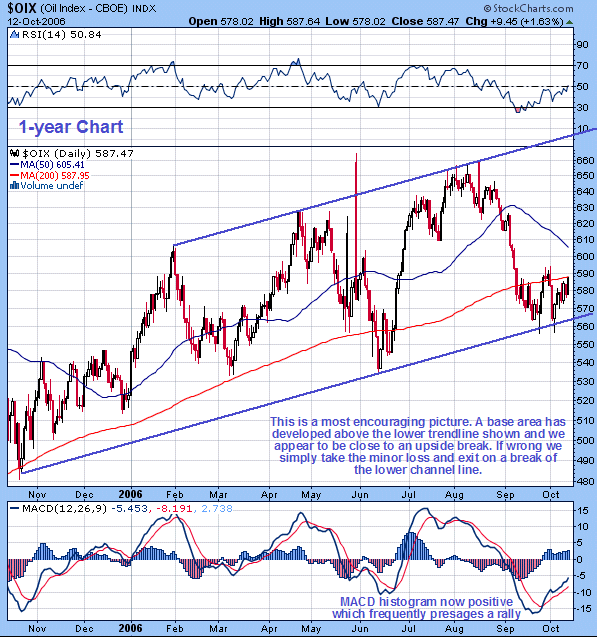 Both oil and oil shares are regarded as a strong buy here, with the prospect of good gains in the near future, especially if the Neocons taskforce of aircraft carriers and assorted vessels currently steaming towards the Gulf and laden with F16's and cruise missiles etc means business. Longer-term, in the absence of an attack on Iran, the oil uptrend may break down in sympathy with the emerging downtrend in commodities generally, but in the immediate future the prospects look bright.
Clive Maund
support@clivemaund.com


Clive Maund is an English technical analyst, holding a diploma from the Society of Technical Analysts, Cambridge and living in southern in Copiapo, Chile.
Visit his subscription website at
clivemaund.com
.[You can subscribe
here
].
No responsibility can be accepted for losses that may result as a consequence of trading on the basis of this analysis.
Copyright © 2003-2006 CliveMaund. All Rights Reserved.