Oil Market update
Clive Maund
October 10th, 2005
It has been a bad week for oil stock investors with oil stocks falling heavily, and yet, as we will shortly see, although this correction is not believed to be over yet, it should not have much further to run, and a number of smaller issues, which took a beating are already getting close to buying territory.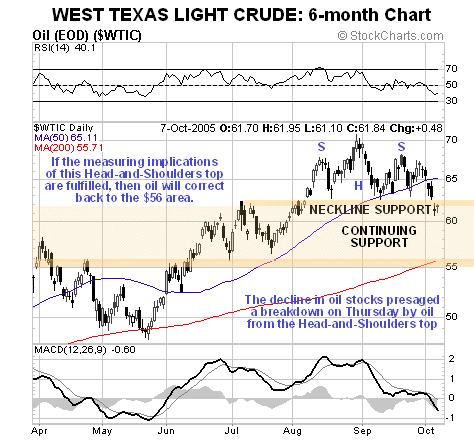 The steep drop in oil shares can be seen on the 6-month chart for the OIX oil index. It quickly resulted in a short-term oversold condition that generated the bounce on Friday. This decline eventually led to oil itself breaking down from the Head-and-Shoulders top that had formed from early August, on Thursday. This potential top formation was highlighted in the last Marketwatch Oil, although on balance it was not believed that it would turn out to be one, but as subsequent events have shown, it was.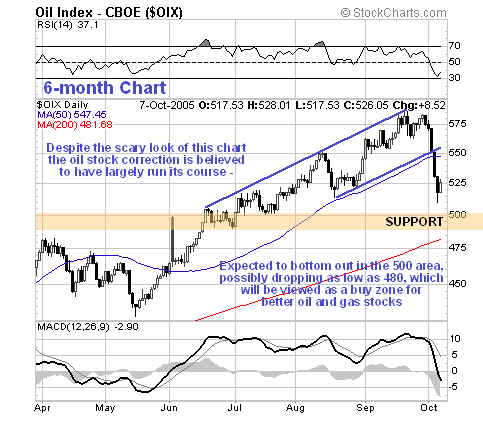 Looking at the 6-month oil chart it is clear that, having broken down from this top formation, the price is likely to correct further back towards the 200-day moving average. The target projection from this formation is a $7 drop from the neckline at about $63, which would mean it dropping further to $56 area, which is where common sense would suggest the correction will end, as there is strong support here in the vicinity of the 200-day moving average. One of the principal reasons for this correction, technically speaking, is the large gap that has opened up between the 50 and 200-day moving averages, and in order for this to close up, oil will need to drop back for a while.
The important point to grasp - and the core message of this update - is that oil stocks have already largely discounted this correction in oil - this, and the speculative froth - was why they dropped back so severely. Therefore, it is viewed as being for the most part too late to sell oil stocks, if you didn't sidestep this correction, then you are probably better off sitting it out now. Although oil may have $7 to drop, the OIX index may only fall back to the 500 area, which is only 25 points below the current level. A very important corollary of this observation is that, rather than thinking of selling at this time, you should be pinpointing the better stocks to buy at good prices in the coming weeks - taking advantage of the sudden big discount over prices just a week or so ago.
Amongst the stocks that we have following more closely, we succeeded in selling Abraxas (ABP) at the top (theoretically at least) before it broke down.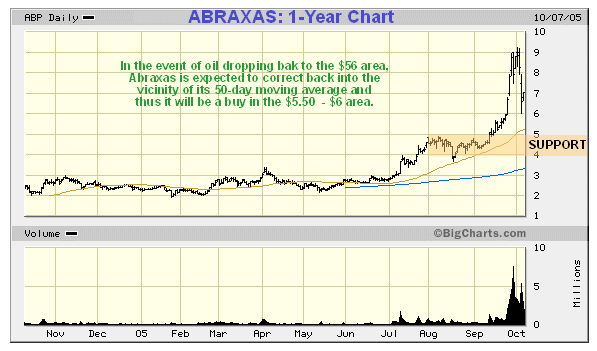 It was advised to exit Canargo in the event of it dropping below $1.75, and it plunged last week after hitting our Pennant target at $2.20, ahead of which it was advised to take partial profits.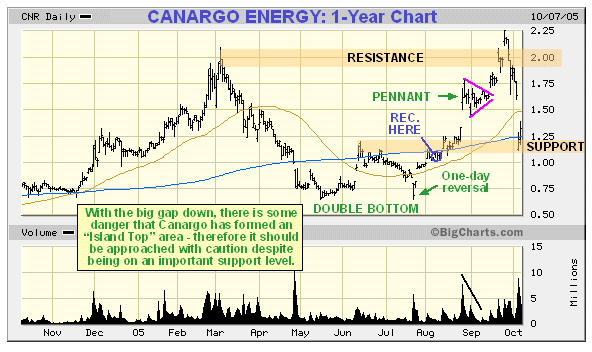 One of our stocks, Chaparral, which it was advised in the original writeup to exit in the event of it breaking its 20-day moving average, cratered last week on heavy volume. Due to the very heavy volume on the plunge, this one should be approached with more caution than many others in the immediate future, despite the more attractive price.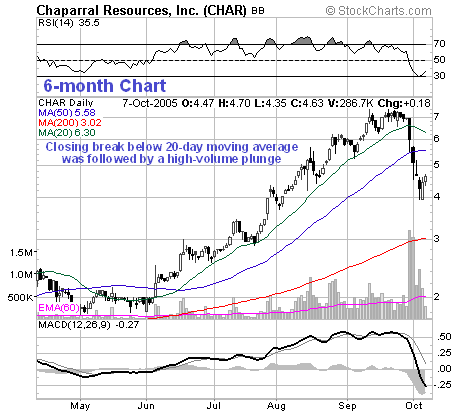 Abraxas is viewed as a buy in the $5.50 - $6.00 area. Big underlying support for Abraxas comes in at and below $5, however, due to its intrinsic strength it is considered unlikely that it will drop back that far. Note that this buy area has been raised from an earlier update where it was estimated that it would get back to $5. Canargo is now viewed with suspicion as the trading following the late August gap and preceding the gap down last week may be an "Island Top".
Conoco Phillips, the lumbering oil giant that we follow in these updates, rather like following a whale up the coast of California, has already corrected heavily as can be seen on the accompanying chart, and, in the event of oil dropping back about $7 as expected, it will probably only drop back to the $58 - $60 area, above its 200-day moving average, before its larger uptrend resumes.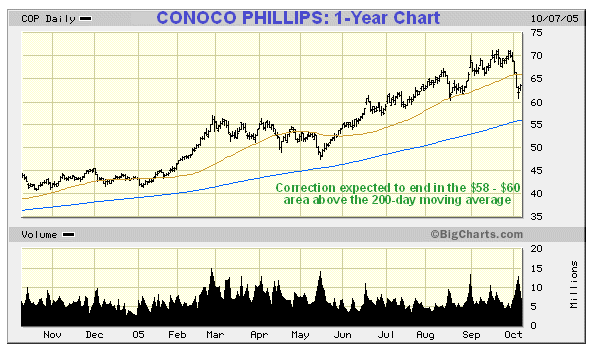 Clive Maund

Clive.Maund@t-online.de

Clive Maund is an English technical analyst, holding a diploma from the Society of Technical Analysts, Cambridge and living in southern Bavaria, Germany.

Visit his subscription website at clivemaund.com .[You can subscribe here].

No responsibility can be accepted for losses that may result as a consequence of trading on the basis of this analysis.

Copyright © 2003-2005 CliveMaund. All Rights Reserved.