Oil Market Update
Clive Maund
July 12, 2007
The probability of a heavy reaction in oil before much longer has risen to a very high level. In the last update we were cautious on account of the increasingly high Commercial short position in oil, but having broken above the resistance at the $67 level oil has continued to push on higher, rising by several dollars. The continued advance of the past several weeks has taken oil to its normal overbought limit as measured by short-term oscillators, but much more serious for oil bulls is the ballooning of the Commercialsí short positions, especially as these people have the distinction of virtually never being wrong.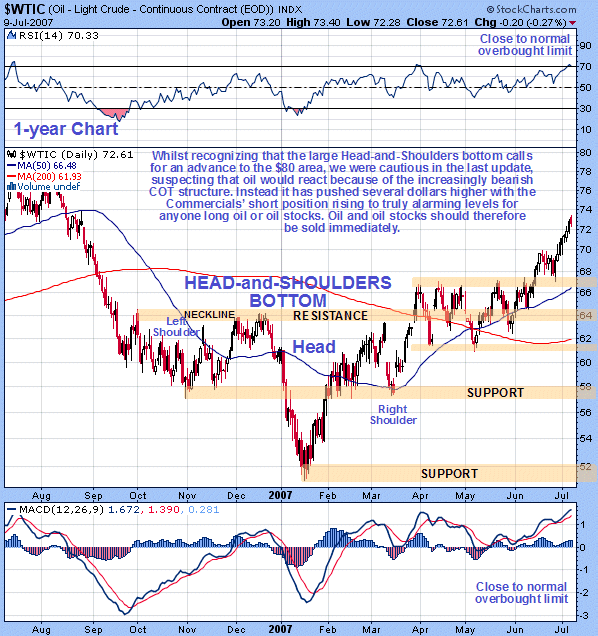 On the 1-year chart for Light Crude we can see the gains of the past few weeks and how they have resulted in a substantial gap opening up with the principal moving averages, and in the RSI and MACD indicators shown at the top and bottom of the chart rising to their normal overbought limits. Even without looking at the COT charts, these developments have greatly increased the chances of a reaction setting in. As we have observed in the past, the large, irregular Head-and-Shoulders bottom formation does call for an advance to a target in the $80 area, and without the benefit of the COT figures we would look for oil to continue to advance towards this objective, with pauses for consolidation/reaction to ease the overbought condition along the way. However, the now extreme level of Commercial shorts points to a substantial reaction setting in soon. The only circumstance likely to result in continued gains in oil prices in the present circumstances is thought to be a sudden and unexpected military offensive against Iran, which now looks like a low probability scenario. Anyone still long oil or stocks should therefore liquidate positions immediately and experienced traders can short or buy Put options in selected oil stocks.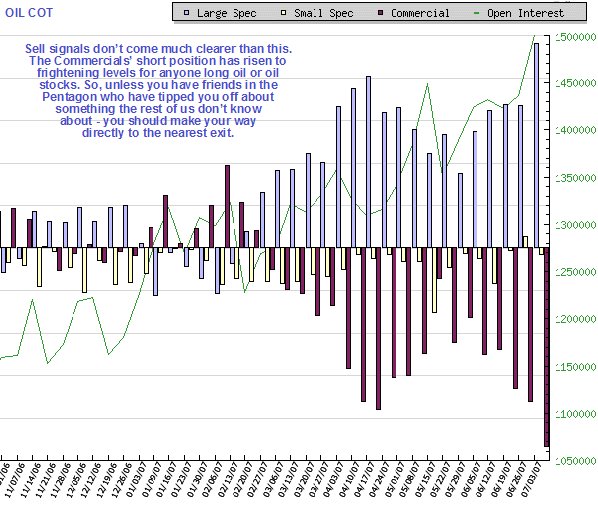 Curiously, the Natural Gas COT chart is, in complete contrast, very bullish, with the Commercials going long for the first time in ages. A good tactic for traders therefore is to take profits in oil stocks and switch straight into pure Natural Gas plays.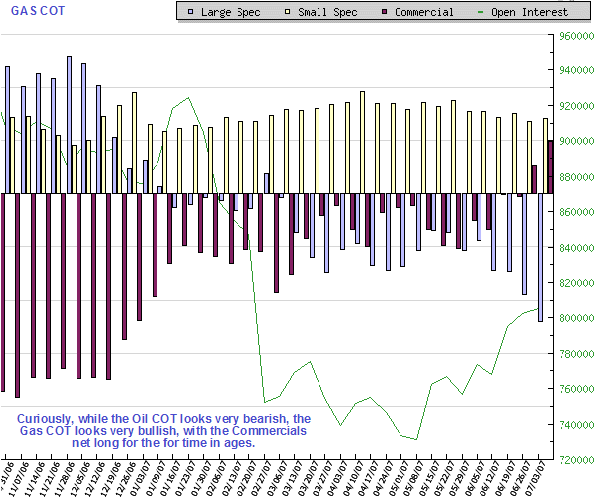 Clive Maund
support@clivemaund.com
July 12, 2007
Clive Maund is an English technical analyst, holding a diploma from the Society of Technical Analysts, Cambridge and lives in Copiapo, Chile.
Visit his subscription website at
clivemaund.com
.[You can subscribe
here
].
Clivemaund.com is dedicated to serious investors and traders in the precious metals and energy sectors. I offer my no nonsense, premium analysis to subscribers. Our project is 100% subscriber supported. We take no advertising or incentives from the companies we cover. If you are serious about making some real profits, this site is for you! Happy trading.
No responsibility can be accepted for losses that may result as a consequence of trading on the basis of this analysis.
Copyright © 2003-2007 CliveMaund. All Rights Reserved.