Oil Market Update
Clive Maund
June 12, 2007
Generally, the oil chart looks a lot more positive than the charts for gold and silver at this time, but that said it is considered unlikely that oil will go up while gold and silver go down, especially as their reason for going down is likely to be a rising dollar.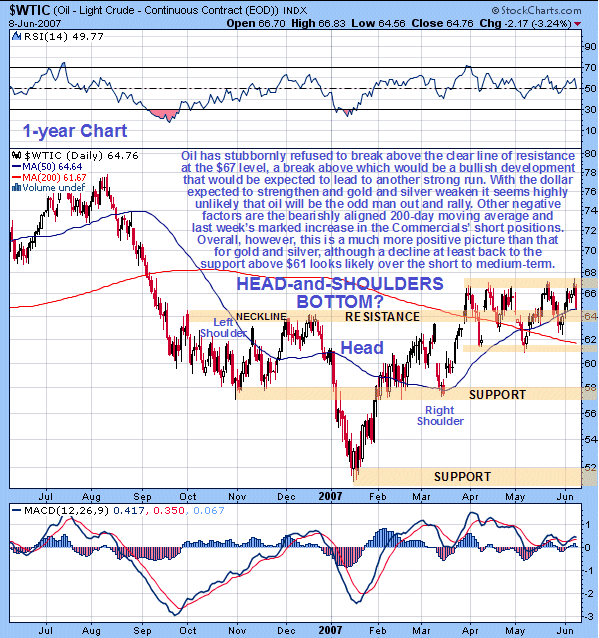 On the 1-year chart for Light Crude we can see the large, irregular Head-and-Shoulders bottom that has formed in oil that promises considerably higher prices if it can succeed in breaking above the key $67 level, but that may yet abort. Last week it made another run at the clear line of resistance at the $67 level, but again failed to get above it, and on Friday dropped a hefty $2, an event that was presaged by the substantial increase in the Commercialsí short position, or would have been presaged if these figures were made public in a timely fashion, which they arenít. This increase in the Commercialsí short position, which can be seen on the COT chart below, was of a sufficient magnitude to portend lower prices still going forward, with the price being above a steadily falling 200-day moving average another bearish factor.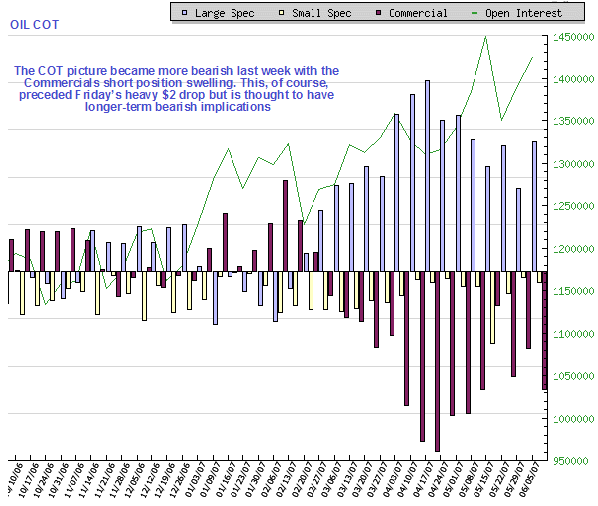 Barring sudden convulsions in the Mid-East, oil looks set to join gold and silver, at least for a while, in dropping in response to a strengthening dollar, any such decline being expected to take it back at least to the support level above $61, and possibly lower to the next clear line of support in the $57 - $58 area.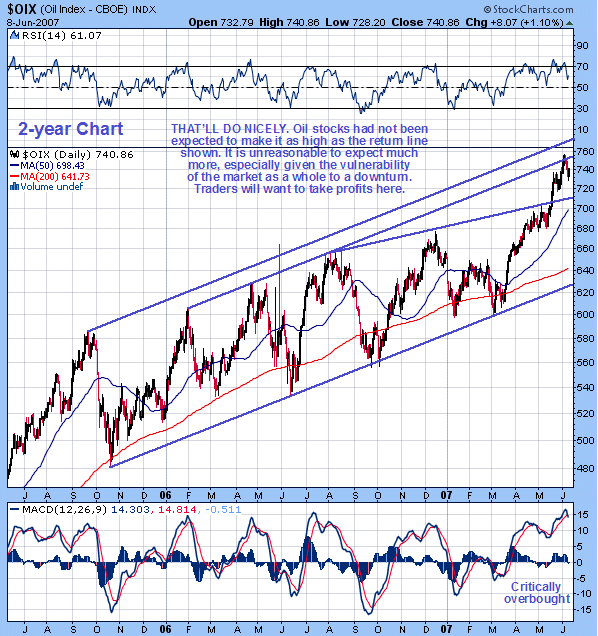 On the 2-year OIX oil index chart we can see that oil stocks have put in a strong performance over the past month, breaking above our first channel return line and a "distribution dome" (not shown) to make a run at a higher parallel return line. While they could rise still further, although not by much, to the upper parallel return line shown, this is asking a lot, especially given the danger of a dollar rally and consequent likely drop in the oil price and in the broad stockmarket. It is therefore considered prudent for traders still holding oil stocks to take profits here at the current elevated prices. At this juncture, only a sudden crisis in the Mid-East, beyond that which already exists that is, is likely to result in significantly higher prices over the short to medium-term.
Clive Maund
support@clivemaund.com
June 12, 2007
Clive Maund is an English technical analyst, holding a diploma from the Society of Technical Analysts, Cambridge and lives in Copiapo, Chile.
Visit his subscription website at
clivemaund.com
.[You can subscribe
here
].
No responsibility can be accepted for losses that may result as a consequence of trading on the basis of this analysis.
Copyright © 2003-2007 CliveMaund. All Rights Reserved.