Oil Market Update
Clive Maund
support@clivemaund.com
May 28th, 2008
Our cautious approach in the last update has been invalidated, or at least shown to be premature by oil continuing to accelerate to the upside, which has resulted in 2 important synchronous developments. Oil has broken out above both its intermediate and long-term channel return lines, which means that it is now no longer subject to the restraint of either trendlines or resistance levels, which were left behind long ago. On the other hand it is now extremely overbought.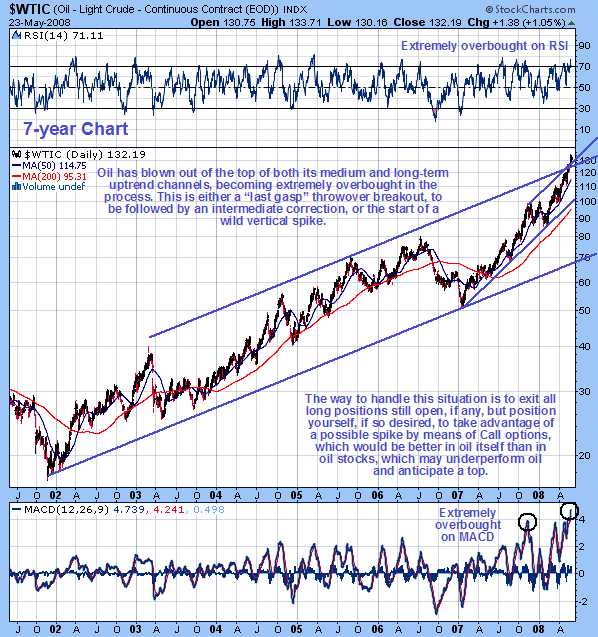 We can see these developments on the 7-year chart for Light Crude and how they have put oil in position to spike dramatically. However, the extremely overbought condition that now exists, as shown by the MACD indicator at the bottom of the chart, is calling for a pause, at the least. An important point to note is that in a spike scenario the use of short-term oscillators to call a top no longer works - the market in question can stay very overbought for weeks or even months as it continues higher and higher, defying gravity. What makes the present situation particularly tricky for traders is the fact that although oil has broken out above the upper return lines of its intermediate and long-term uptrend channels, it has not done so by a comfortable margin, and the move could be a false or "throwover" breakout that would be followed by a reversal and intermediate downtrend. However, should oil carry on up above $140, perhaps after a short pause to ease the overbought condition, then we can be reasonably sure that we are in a spike situation.
The 1-year chart for Light Crude shows in detail how oil has accelerated higher in recent weeks and the resulting overbought extreme on the MACD indicator.
The oil market is now considered to be highly risky, but with the potential for large gains within a short timeframe. So what is the right way to play this market? The most effective approach is to take profits on any remaining open long positions immediately, to protect capital, and then to deploy a relatively modest amount of capital in Call options in oil itself to maximize leverage on any further gains. This strategy would result in large gains in the event a spike developing, while strictly limiting downside to the initial stake.
Oil stocks have also risen strongly in recent weeks, and have at last succeeded in breaking above the resistance of an inner channel line, as we can see on the 7-year chart for the OIX oil stock index, but still have the resistance of the parallel long-term uptrend channel return line to contend with. So far, the breakout above the inner return line does not look convincing and it has come back in recent days to the vicinity of it. However, if oil now spikes higher, probably after brief consolidation, then oil stocks will be likely to make a run at the parallel return line. While the chances of them breaking above this line are thought to be slim, a wild spike in oil itself could result in this happening, and lead to a spike in oil stocks.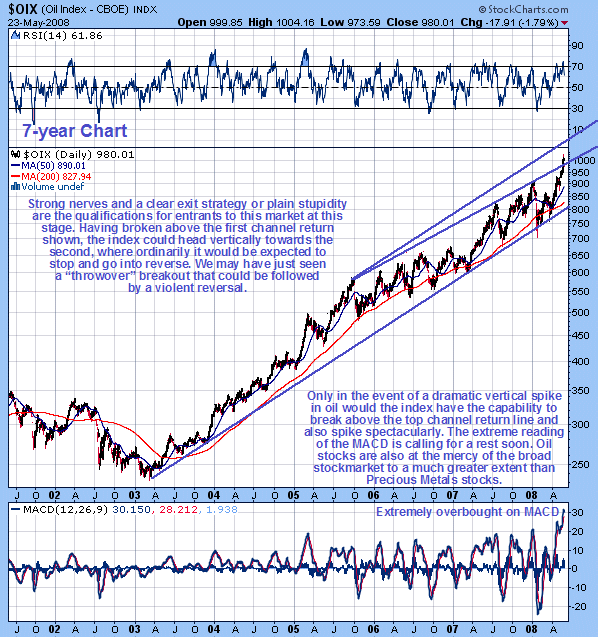 The 1-year chart for the OIX oil index shows the as yet unconvincing breakout from the channel, whose lower line on this chart is different from the one shown on the long-term channel, and it also makes clear the extremely overbought condition as highlighted by the MACD indicator.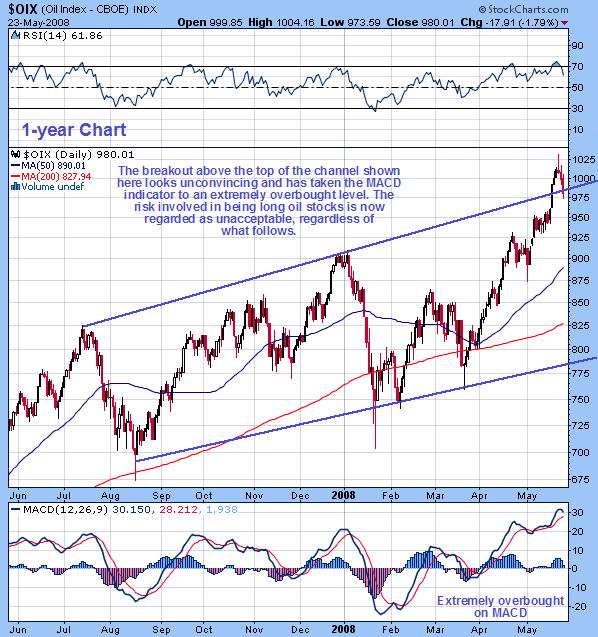 Whilst acknowledging the potential of oil stocks to spike in sympathy with a major spike in oil, they are not liked at this point due to their grossly overbought condition - Precious Metals stocks are regarded as much more attractive in this regard. In addition they are much more likely to suffer collateral damage in the event of a big drop in the broad stockmarket than PM stocks are. It is therefore thought wisest for those wishing to capitalize on an oil spike to do so via oil itself via oil Call options, rather than via oil stocks.
Clive Maund
support@clivemaund.com
May 28th, 2008
Clive Maund is an English technical analyst, holding a diploma from the Society of Technical Analysts, Cambridge and lives in Copiapo, Chile.
Visit his subscription website at
clivemaund.com
.[You can subscribe
here
].
Clivemaund.com is dedicated to serious investors and traders in the precious metals and energy sectors. I offer my no nonsense, premium analysis to subscribers. Our project is 100% subscriber supported. We take no advertising or incentives from the companies we cover. If you are serious about making some real profits, this site is for you! Happy trading.
No responsibility can be accepted for losses that may result as a consequence of trading on the basis of this analysis.
Copyright © 2003-2007 CliveMaund. All Rights Reserved.