Oil Market Update
Clive Maund
support@clivemaund.com
March 25th, 2016
On Friday oil arrived at the target predicted for it in the last update posted on 3rd March, and there are a number of reasons to believe that it will reverse to the downside now or soon.
On the 6-month chart for Light Crude we can see that upon arriving at our target on Friday in the $42 - $44 zone, a bearish candle formed, a shooting star, which is given added significance by the fact that the day before, the dollar hit a downside target and now looks set to turn up. Other reasons to expect oil to turn lower here are that it has arrived at a zone of resistance and at its falling 200-day moving average in an overbought state, and the fact that the people who were talking about it dropping into the teens a month or two ago are now talking about it advancing into the $60's.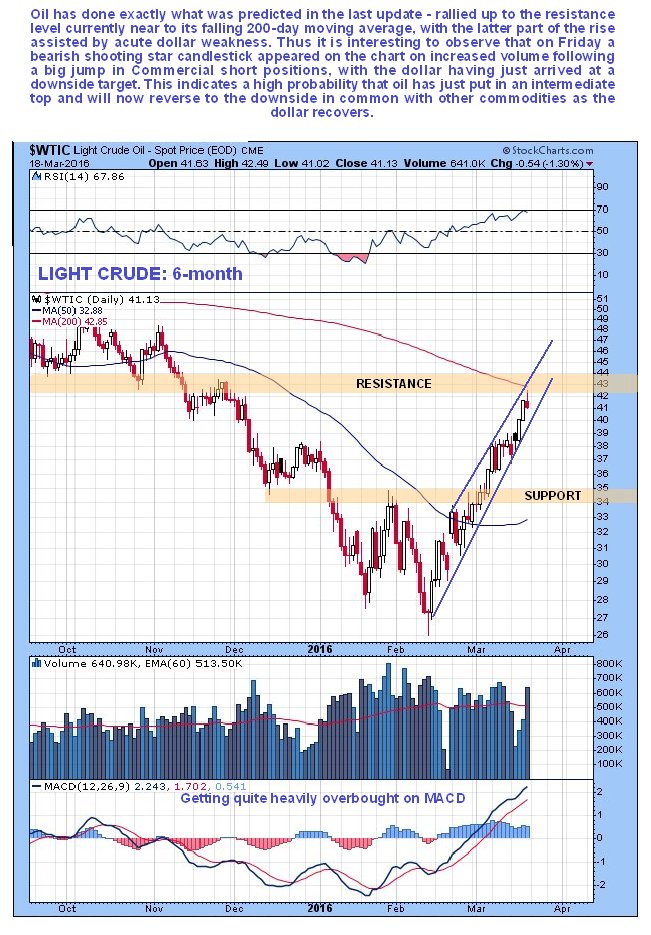 The 2-year for Light Crude is, or should be, quite sobering for bulls, because it shows that the price has arrived at the upper boundary of the major downtrend in force from mid-2014, as a result of a sharp rally. The major trend remains down until proven otherwise, with moving averages still in unfavorable alignment - even if oil did hit its final low in February, it would be unlikely that it would turn on a dime and going roaring up like a rocket, a base pattern needs to form which means it needs to back and fill for a while, and fundamentally this makes perfect sense, since the huge glut everyone was talking about just a couple of months ago is not going to vanish overbought. This therefore implies that the price is likely to back off towards $30 again over the short to medium-term, and perhaps even retreat towards its lows again.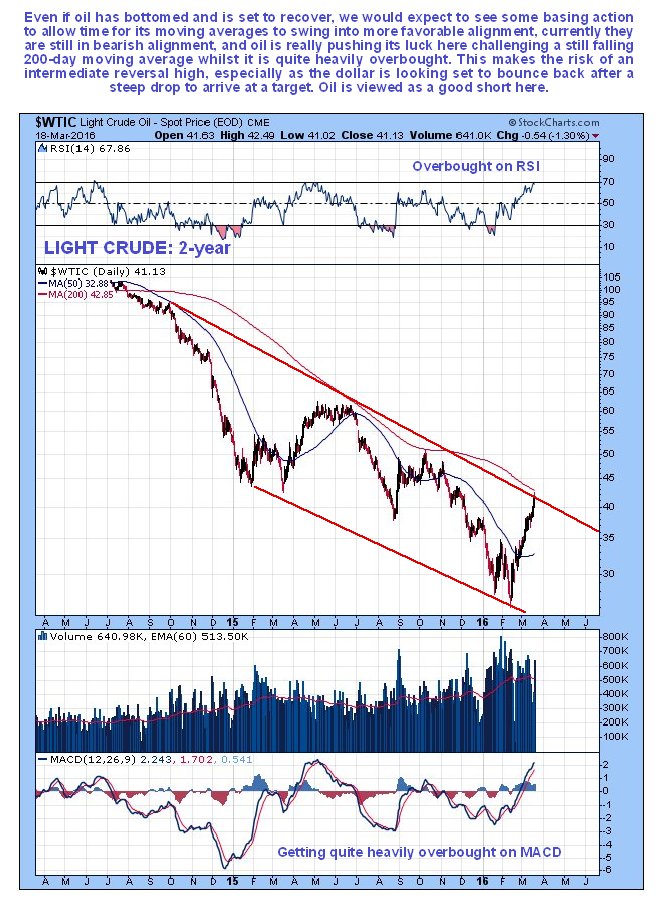 A continuation of the current rally looks even less likely on the 10-year chart for Light Crude, especially when one takes into consideration the current glut and the prospects for a dollar rally discussed in today's copper market update. It is thought probable that oil would need to build a base pattern roughly between the current price and its February lows in the $20's before a genuine bullmarket could become established.

With respect to the oil COT, we have seen a quite sharp ramping up the Commercial short and Large Spec long positions over the past couple of weeks, which is increasing the chances of a reversal…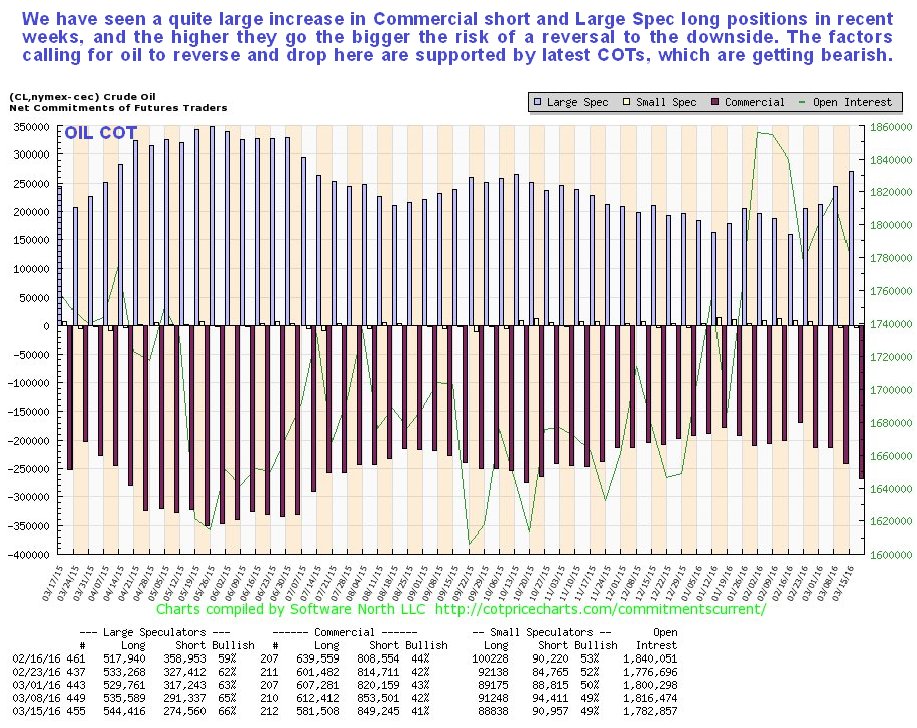 Click on chart to popup a larger clearer version.

Turning now to oil stocks, we see on the 6-month chart for the XOI oil stock index that it rallied as expected and predicted in the last update, but unlike oil itself, it hasn't quite made it as far as the next resistance level shown and its falling 200-day moving average. However, even though it hasn't, it is thought likely that it will roll over and drop soon since oil and other commodities look set to drop at once, or very soon.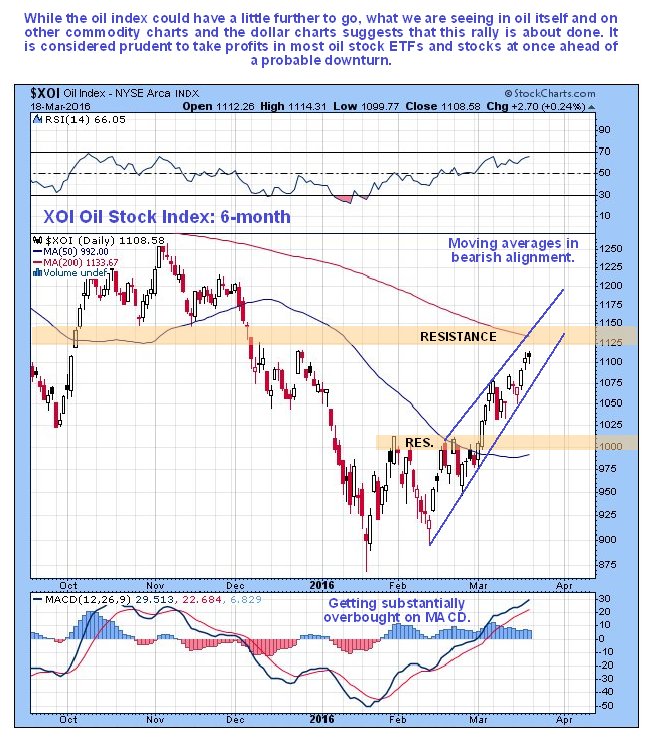 The 2-year chart for the XOI index shows that there is scope for it to run further to the upper boundary of the major downtrend channel shown, and it might if the broad market continues higher, but the charts for oil suggest an almost immediate reversal, partly as a result of a probable dollar rebound, as the dollar just hit a downside target.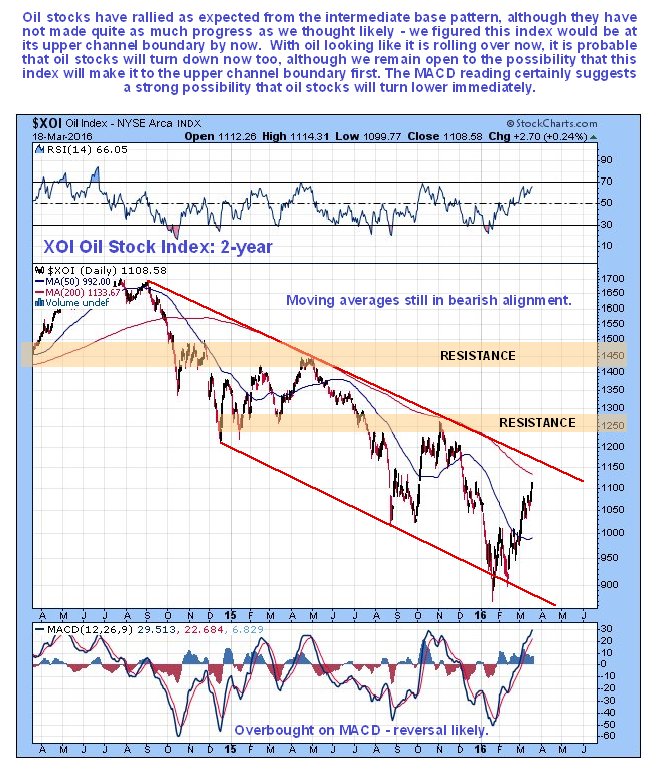 The long-term 10-year for the XOI oil stocks index shows the major downtrend currently in force in the context of the major uptrend that preceded it from the 2008 - 2009 lows. As we can see, despite the recent sharp rally, the downtrend remains firmly in force so far and set to drive the index lower again soon.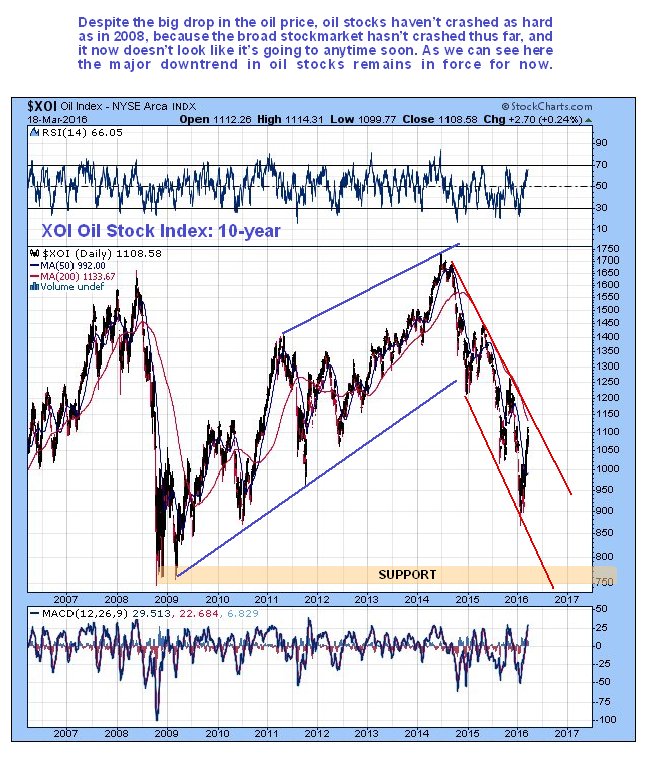 Dovetailing business and pleasure, we see oil workers taking their lunch break on the beach in the old days…


End of update.


Clive Maund
March 25th, 2016
support@clivemaund.com

Clive Maund is an English technical analyst, holding a diploma from the Society of Technical Analysts, Cambridge and lives in The Lake District, Chile.

Visit his subscription website at clivemaund.com .[You can subscribe here].

Clivemaund.com is dedicated to serious investors and traders in the precious metals and energy sectors. I offer my no nonsense, premium analysis to subscribers. Our project is 100% subscriber supported. We take no advertising or incentives from the companies we cover. If you are serious about making some real profits, this site is for you! Happy trading.

No responsibility can be accepted for losses that may result as a consequence of trading on the basis of this analysis.

Copyright © 2003-2012 CliveMaund. All Rights Reserved.