Uranium, Gold and Silver Traffic Trends
Bob Kirtley
August 4, 2007
bob@uranium-stocks.net
www.uranium-stocks.net
For a long time we have held the belief that this Bull Market in the precious metals sector will be more volatile than the past Bull Market of the late 1970s because of the Internet. Information now moves at twice the speed of light to all corners of the world. Stocks can be traded at the push of a button, no telephone calls, no requests for your broker to call you back, no waiting days for a confirmation. It is now possible for almost anybody to buy and sell the same stock many times in a single day if you so wish. So just how popular and well known is our little corner of the market place? To answer this question we thought that we would take a look at Google Trends, which records the traffic volume for a particular word search. In our first search of the Trend history we compare uranium, gold and silver.
Chart: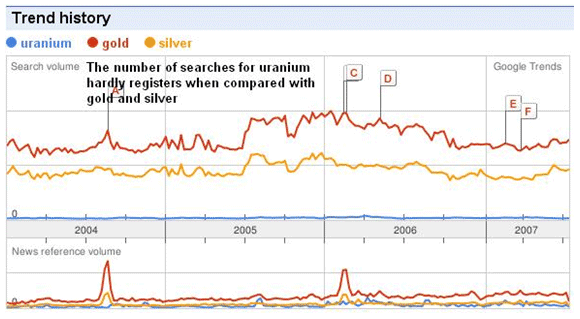 As we can see gold is the most popular word searched followed by silver and then by uranium. We can note here that uranium is at the bottom of the scale, which could suggest that uranium is yet to be fully discovered. In our second search of the Trend history we compare uranium prices, gold prices and silver prices.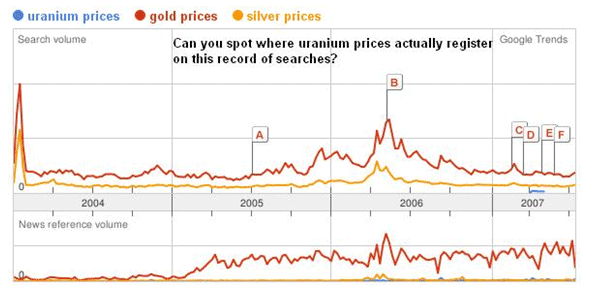 Again gold leads silver and both have peaks when gold and silver peaked in 2006. Uranium prices did not have enough traffic to register until mid 2007 and then only for a short time, once again demonstrating a lack of interest by the investment fraternity in general.
The third chart shows the traffic for Kitco.com, the worlds leading precious metals web site and again we can see that the traffic peaked with gold and has since ebbed away.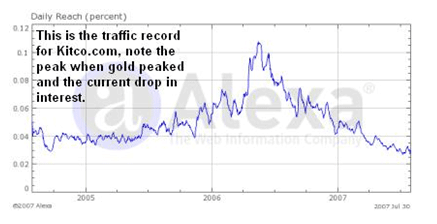 From the above charts though we can deduce that the interest in precious metals more than doubled when gold hit its recent high of $720 per once. This raises the question of what would happen if gold challenged its previous all time high of $850 per once. It suggests to us that the interest would rise exponentially and thus generate considerable trading activity in this small market sector. The other point that we can take from the above chart is that interest is now lower than it has been since 2005, highlighting the current negativity that clouds the precious metals market.
When the interest returns we should see some very positive action in the metals and their associated stocks. What the market needs is some sort of ignition that could come in quite a simple form such as the end to the summer doldrums, a discovery, or major M&A activity on a slow news day.
It is difficult to be more precise with this sort of search analysis as it is easy to be wrong footed. We compared the Dow Jones with the HUI and found an amazing spike in the HUI; however, on further investigation we discovered that Hui is a popular name in China so the data was not usable.
These negative or low interest periods should be treated as a buying opportunity, a time to add some more of your favourite precious metals stocks to your portfolio: don't miss it!
For ideas on which uranium stocks to invest in, subscribe to the uranium stocks newsletter at www.uranium-stocks.net completely free of charge.
Bob Kirtley
August 4, 2007
bob@uranium-stocks.net
www.uranium-stocks.net
DISCLAIMER
Uranium Stocks makes no guarantee or warranty on the accuracy or completeness of the data provided on this site. Nothing contained herein is intended or shall be deemed to be investment advice, implied or otherwise. This website represents our views and nothing more than that. Always consult your registered advisor to assist you with your investments. We accept no liability for any loss arising from the use of the data contained on this website. We may or may not hold a position in these securities at any given time and reserve the right to buy and sell as we think fit.