Reasons not to own Cameco
Sam Kirtley
bob@uranium-stocks.net
March 10, 2007
A few years ago, when the uranium boom was in its early stages, one stock that was coming up on everyone's uranium picks was Cameco. However that has all changed. Although many still recommend Cameco as a good way to play the rising uranium price, we at Uranium Stocks do not and here are a few reasons why you should not be owning Cameco as a uranium stock in your portfolio.
Cameco is literally the biggest player in the uranium market, with a market capitalisation of about $13 billion. No other uranium stock can match it for size. Companies like BHP Billiton and Rio Tinto of course are much larger, but they are diversified mining companies with only a fraction of their earnings coming from uranium projects, whereas Cameco is pretty much a pure uranium play. Although they do have some gold interests, owning 53% of Centerra Gold Inc. but compared with uranium, gold is a very small part of Cameco. So Cameco remains the biggest uranium company as the world's largest uranium producer with four operating mines in Canada and the US as well as controlling ownership of the world's largest high-grade reserves and low-cost operations in northern Saskatchewan, Canada with ore grades 100 times the world average. No company can match them for size, with 550 million pounds of proven and probable reserves, but big is not always best.
Since Cameco is so large it's stock price tends to move more slowly than other smaller uranium companies. Therefore investors can not get the percentage returns with Cameco that they can get with smaller uranium stocks. Cameco was moving well earlier on in the uranium boom, but it seems to have slowed down and appears to be even a bit "sluggish" in moving higher with higher uranium prices. If it is not achieving capital gains in its stock price, then it should at least be generating significant income for shareholders. This is not the case. The last few dividends have been about 4 cents, which is poor for a $35+ stock, giving it a P/E ratio of near 40. So Cameco is large, but slow in making gains or paying any significant dividends.
For some time the major argument for buying Cameco has been that it will be the uranium company that funds will look to invest in, as the others are all far too small. This used to be the case, but the uranium boom has now formed a number of billion dollar companies that could be used as an alternative uranium investment vehicle for funds as opposed to Cameco. Denison Mines now has a market capitalisation of over $1 billion and SXR Uranium One's is over $2 billion with some more companies like UEX Corporation trading at around a $1 billion market cap. This shows that there are now other fish in the pond and investment funds could look elsewhere for other uranium companies, of significant size, to invest in. Equally, other investors who are not comfortable with the risk of investing in smaller uranium stocks, can make their investment in companies other than Cameco, whereas before Cameco was the only large uranium company.
There is of course a cloud hanging over Cameco, Cigar Lake. This is the largest undeveloped high grade uranium deposit containing proven and probable reserves of more than 232 million pounds of uranium at an average grade of 19%. All was going well, as a construction license was received in December 2004 and construction began in January 2005 on a uranium project that should have had a life of 20-30 years, but then there was the flood. The flood at Cigar Lake is probably the single most damaging thing that has happened to Cameco in recent years. The situation is still not totally clear, although Cameco are understandably downplaying the flood, but there might be problems moving the existing water or fixing the problem, otherwise more water could flood it. The silver lining on this cloud is that the longer production at Cigar Lake is delayed, the more Cameco will receive for the uranium that will be mined there, providing the uranium price continues to move higher. This is because of the way Cameco have written the contracts, most of them are based on the current uranium spot price as a floor. So the higher uranium prices rise, the more Cameco will get for their uranium.
But how long will this take? Will the project ever come online? If they cannot fix the problems with the flood, it is possible that Cigar Lake may have to be abandoned, or that Cameco or another uranium company could be trying to fix the problems for decades. If Cigar Lake is delayed by that much time, it is possible that the boom in uranium prices may have come and gone, therefore Cameco would have failed to cash in on this formerly promising project, and even more promising uranium price.
This could be one of the major reasons why Cameco's stock price has not risen with the rise in the uranium price and with the price of other uranium stocks. In the last year the uranium price has risen from just above $30/lb to $85/lb a gain of over 150%. Yet Cameco's stock price is up only a bit more than 5% in the last year as we write. We can get 5% returns in the bond markets, but that is not why anyone is investing in uranium, we all expect extraordinary returns in double or triple percentage terms. Cameco is not moving with the trend and so you cannot afford to be invested in Cameco, if it is not going to outperform, or at least track the uranium price.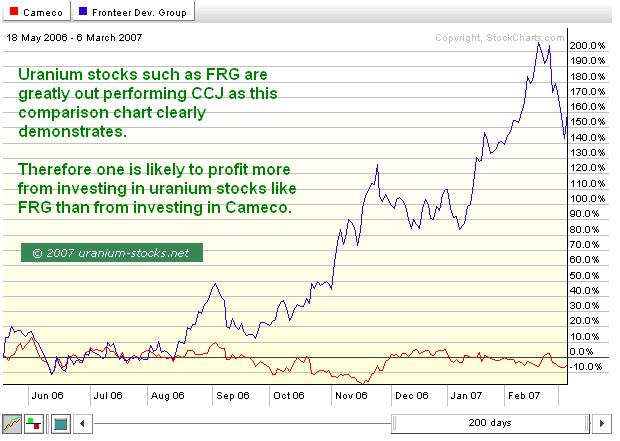 Many other uranium stocks are doing more that just tracking the uranium price, they are outperforming it. An example of a uranium stock that is outperforming the uranium price is Fronteer Development (FRG), which is currently up over 200% in the last year. There are many other uranium stocks that should generate and are generating much better returns than Cameco, therefore you are better off investing in these uranium stocks, in our humble opinion, if you want higher returns on your investments. Such uranium stocks are documented on our website www.uranium-stocks.net for free and you can receive regular uranium stocks updates by subscribing to our uranium stocks newsletter, also free of charge.
Sam Kirtley
bob@uranium-stocks.net
March 10, 2007
For ideas about uranium stocks subscribe to the uranium stocks newsletter at www.uranium-stocks.net completely free of charge.
DISCLAIMER
Uranium Stocks makes no guarantee or warranty on the accuracy or completeness of the data provided on this site. Nothing contained herein is intended or shall be deemed to be investment advice, implied or otherwise. This website represents our views and nothing more than that. Always consult your registered advisor to assist you with your investments. We accept no liability for any loss arising from the use of the data contained on this website. We may or may not hold a position in these securities at any given time and reserve the right to buy and sell as we think fit.