Fronteer Development Group: A Twin Pronged Assault
Bob Kirtley MSc.
bob@uranium-stocks.net
March 07, 2007

The Fronteer Development Group are heavily involved in both the gold and uranium exploration and discovery business.
The FRG team includes Ph.D. qualified geologists who employ a system developed in-house which allows them to identify the most promising target sites and to then assess and quantify the magnitude of the resource, thus raising the level of confidence in the potential value of the find. Their management team exude the excitement of olden days pioneers, as their target is to hit the Sweet Spot by discovering tomorrow's history making deposits.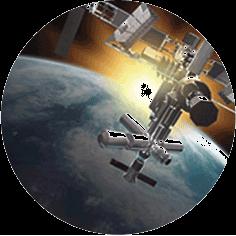 Geo-politically, Fronteer are actively involved in exploration in three areas of Canada, two in Western Turkey, and two in Mexico.
Canada:
In Labrador: This deposit has now increased from an historic resource of 18.3 million pounds, to a new Measured and Indicated Resource of 22.2 million pounds with an additional Inferred Resource of 13.4 million pounds.
In Yukon: Fronteer along with partner Rimfire Minerals have entered into an Agreement with Newmont Exploration of Canada Limited to acquire 700 mineral claims and a proprietary Geoscience Dataset, which covers a large region of the northern Yukon known as the "Wernecke Breccias".
In The Red Lake Belt: Fronteer continues to maintain a large land position in Red Lake, which is one of Canada's largest gold mining areas. This property is now optioned to Grandview Gold (GVGI.C) and drill targets have been highlighted for further exploration.
Turkey:
The Agi Dagi Project has 217,000 indicated and 1,043,000 inferred ounces of gold together with 425,000 indicated and 4,697,000 inferred ounces of silver.
The Kirazli project has 244,000 indicated and 563,000 inferred ounces of gold together with 1,693,000 indicated and 3,859,000 inferred ounces of silver.
Mexico:
Fronteer continues to expand its gold portfolio in Mexico with the addition of two new discovery-stage projects optioned from Teck Cominco. The San Pedro and Clara projects are located in the western state of Jalisco, approximately 60 kilometres west and southwest of Guadalajara. The Projects are 100 kilometres apart and have large gold epithermal systems similar in style to Fronteer's advanced gold projects in western Turkey.
By having a physical presence in these countries they are also ideally placed to identify and target new opportunities in these areas. This is the sort of exposure that we are looking for, diverse but in good geopolitical areas for mining activity.
The management team is also quite aggressive in the area of acquisitions. By taking positions in other exploration companies it is spreading its chances of a major success. For example, Aurora Energy Resources Inc. in which Fronteer owns a 47.25% stake. Aurora owns 100% of one of the largest undeveloped uranium deposits in Canada. Currently, the Michelin deposit in Labrador, one of six areas of interest, has enough uranium to power over 1 million homes for 67 years, and this is just the beginning. On the 13th February 2007 Aurora announced that results for the Michelin and Jacques Lake Uranium Deposits from an independent NI 43-101 with two estimates combing to give a Measured and Indicated resource of 58 million pounds of uranium, and an additional Inferred resource of 38 million pounds of uranium, all exciting news.
Fronteer's stock is traded on the AMEX under the symbol FRG, current price is around $11.82 and its Market Capitalisation is $712.3 million, with 60.3 million shares outstanding. FRG has also recently announced a share offering, the company said it would sell 4.1 million shares pursuant to the offering, for gross proceeds of US$52 million. This is a good sign; firstly that their financial standing in the business community is such that they can raise money for future ventures and secondly it indicates that they must have something targeted that is quite exciting. I guess that we will just have to watch this space and monitor just how these funds are deployed.
From the graph below we can see that this stock has usually bounced from its 50 day moving average to make a strong recovery.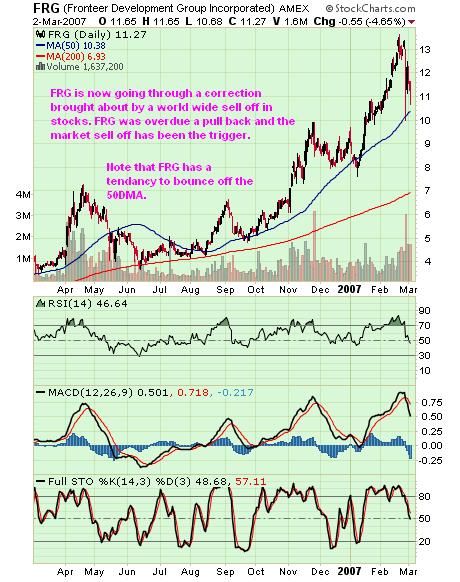 It could easily be argued that the stock price had run too far ahead and was therefore due a correction. The current sell off across markets worldwide has taken the wind out of FRG. When the dust settles FRG will be well worth another look in terms of finding an entry point for investment in this quest to find the Sweet Spot.
Fronteer trades on the TSX under the symbol of FRG and on the AMEX under the symbol of FRG
Bob Kirtley MSc.
bob@uranium-stocks.net
March 07, 2007
For ideas about uranium stocks subscribe to the uranium stocks newsletter at www.uranium-stocks.net completely free of charge.
DISCLAIMER
Uranium Stocks makes no guarantee or warranty on the accuracy or completeness of the data provided on this site. Nothing contained herein is intended or shall be deemed to be investment advice, implied or otherwise. This website represents our views and nothing more than that. Always consult your registered advisor to assist you with your investments. We accept no liability for any loss arising from the use of the data contained on this website. We may or may not hold a position in these securities at any given time and reserve the right to buy and sell as we think fit.