Utility Companies: Where are your brave captains of industry?
Bob Kirtley MSc.
bob@uranium-stocks.net
February 24, 2007
Following on from the sealed bids auction for 100,000 pounds of uranium we turn our attention to those who didn't win.
Now that the spot price for uranium stands at $85.00 per pound where do the Utilities go from here? Those whose bid came close to clinching the deal but were beaten by a higher bidder, what lies ahead of them? They gave it their best shot and came home empty handed.
Again we will take another walk down Imagination Lane to the boardroom of the fictional Gigantum Power Incorporated, whose means of generating electricity is largely dependent upon nuclear power and thus a constant supply of uranium is paramount to their very existence.
After days of long meetings and sleepless nights their bid of $82.50 failed to clinch the deal so now they must reconvene and form a strategy for success. Smoke filled Meeting Rooms, endless pots of coffee; do not disturb notices pinned to the most important of doors. Even the weather takes on heaviness as every little niggle seems to grow in stature.
The board assembles and the usual pleasantries are exchanged but with a little less enthusiasm than normal. A recap, akin to a post mortem begins. The young buck with the uranium chart still clenched in his fist from the previous meetings wants to say I told you so! But manages to subdue his rage.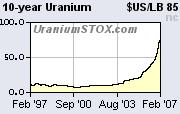 The accountant, who knows the cost of everything and the value of nothing casts aspersions on the auction winners for being too cavalier in their business dealings. The spineless ones shuffle in their seats as the Chairman's face reddens as 'pass the parcel' is played with the 'who's responsible' tag.
When Cigar Lake comes back into production all this upward price nonsense will cease someone murmurs, but that will take time and the demand for uranium grows as every new nuclear plant is announced.
In our humble opinion getting the bid high enough to win the next sealed bid auction is a near term problem that needs to be solved. However these utilities need to address the long-term problem right now. A band-aid is not a cure and unless they get a handle on the big picture the pain is sure to continue. May we suggest that the answer is staring them in the face? These captains of industry have to roll up their sleeves and get involved with their supply, namely the miners and go out there and purchase the appropriate uranium stocks for their needs. This involves research, analysis, finance and the courage to secure their companies' destiny.
The alternative is grim, how do you explain to your shareholders and customers why you are about to introduce rotational blackouts in their area! After all you are in the energy business so it is reasonable to expect that you were aware of the supply/demand situation regarding uranium.
Having experienced a 3-day week in London during the first oil crises I do not want to go through that again, it cost billions in lost production and created a lot of hardship for many families.
So, this is the challenge to the captains of the Utility companies:
Are you bold and daring enough to secure your companies future and be forever known as a visionary or will you plead ignorance when a successful operator takes over your ailing company and asks you why you were not pro-active when it really mattered.
Bob Kirtley MSc.
bob@uranium-stocks.net
February 24, 2007
For ideas about uranium stocks subscribe to the uranium stocks newsletter at www.uranium-stocks.net completely free of charge.
DISCLAIMER
Uranium Stocks makes no guarantee or warranty on the accuracy or completeness of the data provided on this site. Nothing contained herein is intended or shall be deemed to be investment advice, implied or otherwise. This website represents our views and nothing more than that. Always consult your registered advisor to assist you with your investments. We accept no liability for any loss arising from the use of the data contained on this website. We may or may not hold a position in these securities at any given time and reserve the right to buy and sell as we think fit.