Ancient Plant May Become New Source of Biofuel
Jeremy Elton Jacquot
June 01, 2007
Tree Hugger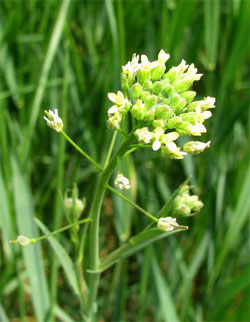 Researchers are all abuzz over a promising new source of biofuel that flourished almost 3,500 years ago in Europe. Camelina, if planted on a large scale on marginal farmland from eastern Washington to North Dakota, could provide a significant source of clean energy.
"This is the most exciting crop I have seen in my 30 some years in this field," said Steven Guy, a crop-management specialist and professor at the University of Idaho. While early results from test plantings have been encouraging, the only farmers who have shown interest in it are from Montana, where over 50,000 acres of camelina have already been planted.
Unlike other potential biofuel feedstocks like canola, camelina can grow in arid conditions, can produce more oil from its seeds for a lower price and doesn't require the excessive use of fertilizers, pesticides and herbicides. "We actually think it might be the next wonder crop," said Tom Todaro, the chief executive of Targeted Growth, a Seattle biotech firm that hopes to produce enough seed to plant 1 million acres by 2009.
Soybeans, which constitute approximately 85 percent of the feedstock used for biodiesel in the United States, are largely grown in the Midwest. Until now, farmers in the inland Northwest and states like Wyoming and North Dakota had been looking for their own feedstock crop and had mostly focused on canola. With the recent discovery of camelina, however, they may have found a much better alternative. "If we have an operating biofuel industry in the Northwest, this could be the feedstock," says Don Wysocki, an associate professor at Oregon State University.
Camelina seeds also contain high levels of omega-3 fatty acids, which are believed to reduce high blood pressure, cholesterol and heart disease. Once the seeds are crushed for their oil, the leftover meal could be used to feed cattle, chicken and fish.
The National Biodiesel Board, a trade group that represents the biodiesel industry, has yet to take a stand on camelina. "It is one of the newer feedstocks being examined," said Amber Thurlo Pearson, a spokeswoman. "We are a feedstock-neutral organization."
Targeted Growth is planning on using a "hyper-accelerated breeding" program to increase yields of the crop, a process Todaro, its chief executive, emphasizes won't involve genetically modifying camelina and won't require FDA approval.
Jeremy Elton Jacquot
June 01, 2007
Tree Hugger
TreeHugger is the leading media outlet dedicated to driving sustainability mainstream. Partial to a modern aesthetic, we strive to be a one-stop shop for green news, solutions, and product information.