Update of Oils vs. Uraniums
Natural Gas on Track toward Seasonal High
from ChartWorks:: published by
Institutional Advisors
Bob Hoye
Technical observations of RossClark@shaw.ca
October 15th, 2006
We are in the time window where the uranium stocks can be anticipated to outpace the oils. Using Cameco (CCJ, CCO.TO) data from 1991 compared to the XOI index it is readily apparent that the ratio finds a low in the last two weeks of September through the first ten days of October. From there Cameco outpaces on the upside for the next twelve to sixteen weeks. In seven of the past fifteen years the rally extended well into the first quarter of the following year.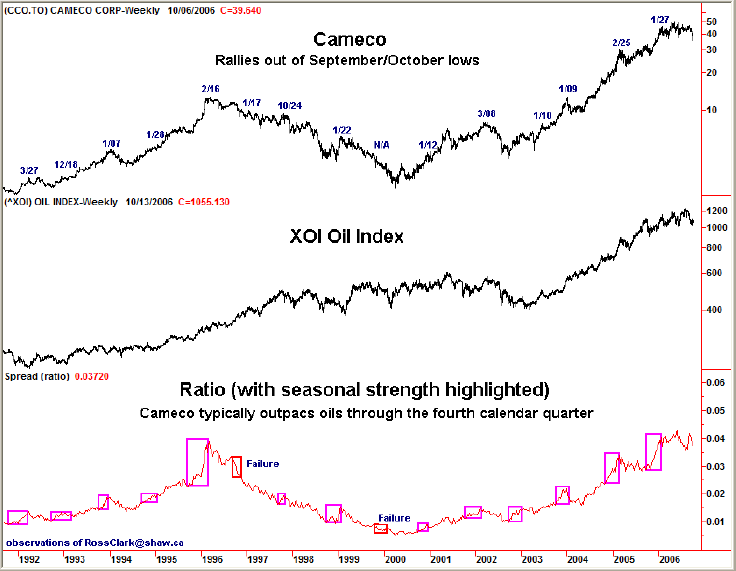 There were only two instances where Cameco did not outperform the XOI coming out of a late September low (1996 & 1999). These were also the only years in which the ratio broke support after the 15th of October, so this week's low in the ratio becomes a reasonable stop loss point. A basket of junior uranium's will likely outperform Cameco, just as a basket of junior oils may outperform the XOI. Corrections in up trending uranium's over the next few months should provide buying opportunities. The use of the Commodity Channel Index (CCI) can be of value in such cases. Readings in the CCI(8) below -100 can serve as timely entry points. The following link from www.stockcharts.com may be helpful for monitoring the index: http://stockcharts.com/def/servlet/SC.web?c=CCO.TO,uu[w,a]daoanyay[pb200!c50][vc60][iLd8]&pref=G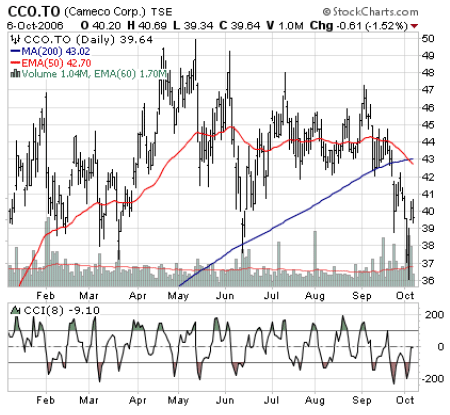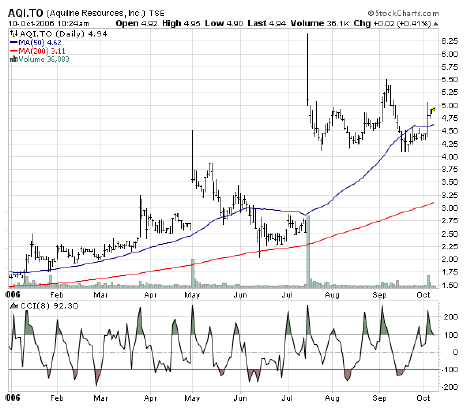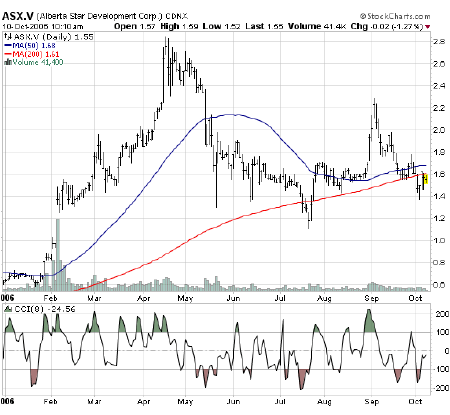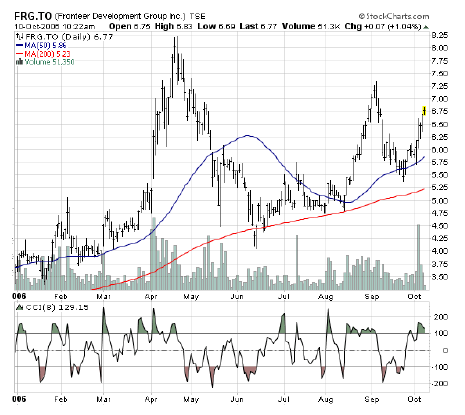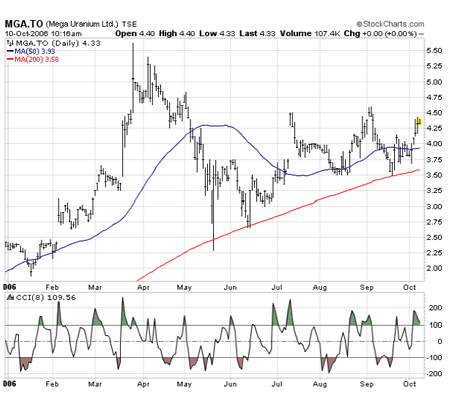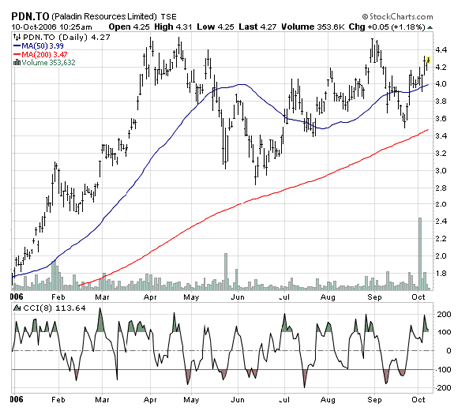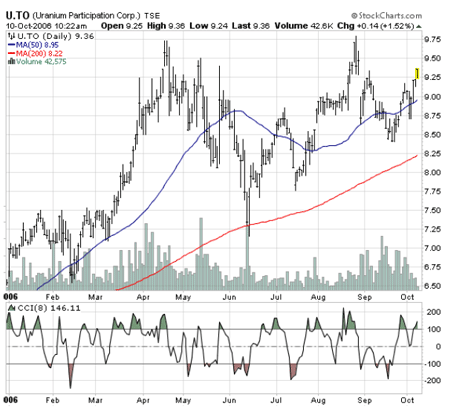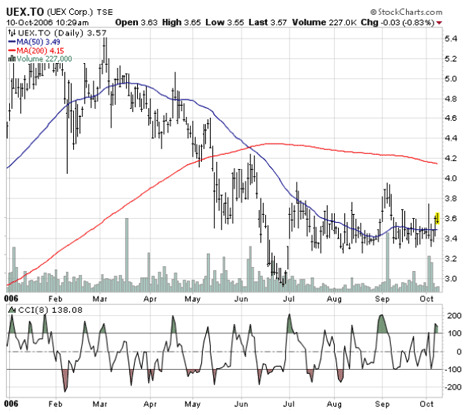 Natural gas appears well on its way toward a seasonal high in late October to mid December.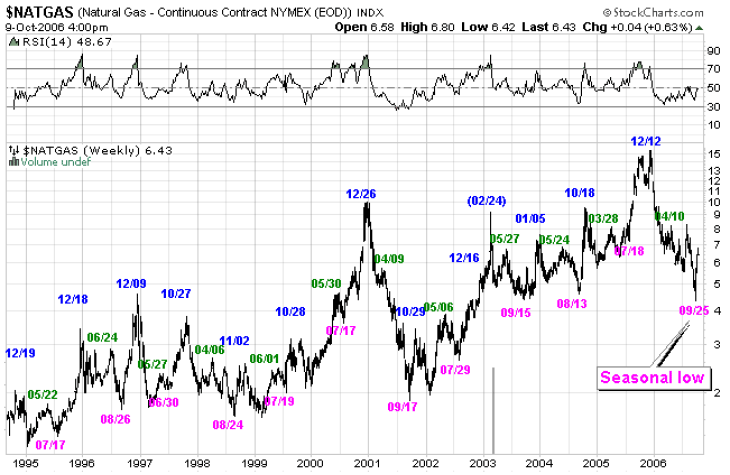 As noted last week, many energy stocks are oversold and ripe for a rally.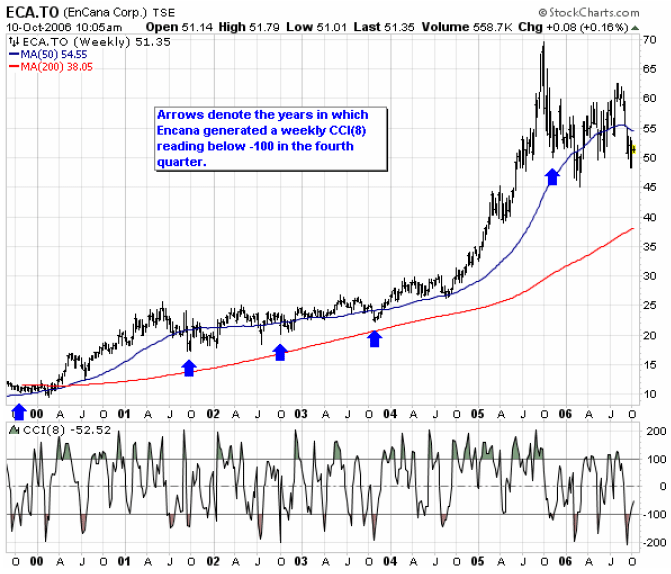 In the royalty trust sector the gassy trusts are generating oversold reading normally seen at this time of year. Shiningbank (SHN/UN.TO) is an example.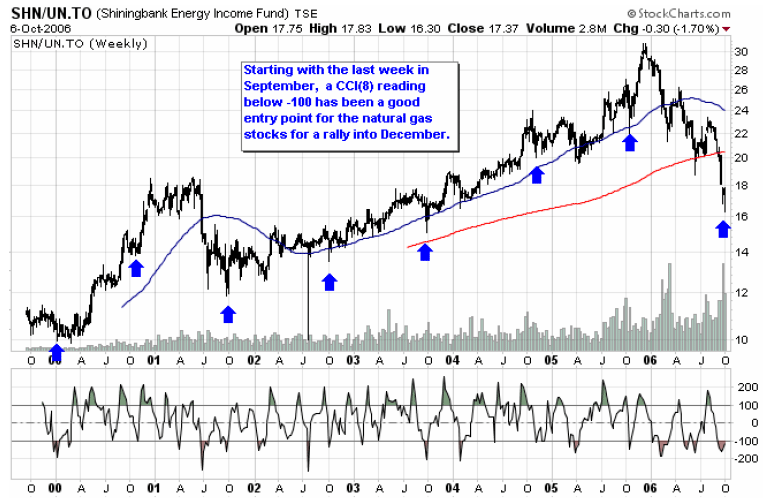 Traders can look for an optimum exit once the daily RSI reading moves up through 70.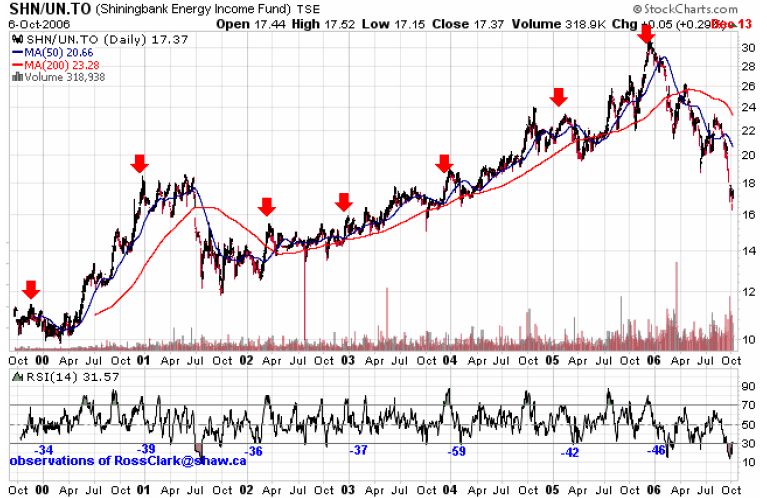 Bob Hoye
October 15th, 2006

EMAIL:: bobhoye@institutionaladvisors.com
CHARTWORKS WEBSITE:: www.institutionaladvisors.com
The opinions in this report are solely those of the author. The information herein was obtained from various sources; however we do not guarantee its accuracy or completeness. This research report is prepared for general circulation and is circulated for general information only. It does not have regard to the specific investment objectives, financial situation and the particular needs of any specific person who may receive this report. Investors should seek financial advice regarding the appropriateness of investing in any securities or investment strategies discussed or recommended in this report and should understand that statements regarding future prospects may not be realized. Investors should note that income from such securities, if any, may fluctuate and that each security's price or value may rise or fall. Accordingly, investors may receive back less than originally invested. Past performance is not necessarily a guide to future performance.
Neither the information nor any opinion expressed constitutes an offer to buy or sell any securities or options or futures contracts. Foreign currency rates of exchange may adversely affect the value, price or income of any security or related investment mentioned in this report. In addition, investors in securities such as ADRs, whose values are influenced by the currency of the underlying security, effectively assume currency risk.
Moreover, from time to time, members of the Institutional Advisors team may be long or short positions discussed in our publications.