Energy Seasonals Kicking into Gear
from ChartWorks:: published by
Institutional Advisors
Bob Hoye
July 29th, 2006
Energy stocks are once again into the season where throwing a handful of darts at the energy sector is serving investors well. Having led the way higher, oil stocks are now being joined by gassy stocks and service companies. For those investors wanting a basket of stocks without company specific risk the use of Exchange Trades Funds (i.e. IEO, IEZ, OXH & XEG.TO) or energy mutual funds should do well. For traders, we recommend using stops below last week's lows.
Natural Gas
The high inventory levels in natural gas since the first of the year have put a lid on the market.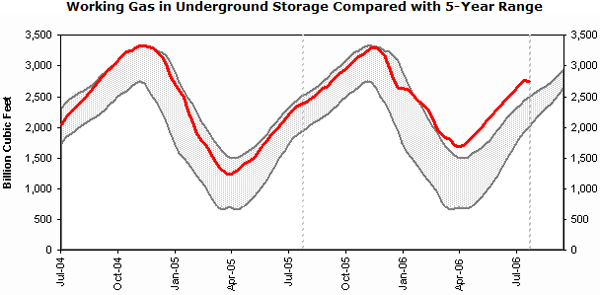 The normal March-May rally peaked early in its run (April 20th @$8.21) with a poor retracement from the year end highs ($15.52). This was seen in previous bear markets (1994, 1998 & 2001). As such, it was anticipated that the seasonal low in the commodity would not come into place until at least the second half of July, with the stocks bottoming ahead of the commodity. Now that the summer heat has kicked in, throughout much of the continent gas fired generators are gearing up and gas inventories can be drawn down. As can be seen in the seasonal chart (from WWW.MRCI.COM), the next few weeks have an upside bias in both good and poor years. Looking forward to this winter, if the economy slows and only limited damage is done during the Atlantic storm season then a $9 to $9.50 cap in price in October-December appears likely.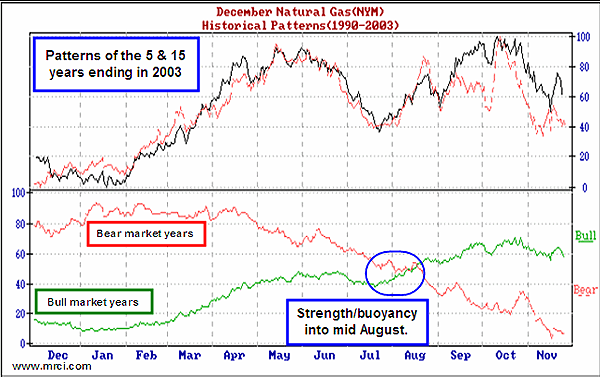 The stocks of natural gas producers anticipated the uptick in prices, having bottomed in June and put in a higher low in July. This was in the presence of a lower low in natural gas prices. Such bullish divergences are common at bottoms. The unhedged natural gas royal trusts have all recently announced their reductions in monthly distributions (common in June--July) so the bad news is out of the way. Most are now running at 10.50% to 13.50% annualized distributions.
Royalty Trust Data as of Q1 2006 with the % Gas Weighting Circled.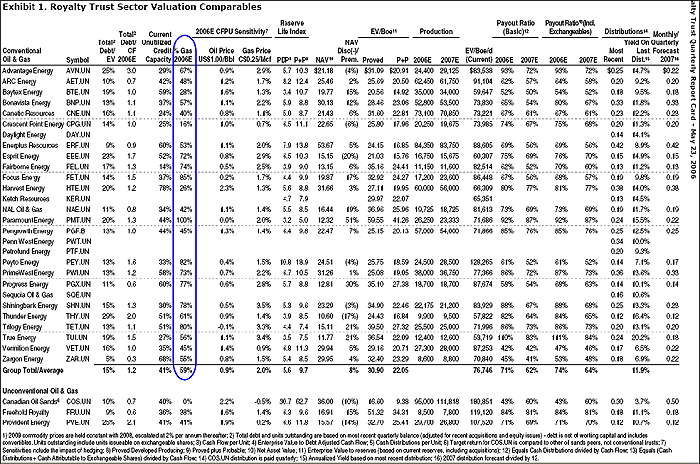 Sample Gassy Trusts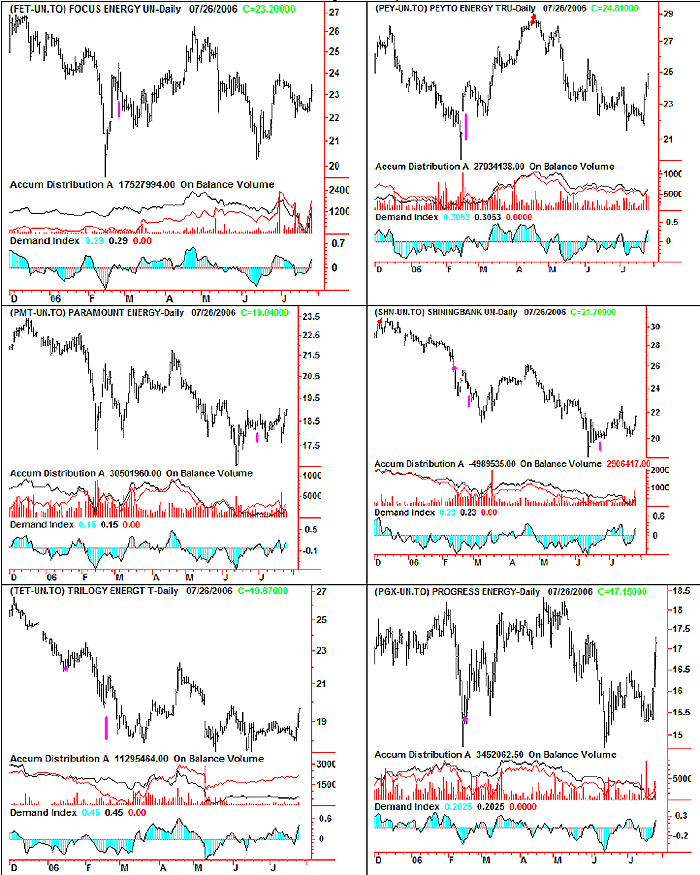 Crude Oil
Crude oil has been tracking nicely along its basic seasonal tendency with a pause in June-July. Strength is anticipated through the end of September.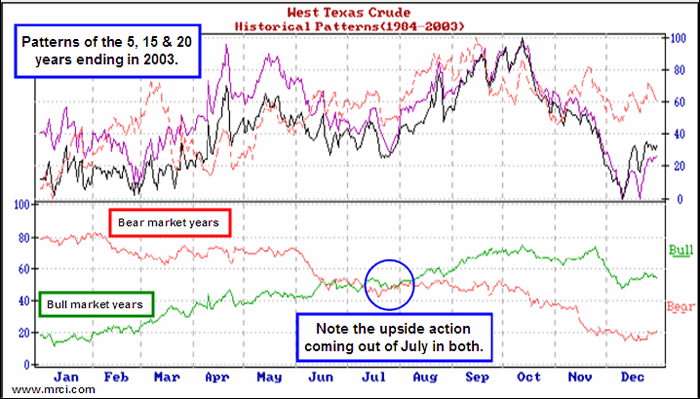 Suncor plus Sample Oily Trusts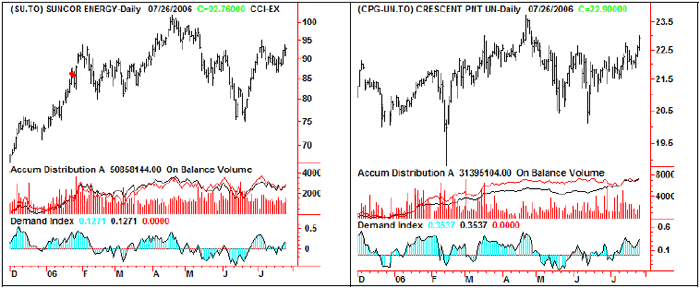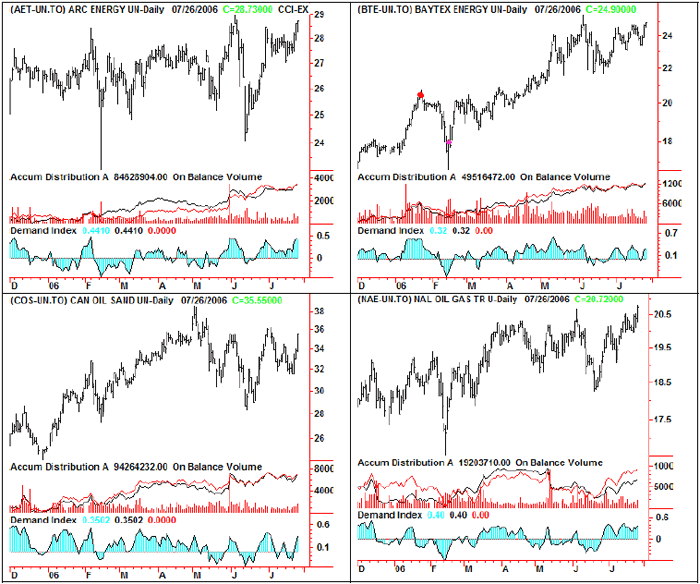 Oil Services
The oil service companies have been under more concerted pressure, but are now showing signs of life.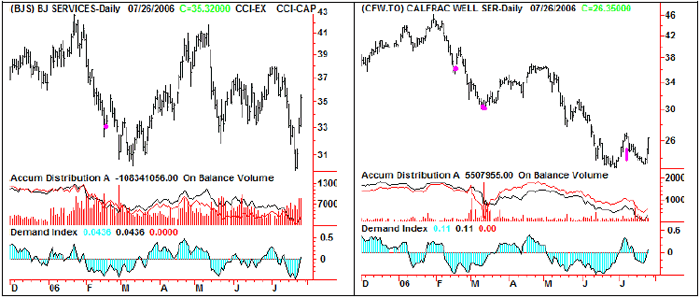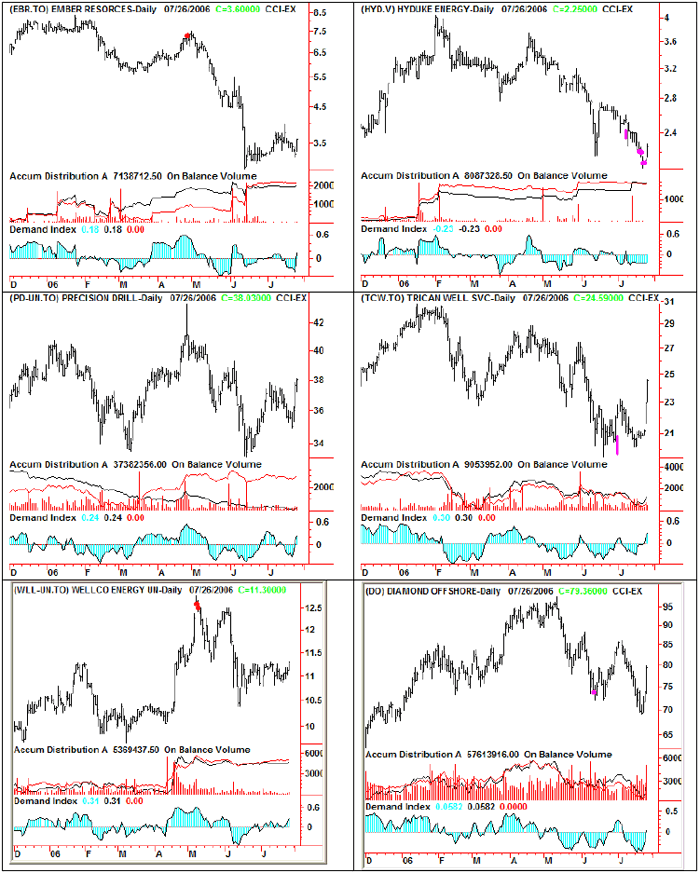 July 29th, 2006
Bob Hoye

EMAIL:: bobhoye@institutionaladvisors.com
CHARTWORKS WEBSITE:: www.institutionaladvisors.com
The opinions in this report are solely those of the author. The information herein was obtained from various sources; however we do not guarantee its accuracy or completeness. This research report is prepared for general circulation and is circulated for general information only. It does not have regard to the specific investment objectives, financial situation and the particular needs of any specific person who may receive this report. Investors should seek financial advice regarding the appropriateness of investing in any securities or investment strategies discussed or recommended in this report and should understand that statements regarding future prospects may not be realized. Investors should note that income from such securities, if any, may fluctuate and that each security's price or value may rise or fall. Accordingly, investors may receive back less than originally invested. Past performance is not necessarily a guide to future performance.
Neither the information nor any opinion expressed constitutes an offer to buy or sell any securities or options or futures contracts. Foreign currency rates of exchange may adversely affect the value, price or income of any security or related investment mentioned in this report. In addition, investors in securities such as ADRs, whose values are influenced by the currency of the underlying security, effectively assume currency risk.
Moreover, from time to time, members of the Institutional Advisors team may be long or short positions discussed in our publications.