Oil Stalls As US Production Increases 1 Mil Barrels Per Day To New High
By Sumit Roy ,
http://www.hardassetsinvestor.com
dvoros@hardassetsinvestor.com
July 27th, 2012
U.S. inventories and production surged last week.
The Department of Energy reported this morning that in the week ending July 20, U.S. crude oil inventories increased by 2.7 million barrels, gasoline inventories increased by 4.1 million barrels, distillate inventories increased by 1.7 million barrels and total petroleum inventories increased by 10.1 million barrels.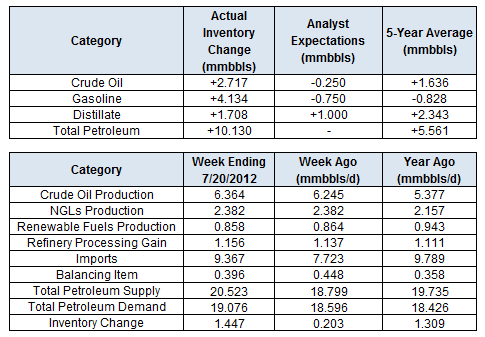 Crude oil was lower after the latest inventory figures from the EIA. The report was decidedly bearish—U.S. inventories rose significantly and output in the country reached a fresh 13-year high.

In fact, U.S. crude oil output last week was 1 million barrels per day higher than the same week last year—a staggering jump that was unanticipated by most.
Click here
to read the entire article.
By Sumit Roy ,
http://www.hardassetsinvestor.com
dvoros@hardassetsinvestor.com
July 27th, 2012