Another Late-Summer Natural Gas Low?
Chip Hanlon
Delta Global Advisors
September 18, 2008
The following was posted on my blog, Hanlon's Pub, on Thursday morning:
In mid-July, I warned that natural gas prices were likely to head lower under typical seasonal pressure, but how's it acting now?
At first glance it looks like gas may be making yet another late summer low, just as it has done in every normal year this decade. I say "normal" year because natural gas didn't make a late-summer low in '05, but that was due to Hurrican Katrina. Take a look: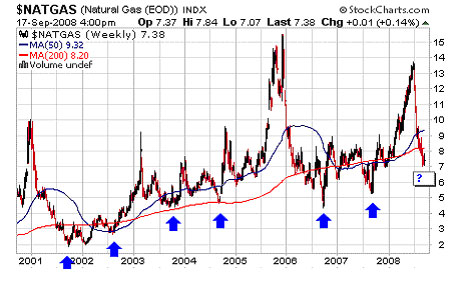 Looks like we've set up for another autumn bump in natural gas prices right? Maybe. Here's a closer look at recent price action via a 1-year chart, though: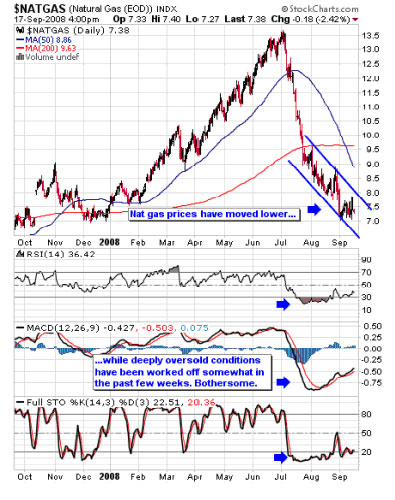 The deeply oversold conditions of the last few weeks have been worked off slighty while nat gas has headed... lower. That's not good technical action.
Fundamentally, inventory data like today's supply build is really tough to rely on for more than a very short-term impact on price. It's more important to look at big picture issues like the fact that global gas consumption has continued to grow despite elevated prices (positive), the return of the North American winter (typically a positive) and the attractiveness of nat gas as substitute for oil (an increasing negative given crude's recent decline), then just understand that bigger price whipsaws will occur due to weather, a reality unique to natural gas.
So, it is reasonable to think we're putting in another late-summer low and that natural gas is a buy right now? I'd say that's a trade for more aggressive types only, and they could look to scale in via the gas ETF (NYSE: UNG) or gas-focused energy trusts like Advantage (NYSE: AAV) or Toronto-listed trusts like Progress Energy (TSX:PGX-UN) or Paramount Energy (TSX:PMT-UN).
Given the lack of traction in commodities prices (except precious metals), however, more risk-averse investors might be wise to sit tight and wait for better price action in natural gas to believe it's living up to its seasonal pattern.
*Visit my weekly podcast, "Market Neutral," by clicking here!
Chip Hanlon
President
Delta Global Advisors, Inc.
www.deltaga.com
The President of Delta Global Advisors and the founder of Green Faucet, Chip Hanlon is regularly featured in the national media for his global economic viewpoints and is a contributing writer for Real Money, the subscription service from TheStreet.com. Previously, Hanlon has served as the C.O.O. at Euro Pacific Capital, as the President of Unfunds, Inc., and as Vice President of Investments and Syndicate Manager with Sutro & Co.