Is Crude Oil on Course to hit $100 per barrel?
Gary Dorsch, Editor, Global Money Trends
October 19, 2007
editor@sirchartsalot.com
Tension in the Middle East has always been a favorite tactic for the "Axis of Oil" - Iran, Russia, and Venezuela, to keep the price of crude oil pegged at artificially high levels. Talk of war in the world's most unstable region can inflate a hefty "war premium" into each barrel of OPEC and Russian oil. In the Middle East, wars seem to break-out every few years, and lulls in the fighting are often just a timeout, in order to re-supply and prepare for the next round of fighting.
Earlier this week, crude oil jumped $4.50 to as high as $88.20 /barrel in New York, and is commanding a "war premium" of roughly $10 /barrel. The price of West Texas Sweet is $10 /bl higher since Sept 12th, when the OPEC cartel agreed to boost its daily oil output by 500,000 to help meet winter demand. But the token increase in OPEC output has done little to hold down surging premiums for Mid-East oil.
Instead, with the Americans looking for a way out of the Iraqi quagmire, Arab oil kingdoms worry that if the US falters and Iraq degenerates into a failed state, it could spread instability and terror through the region. The ingredients are there for civil war on three levels, Arabs against Kurds, Shi'ites against Sunnis and everyone against the US, all battling for control of Iraq's 220 billion barrels of oil.
An accurate reading of the global supply and demand picture is certainly a big help in predicting global oil prices. But if one wants to point the "finger of blame" at the biggest culprit behind the historic rise in crude oil prices, it's no other than Federal Reserve chief Ben "B-52" Bernanke, whose decision to bail-out Wall Street brokers and banks this past summer, by slashing short-term interest rates, set in motion another US dollar devaluation, and sent global oil prices and gold sharply higher.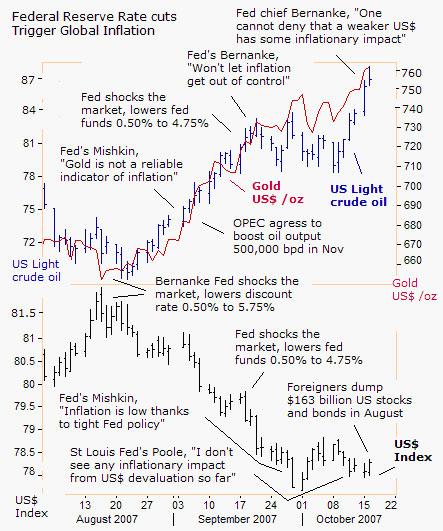 The Fed is the guardian of the world's top reserve currency, and has a responsibility to defend the purchasing power of the greenback, and keep global inflation in check. But when push comes to shove, Mr Bernanke has always voted to speed up the printing presses, to inflate the US economy out of a tough bind. Today, the US M3 money supply is 14.7% higher than a year ago, it's fastest in history, and up from 8% when Bernanke got his hands on the printing presses in March 2006.
Bernanke's money printing binges are supported by his cohorts at the Fed. On October 9th, St Louis Fed chief William Poole said, "I do not see any implication for inflation, at least with the magnitude of the US$ depreciation that we've seen so far. I did not see any evidence of a raft of dollar price increases for foreign goods. For manufactured goods, I think the pass through is very, very small," he said.
On Sept 287th, Federal Reserve Governor Frederic Mishkin was trying to brainwash his audience at a globalization conference held in Washington DC. "Inflation has come down in the old-fashioned way. Tighter monetary policy and a commitment to price stability by central banks throughout the world have led to lower inflation and an anchoring of inflation expectations," Mishkin declared. On Sept 11th, Mishkin said, "Gold was not a particularly useful indicator of inflation." When answering an audience question about inflation after a speech before the New York Economic Club on Oct 15th, "B-52" Ben did admit, "One cannot deny that when the dollar depreciates there is some inflationary impact." However, to alleviate any fears that the Fed might combat inflation with higher interest rates, Bernanke added, that "expectations for slower growth may moderate price increases."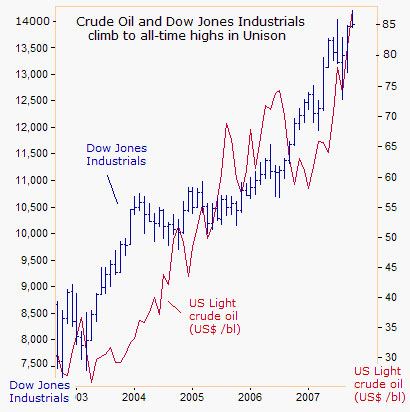 Whenever the stock market has a bad day, reporters from the mainstream media try to find plausible explanation, for why the market turned south. This week, the surge in crude oil prices above $85 per barrel was widely blamed for the market's sudden tremors. Yet since the first quarter of 2003, the Dow Jones Industrials and crude oil have thrived together in peaceful harmony, both climbing in unison to all-time highs. So why blame the stock market's downturn on an "oil shock" this week?
At what point, would sharply higher oil prices begin to rattle the global stock market? (This topic will be covered in an audio broadcast on October 17th, for paid subscribers to Global Money Trends). And how would Ben "B-52" Bernanke, react in a "Twilight Zone" episode in which crude oil jumps to $100 per barrel? Nobody knows for sure, but on October 21, 2004, Mr Bernanke responded to such as question, "I would argue that the Fed's response to the inflationary effects of an increase in oil prices should depend to some extent on the economy's starting point."
"If inflation has recently been on the low side of the desirable range, and the available evidence suggests that inflation expectations are likewise low and firmly anchored, then less urgency is required in responding to the inflation threat posed by higher oil prices. In this case, monetary policy need not tighten and could conceivably ease in the wake of an oil-price shock," Bernanke said. So don't be surprised if "B-52" Ben argues that a weak US economy and doctored inflation statistics, justify a further easing in Fed policy, pouring more gasoline on the flames of inflation, in the event of a surge in crude oil prices to $100 per barrel.
OPEC can't Stop Oil Spike
OPEC says there is no fundamental justification for a price run-up that has lifted oil from below $70 in mid-August. "OPEC cannot do much now," said Libya's hawkish oil chief Shokri Ghanem on October 16th. "OPEC did all that it can. It is not because of a lack of crude oil. There is all the uncertainty in Iraq and the Gulf area," he said. Indonesia's oil chief Maizar Rahman added, "The market fundamentals are in balance. There is too much speculative money coming into the market."
"OPEC is carefully watching developments in the oil market and has observed with concern the recent escalation in oil prices. The rising oil prices which we are currently witnessing are, however, largely being driven by market speculators. Persistent refinery bottlenecks and seasonal maintenance work, ongoing geopolitical problems in the Middle East and fluctuations in the US dollar, also continue to play a role in pushing oil prices higher. Additional political tensions, seen during recent days, are also pressurizing oil prices upwards," the cartel said on October 16th.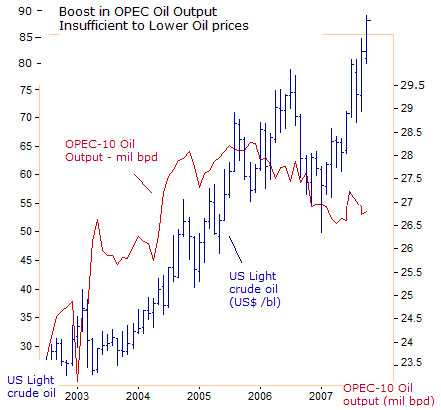 OPEC is reluctant to boost oil output beyond the scheduled 500,000 bpd increase in November, realizing that the Federal Reserve and other central banks are simply printing large amounts of monopoly money to pay for higher crude oil imports. To compensate for the fiat currency devaluations, OPEC seeks a higher oil price, and is expected to keep a tight rein on oil supply.
The Global Money Trends newsletter is happy to announce a special bonus for new and existing subscribers, - "Audio Broadcasts", posted on Monday and Wednesday evenings, during Asian trading hours, to the Log-In section of our website, with our latest analysis of gold, crude oil, base metals, foreign currencies, interest rates and the top stock markets from around the world. To read the rest of this article, click on the hyperlink below:
http://sirchartsalot.com/article.php?id=71
Gary Dorsch, Editor, Global Money Trends
October 19, 2007
editor@sirchartsalot.com
To order a subscription to Global Money Trends, click on the hyperlink below,
http://www.sirchartsalot.com/newsletters.php
or call toll free to order, Sunday thru Thursday, 8 am to 10 pm EST, and Friday 8 am to 5 pm, at 866-553-1007.
Mr Dorsch worked on the trading floor of the Chicago Mercantile Exchange for nine years as the chief Financial Futures Analyst for three clearing firms, Oppenheimer Rouse Futures Inc, GH Miller and Company, and a commodity fund at the LNS Financial Group. As a transactional broker for Charles Schwab's Global Investment Services department, Mr Dorsch handled thousands of customer trades in 45 stock exchanges around the world, including Australia, Canada, Japan, Hong Kong, the Euro zone, London, Toronto, South Africa, Mexico, and New Zealand, and Canadian oil trusts, ADR's and Exchange Traded Funds.
He wrote a weekly newsletter from 2000 thru September 2005 called, "Foreign Currency Trends" for Charles Schwab's Global Investment department, featuring inter-market technical analysis, to understand the dynamic inter-relationships between the foreign exchange, global bond and stock markets, and key industrial commodities.
Copyright © 2005-2007 SirChartsAlot, Inc. All rights reserved.
Disclaimer: SirChartsAlot.com's analysis and insights are based upon data gathered by it from various sources believed to be reliable, complete and accurate. However, no guarantee is made by SirChartsAlot.com as to the reliability, completeness and accuracy of the data so analyzed. SirChartsAlot.com is in the business of gathering information, analyzing it and disseminating the analysis for informational and educational purposes only. SirChartsAlot.com attempts to analyze trends, not make recommendations. All statements and expressions are the opinion of SirChartsAlot.com and are not meant to be investment advice or solicitation or recommendation to establish market positions. Our opinions are subject to change without notice. SirChartsAlot.com strongly advises readers to conduct thorough research relevant to decisions and verify facts from various independent sources.