Market Mania in Crude Oil, Base Metals, Tokyo Gold, and the Yen
By Gary Dorsch, Editor – Global Money Trends newsletter
http://www.sirchartsalot.com/newsletters.php
February 08, 2007
The name "Einstein" is synonymous with great intelligence and genius. Albert Einstein was named Time magazine's "Man of the Century," because he transformed humankind's understanding of nature on every scale, from the smallest to that of the cosmos. Einstein's theory of relativity is embodied in all motion throughout the universe, and the nature of energy, matter, motion, time, and space.
Unfortunately, Einstein didn't take a fancy to studying the daily motion of commodity and stock markets, where wild and erratic gyrations often seem to have no logical explanation. Why did the zinc market soar nearly 400% due to fast shrinking supplies, only to surrender a third of its gains, over the past two months? How do some copper miners defy the laws of gravity and climb to record highs, even after the price of copper has dropped by almost 50% below its all time highs?
Newtonian physics might explain the 35% slide in crude oil to as low as $50 /barrel since July 2006. But how did oil prices bounce by $10 /barrel towards $60 /barrel over the past two weeks? The DJI hasn't suffered a 2% correction since July, its longest such streak of resiliency since 1965. How does the Dow Jones Industrials (DJI) defy the law of gravity? How did Tokyo gold prices rise by 75% from 18-months ago, if Japan's official CPI is only 0.3% higher from a year ago?
Answers to these questions, that can withstand the test of time, are tough to figure out. Fortunately, Einstein did leave behind a treasure chest of insightful quotes and wisdom that can help traders to cope with the schizophrenia of commodities and the mania of global stock markets. When trying to understand the mood of the markets on any given day, remember some of Einstein's pearls of wisdom!
" Education is what remains after one has forgotten everything he learned in school," said Einstein.
Crude oil has been on a wild rollercoaster ride for the past 18-months. Climbing in an orderly fashion from around $50 per barrel until the spot price of West Texas Sweet peaked at a record high of $78.40 per barrel on July 14th. Then over the next six months, crude oil began a 35% slide, which might have made sense to students of physics, who believe that what goes up, must eventually come down.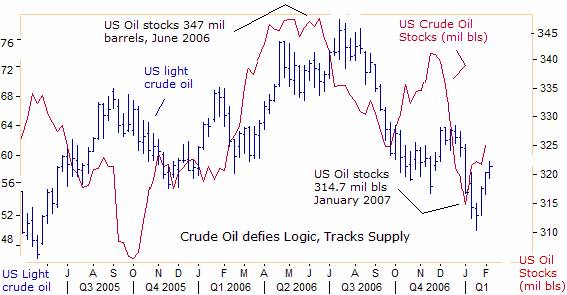 But the recent behavior the crude oil market doesn't conform to the classic laws of supply and demand. Crude oil traders focus a lot of their attention each week on the amount of oil held in storage by Big-Oil for clues about the future direction of oil prices. Yet since October 2005, crude oil prices have been acting counter-intuitively, climbing higher when crude oil supplies were rising to 8-year highs of 347 million barrels, then tumbling lower when supplies were shrinking.
Thus, students of Economics 101 should not trade crude oil based on the Law of Supply and Demand taught in college. Instead, in order to trade profitably in the brave new world of the crude oil markets, economists must switch to psycho-analysis to predict future prices. Don't hesitate to make the change-over. "Anyone who has never made a mistake has never tried anything new," Einstein said.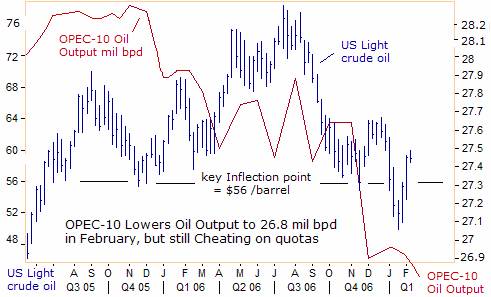 Crude oil prices were falling fast in the second half of 2006, even as OPEC was cutting back on its oil output from a record high of 28.3 million bpd. That's because 1.8 million bpd of new oil supplies from Angola, Brazil, Canada, Kazakhstan, and Russia are expected to come on stream this year. As of Feb 2nd, OPEC-10 had lowered its output to 26.8 million bpd, but is still cheating by one million bpd above the quotas that it agreed upon on in October and December.
When crude oil prices were fast approaching $50 per barrel, Saudi Oil Minister Ali Al-Naimi said on January 16th, there was no need for OPEC to hold an emergency meeting before its next scheduled gathering in March. "The market doesn't need to panic at all, it's in a healthy condition and moving in the right direction. We took measures in October in Doha and measures in Abuja and I believe these measures are working well," he said, sounding indifferent to the plunge in oil prices.
Most of the decline in crude oil prices in the second half of 2006 was due to the evaporation of a $15 pr barrel Iranian 'war premium" which had been built into prices earlier in the year. The resignation of US Defense secretary Donald Rumsfeld confirmed the market's suspicions that the US would not attack Iran's nuclear installations anytime soon. Instead, President Bush decided to try other tactics first.
US Vice President Dick Cheney visit with King Abdullah on November 25th, was brief, lasting only a few hours before he flew back to Washington.
Cheney might have asked King Abdullah to use his considerable influence in the oil markets to knock prices lower, to put a squeeze Iran's troubled economy, which depends on crude oil sales for 95% of its foreign exchange earnings and 50% of government spending.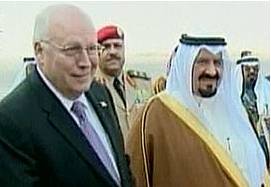 Crude oil is the key weapon in the battle between Saudi Arabia, Kuwait, and the UAE, aligned with the United States, against the "Oil Axis" of Iran, Russia, and Venezuela. The Persian Gulf Oil kingdoms fear the emergence of a Tehran-led axis linking Iran, Iraqi Shiites, Syria, Lebanon's Hezbollah, Palestinian Hamas in Gaza, and Islamic militants linked to al Qaeda trying to topple the Saudi royal family.
To counter the Saudi inspired plunge in oil prices, Iranian President Mahmoud Ahmadinejad proposed on Jan 21st, to cut the oil price on which the next Iranian budget is based to $33.70 per barrel for the year starting in March, compared with a price of $44.10 for the existing budget. "It is a signal to Iran's enemies saying we are ready and we will manage the country even if you lower the oil prices more. We assume our enemies want to damage us by decreasing the price of oil. So we must reduce our dependency on oil revenue," Ahmadinejad said.
Iranian crude usually sells for about $7 a barrel less than US crude oil, so West Texas Sweet would have to stay below $51 per barrel for an extended period of time, to wipe out Iran's budget surplus. Tehran spends $20 billion to $30 billion on heating oil and gasoline subsidies per year, costing the government roughly 15% of Iran's GDP. Ahmadinejad was elected promising to bring oil revenues to every family, eradicate poverty and tackle unemployment.
But Ahmadinejad has failed to meet those promises. Instead, inflation in Iran according to various estimates is galloping ahead at 15% to 30%, and the jobless rate among men below 30 years old is at 20 percent. Anticipating a possible US blockade of gasoline imports in the next stage of economic warfare, Tehran has already said it will start rationing gasoline as of March 23rd.
Mohsen Rezai, secretary of Iran's Expediency Council, told the Dubai-based Al-Bayan newspaper on Jan 21st, "America will exploit sanctions against Iran to incite people to rise up against the Islamic revolution, provide aid to movements hostile to Iran, carry out operations inside Iran and promote a sectarian war. The next two months will show the world this strategy. An Iranian-US confrontation is inevitable," he said.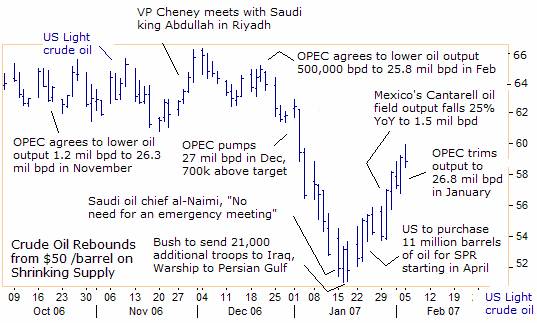 Keeping US oil prices pegged to $51 per barrel or lower looks to be a far fetched strategy however, with US saber rattling with Iran. "We don't believe that Iran's behavior, such as supporting Shiite extremists in Iraq, should go unchallenged," said John Negroponte at his Senate confirmation hearing on January 30th. "If they feel that they can continue with this kind of activity with impunity, that will be harmful to the security of Iraq and to our interests in that country," he added.
Negroponte's stern warning to Iran come at time when two US aircraft carriers are stationed in the Persian Gulf, and Patriot missiles are being delivered to the Arab oil kingdoms. Tough talk from Bush and other US officials has stirred speculation of a possible military strike. That's at odds with Einstein's advice, "Peace cannot be kept by force. It can only be achieved by understanding."
Crude oil prices bottomed out at $50 per barrel, the same day Bush ordered another 21,000 troops to Iraq, and directed the USS John Stennis to the Gulf. US crude oil rallied more than 4% on Jan 23rd, the biggest one-day gain in nine weeks, after US Energy Secretary Sam Bodman announced a plan to expand the nation's Strategic Petroleum Reserves by 11 million barrels (100,000 bpd) starting in April.
Crude Oil Market Jolted by Depletion of Mexico's Cantarell Oilfield
Then on January 29th, crude oil surge by $3 per barrel on news that daily output at Mexico's biggest oil field tumbled by half a million barrels to 1.5 million bpd last year, according to the Mexican government. Mexico's overall oil output fell to just below three million barrels a day in December, down from almost 3.4 million barrels at the start of the year, the lowest rate of oil output since 2000.
Some experts predict that Cantarell's output will drop another 600,000 bpd by the end of this year. Petroleos Mexicanos (PEMEX) might try increase output by 200,000 barrels a day at other fields, leaving the country with a net decline of 400,000 bpd by year's end and daily exports of less than 1.4 million barrels. Mexico's oil reserves are expected to last only nine years and eight months at current rates of production.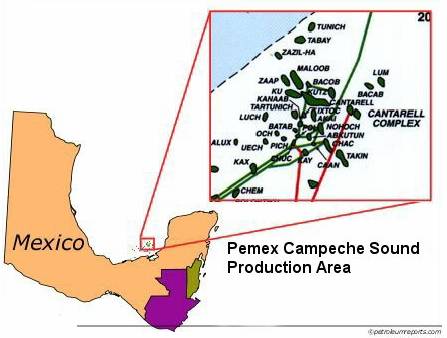 Cantarell, the world's second-largest oil complex in the shallow gulf waters off the shore of Mexico's southern Campeche state, is a prolific giant that is past its prime. Monthly production peaked in late 2004 at just over 2.1 million barrels a day and has fallen more than 28.5% since then. Experts agree it has nowhere to go but down. Its proven reserves have tumbled by more than a third since 2000.
Too read the rest of this article, please click on the link below:
http://www.sirchartsalot.com/article.php?id=52
By Gary Dorsch, Editor – Global Money Trends newsletter
http://www.sirchartsalot.com/newsletters.php
February 08, 2007
** If you enjoyed this article, consider a subscription to the Global Money Trends newsletter published on the 1st and 15th of each month in pdf format, and 20-25 pages in length. GMT collects a wide array of news and information from reputable sources, filters out the noise and distractions, and puts all the pieces of global economic puzzle together into coherent snapshot analyses, with lots of cool charts depicting the inter-relationships of markets and economies around the world.
Here's what you will receive with a subscription,
Insightful analysis and predictions of, (1) top stock market indexes around the world, and US-listed Exchange Traded Funds (ETF's) and closed-end country funds. (2) Commodities such as crude oil, copper, gold, silver, the CRB index, and gold mining and oil company indexes. (3) Foreign currencies such as, the Australian dollar, British pound, Euro, Japanese yen, and Canadian dollar. ($) Libor interest rates, global bond markets and their central bank monetary policies.
A subscription to Global Money Trends is $110 US dollars per year for 24 issues, including access to all back issues. Click on the following hyperlink, to order now, http://www.sirchartsalot.com/newsletters.php
This article may be re-printed in its entirety on other internet sites for public viewing, with links to, http://www.sirchartsalot.com/newsletters.php
Mr Dorsch worked on the trading floor of the Chicago Mercantile Exchange for nine years as the chief Financial Futures Analyst for three clearing firms, Oppenheimer Rouse Futures Inc, GH Miller and Company, and a commodity fund at the LNS Financial Group.
As a transactional broker for Charles Schwab's Global Investment Services department, Mr Dorsch handled thousands of customer trades in 45 stock exchanges around the world, including Australia, Canada, Japan, Hong Kong, the Euro zone, London, Toronto, South Africa, Mexico, and New Zealand, and Canadian oil trusts, ADR's and Exchange Traded Funds.
He wrote a weekly newsletter from 2000 thru September 2005 called, "Foreign Currency Trends" for Charles Schwab's Global Investment department, featuring inter-market technical analysis, to understand the dynamic inter-relationships between the foreign exchange, global bond and stock markets, and key industrial commodities.
Copyright © 2005-2006 SirChartsAlot, Inc. All rights reserved.
Disclaimer: SirChartsAlot.com's analysis and insights are based upon data gathered by it from various sources believed to be reliable, complete and accurate. However, no guarantee is made by SirChartsAlot.com as to the reliability, completeness and accuracy of the data so analyzed. SirChartsAlot.com is in the business of gathering information, analyzing it and disseminating the analysis for informational and educational purposes only. SirChartsAlot.com attempts to analyze trends, not make recommendations. All statements and expressions are the opinion of SirChartsAlot.com and are not meant to be investment advice or solicitation or recommendation to establish market positions. Our opinions are subject to change without notice. SirChartsAlot.com strongly advises readers to conduct thorough research relevant to decisions and verify facts from various independent sources.