Oil, Jihad and Destiny, Revised Edition
Extract from Chapter 7
Adding Alternative Fuels
Ronald R. Cooke
The Cultural Economist
www.tce.name
December 18, 2007
There are many who believe we can save ourselves from the fate described in the prior chapter by increasing our consumption of alternative fuels for mobile applications (cars, trucks, planes, trains, busses, etc.). What would happen, we wonder, if we recalculated the Production Crisis Scenario with the addition of other liquids (such as ethanol) to the fuels mix. Would the production of alternative fuels make a big difference in the outcome?
There are two kinds of liquids that get added to total refinery output. Refinery Gains are the result of the cracking process that breaks complex hydrocarbons into a slightly larger volume of less complex chains. Other liquids are added to refinery operations, or are mixed with finished oil products at the point of distribution (as is the case with ethanol). We have assumed the growing addition of other liquids starting about 2003. These additions start to accelerate in 2008 and reach 9.4 Mbl per day (about 3.4 Bbl per year) by 2030.
World Oil and Other Liquids Production has been graphed in the following chart. These additions shift the date of "Peak Oil" from 2017 to 2023, and help to support a long plateau of daily oil product production from 2017 through 2030.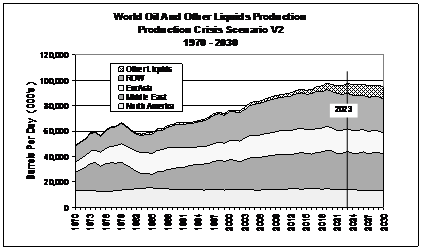 Because world demand continues to increase, oil prices accelerate upward as production plateaus. Even after adjusting estimated unsatisfied demand for reduced consumption, we would need to more than double alternative liquids production to 7.1 Bbl of oil per year by 2030 in order to stabilize prices. That is unlikely to happen.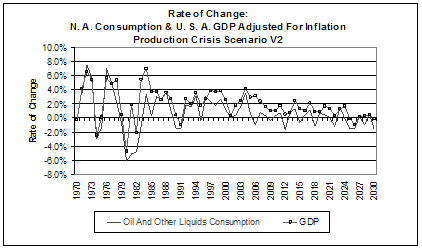 Although the gap between natural demand and production is smaller in this version of the Production Crisis scenario, it would still be large enough to sharply increase the price of oil. GDP adjusted for inflation (using BLS and BEA data) declines and turns negative by 2024. If I use my estimates of inflation, GDP turns negative much sooner.
In other words, our most realistically aggressive plans for alternative fuels are unlikely to keep demand from exceeding supply. Shortages are inevitable.
Oil, Jihad and Destiny: Revised Edition December, 2007 is a thought-provoking research report on oil depletion. It provides a comprehensive examination of world oil reserves and production, reviews the cultural challenges of the Middle East, analyzes the economic impact of four alternative oil depletion scenarios, and outlines a proposed course of action to enable a "soft landing". World oil production and consumption are evaluated by geographic region. This evaluation, along with a projection of how oil depletion is expected to influence inflation, unemployment, economic growth and the price of gas, is presented in multiple tables and charts.
The Revised Edition of Oil, Jihad and Destiny uses historical data from 1970 through 2006 as a basis for analysis, and then projects the underlying trends through 2030 with an updated version of the analytical model. Four economic scenarios are discussed:
a projection of current production and consumption trends;
what happens if we are able to triple our consumption of alternative fuels;
the outcome if we also reduce America's oil consumption by 25 percent; and
the results of a temporary decrease in the supply of oil to world markets.
Oil depletion will create the economic conditions for cultural chaos and extensive lifestyle change. Our future includes increasing unemployment, higher rates of inflation and higher gas prices. The wealth of nations is destined to decline. We can, however, engineer a "soft landing" if we have the collective will. This report describes multiple recommendations to ease our transition to a world without enough oil.
Ronald R. Cooke
December 18, 2007
The Cultural Economist