Price Trends: Gasoline and CPI Are Twins
Ronald R. Cooke
The Cultural Economist
www.tce.name
December 14, 2008
Just for the fun of it, I calculated the month to month change in the price of American gasoline (all grades) versus the month to month change in the Consumer Price Index (CPI-U), from January 2004 through October, 2008. Although the correlation is not perfect, it does show how the rate of inflation tracks the price of gasoline (and the oil from which gasoline is made). The left scale of the following chart shows the month to month change in CPI-U as reported by the Department of Labor, Bureau of Labor Statistics (BLS). The right scale shows the month to month change in the price of gasoline as reported by The Department of Energy (DOE).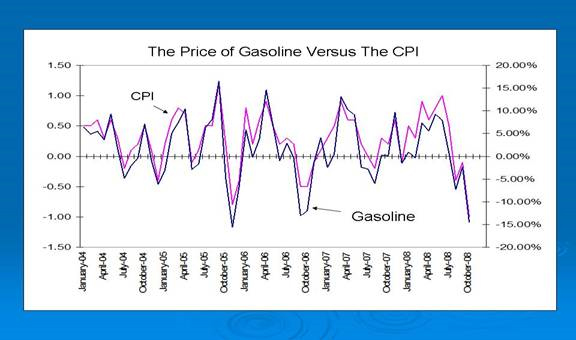 This is important stuff. Despite a temporary decline, the long term trend for the price of oil (and hence gasoline) is UP. That means - on a long term basis - the rate of inflation will also increase. As shown by this chart, the price of oil has been (and will continue to be) volatile. Since the price of oil will become an increasingly important component of what happens next to the world economy, the development of alternative (lower cost) energy options assumes increasing importance.
Ronald R. Cooke
December 14, 2008
The Cultural Economist
About The Cultural Economist - Ron graduated with an A.B. in Economics from Bates College. He has been an auditor, line manager, computer salesman, marketing manager, product planning manager, and V. P. of Marketing. A management consultant by inclination, Ron has a comprehensive background in business development, product planning, market research, and industry analysis. He has authored multiple market research reports, contracts, business plans and operations research studies for corporate clients in 12 countries. Prior experience includes technology assessment, the evaluation of corporate financial performance, and the negotiation of corporate acquisitions.
Ron is a former instructor with UCSC, and developed the curriculum for a science based approach to decision analysis. He has pursued the study of Cultural Economics since 1969, and has authored "Oil, Jihad and Destiny," [Amazon,] a thought-provoking research report on oil depletion (Opportunity Analysis - 2004, and revised in 2007), and "Detensive Nation," a book that redefines the role of government in an Energy Detensive EcoSystem (The Cultural Economist - 2007).