Burn or Earn?: Natural Gas Prices Slipping Away from Commercial Viability
By G. Joel Chury, Editor in Chief
February 9th, 2012
email: joel@vantagewire.com
http://www.vantagewire.com
At a Topical Issues Luncheon held yesterday by the Canadian Associate Petroleum Land Agents -CAPL- in Calgary, the talk of the day was the differentiation in markets for various assets. From a resource perspective, heavy oil is fetching $40k/barrel, whereas light crude is getting $60-$70k/barrel.
Al Tambosso of Sayer Energy Advisors was a speaker at the luncheon painted a picture of the discrepancies between the commodities. Included in his message was the expectation that for oil you will pay, on average, the Proven + Probable (ďP+PĒ) value, versus dry gas where purchasers are only paying for Proven reserves. This makes dry gas a bargain if you believe in the future of it. It makes it a terrible waste of time and resources if you donít believe the economics can work.
ďWith resources, youíre paying for what theyíre worth, and gas just isnít worth it at this stage,Ē says Tambosso. ďMany dry gas operations today arenít commercial, even if theyíre still producing. Even with prices around the $2.70-$3/mcf mark, the economics donít always work. High fees surrounding the processing and sale of gas can run over $1.50/mcf, and thatís before a company factors in its own operations costs. Itís a very common problem.Ē
A recent report put out by First Energy started the rumblings of a further plunge to come for dry gas, with talks of prices going as low as $1.50/mcf or lower, as storage capacity is already starting to be taken up. And sadly, for producers, there doesnít seem to be a quick fix on the horizon. The Kitimat LNG facilities in the works wonít be here soon enough to provide a short term fix for natural gas, though they are needed for the long term.
So what does that leave for the dry commodity thatís getting to flare than to sell? For the contrarian investor looking for a deal, there will be bargain basement prices ahead for gas properties, but the turnaround to profitability isnít so simple without major buyers.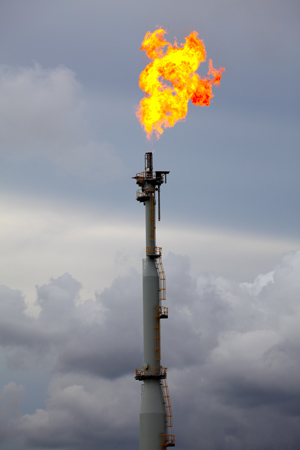 While thereís little evidence of correlation between oil and gas prices these days, the way out of gasí rut could come from the oil sands. The push towards liquids rich gas plays in areas, like the Bigstone area of the Montney, are still providing exploration into gassy zones, but provides a cheap gas source that can be utilized by energy hungry oil sands operations.
Cheap gas can equal bigger profit margins for oil sands operators, as gas is needed in the extraction process. Gas can be burned off on site or converted into electricity by Cogeneration power plants. What could result in the future is a push by oil sands producers purchasing or simply taking over these currently low-valued gas properties.
Right now it is definitely a gloomy time to be gassy. But, for primary gas producers, this canít last forever. In the meantime, the challenge remains for those who are charged with the responsibility of keeping these gas properties economic. Whether that comes from shaving costs at an in-house level, or dumping the properties onto willing oil sands producers will be up for grabs, and depends on the forward-looking sentiments of the gas producers left with the problem to deal with.
By G. Joel Chury, Editor in Chief
February 9th, 2012
email: joel@vantagewire.com
http://www.vantagewire.com
G. Joel Chury is a veteran investment columnist for Resource World Magazine and the Editor in Chief of VantageWire.com. His knowledge of both the mining and oil and gas sectors along with his ability to sift through TSX.V data and press releases makes him one of the best up-and-coming newsletter writers on the web.
With a diverse background that includes investor relations writing and consulting for publicly-held companies and previous field work as a surface land agent for oil and gas companies, Mr. Chury seamlessly translates technical results geared towards engineers and geologists into a more readable language thatís palatable for investors on the go. As well, Mr. Chury is an avowed silver bug, always willing to join the debate on where the precious metals market is heading.
Disclaimer: No information in this article should be construed as individualized investment advice. A licensed financial advisor should be consulted prior to making any investment decision. VantageWire makes no guarantee, representation or warranty and accepts no responsibility or liability as to its accuracy or completeness. Expressions of opinion are those of the VantageWire only and are subject to change without notice. VantageWire assumes no warranty, liability or guarantee for the current relevance, correctness or completeness of any information provided within this article and will not be held liable for the consequence of reliance upon any opinion or statement contained herein or any omission. The author of this article does not currently own shares of any of the companies mentioned in this article. Furthermore, VantageWire assumes no liability for any direct or indirect loss or damage or, in particular, for lost profit, which you may incur as a result of the use and existence of the information, provided within this article.