Energy Update
By Jack Chan at
www.simplyprofits.org
November 9th, 2021
Signals and set ups
Investors
During a long term buy signal, investors can accumulate positions by cost averaging at cycle bottoms, ideally when prices are at or near the daily 200ema. During a long term sell signal, investors should be hedged or in cash.
Traders
Simply buy and sell upon buy/sell signals on the daily charts, or cost average in at cycle bottoms when prices are at or near the daily 200ema; and cost average out at cycle tops when prices are above the daily 50ema.
Allocations
Will be conservative when volatility is high, and aggressive when volatility is low.
Current signals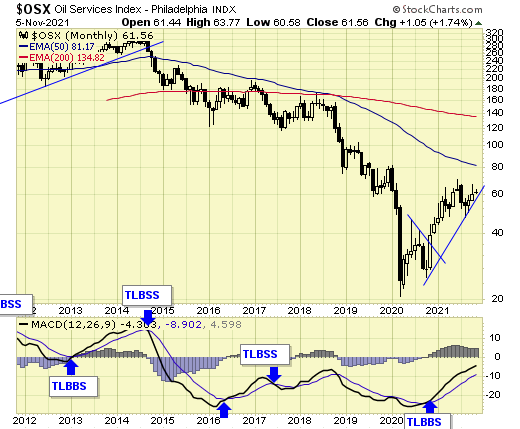 Long term - on BUY signal
Short term - on mixed signals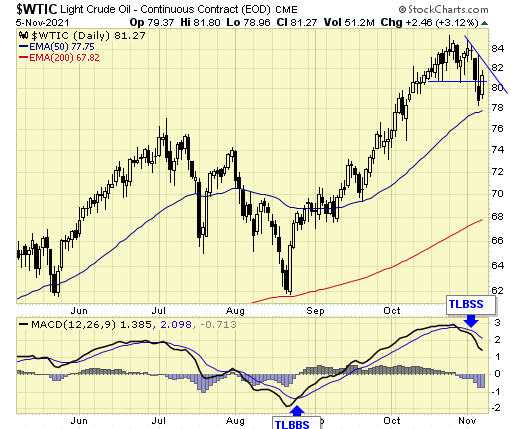 Crude oil is now on sell signal.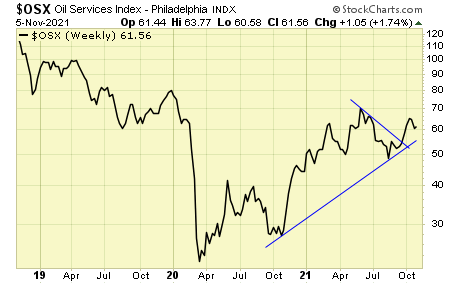 The trend is up.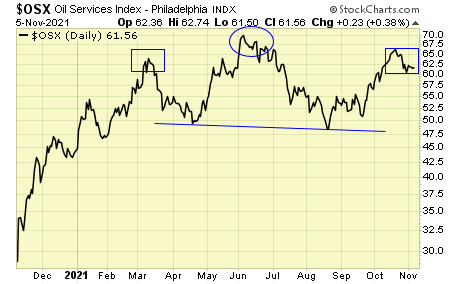 A potential head & shoulder topping pattern is in progress.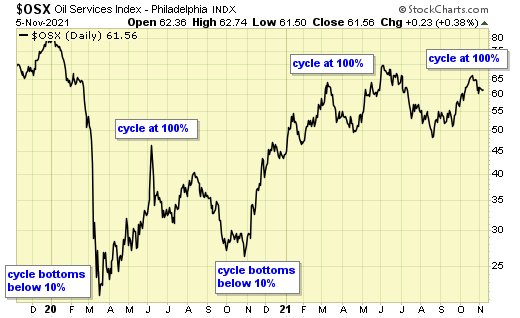 Energy cycle has topped at 100% again, and should see a correction soon.
Summary
Long term (monthly chart) - on BUY signal.
Short term (daily chart) - on sell signals.
Cycle is down and a correction is in progress.
We closed out all of our positions with profits.
We shall now wait for a cycle bottom and the next buying opportunity.
End of update
November 9th, 2021
Jack Chan
website: www.simplyprofits.org
We do not offer predictions or forecasts for the markets. What you see here is our simple trading model which provides us the signals and set ups to be either long, short, or in cash at any given time. Entry points and stops are provided in real time to subscribers, therefore, this update may not reflect our current positions in the markets. Trade at your own discretion. We also provide coverage to the major indexes and gold sector.

Jack Chan is the editor of Simply Profits at www.simplyprofits.org, established in 2006. Jack bought his first mining stock, Hoko Exploration in 1979, and has been active in the markets for the past 40 years. Technical analysis has helped him filter out the noise and focus on the when, and leaving the why to the fundamental analysts. His proprietary trading models have enabled him to identify the Nasdaq top in 2000, the new gold bull market in 2001, the stock market top in 2007, the US dollar bottom in 2011, and most recently, overweighing in bonds over stocks in 2019 before COVID19 became a household name.

In his spare time, Jack is an avid golfer and tennis player, and volunteers his time coaching and lecturing at local clubs and universities.