Crude oil in a free fall
By Jack Chan at
www.simplyprofits.org
September 11th, 2006
A few weeks ago when crude oil approached the magical $80 mark, forecasts of $100 and $150 oil were abundant. That is no longer the case. Some subscribers and public readers have asked, is this a good time to think about buying? Not according to our analysis, and certainly not according to our trading models. I will present both in this update.
Our analysis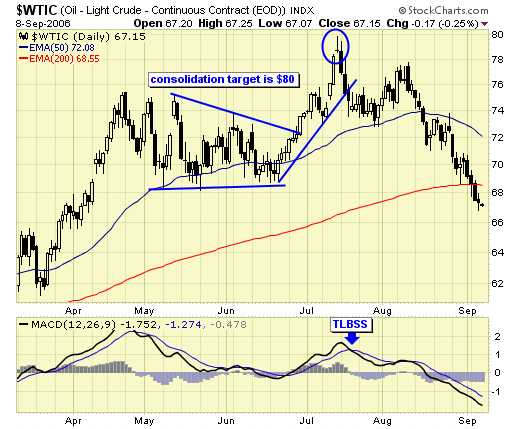 We picked the $80 price target based on the consolidation breakout in July, and it's been downhill since. I was hoping the 200ema would provide some support for a bounce, but that clearly has not provided relief, as the free fall continues.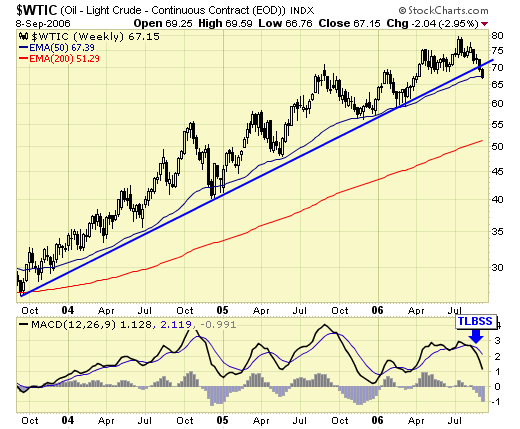 A reasonable support level would be the weekly 200ema, which will be between $50 and $55.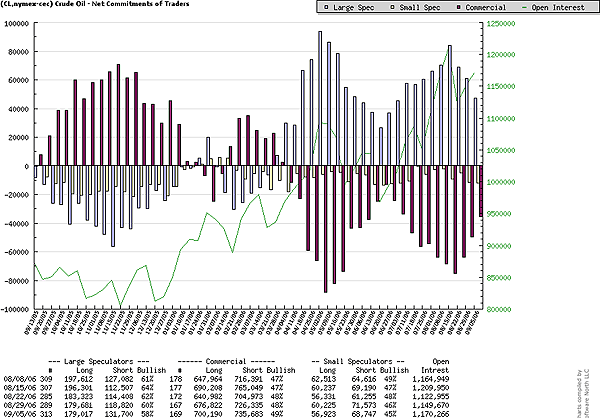 The COT data this week confirms the continuing process of liquidation by speculators and short covering by commercials. Crude oil will not find a bottom until this process has ended and reverses, meaning commercials become net long and speculators become net short, similar to what happened in Nov 2005 and March 2006.
Our trading models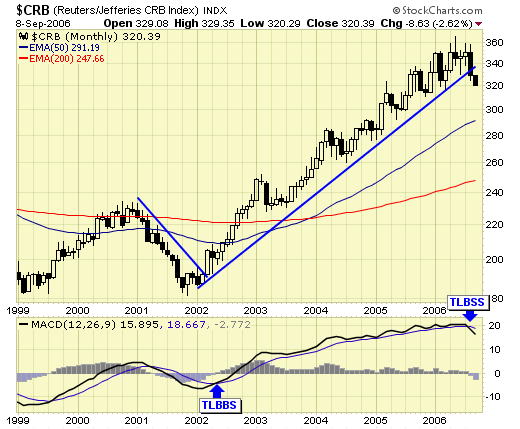 $CRB index which is resource heavy, has given a long term sell signal, ending a five year major buy signal on the commodity bull market. Do not confuse this as the end of the commodity bull market; this sell signal is the beginning of a correction, not the beginning of a bear market.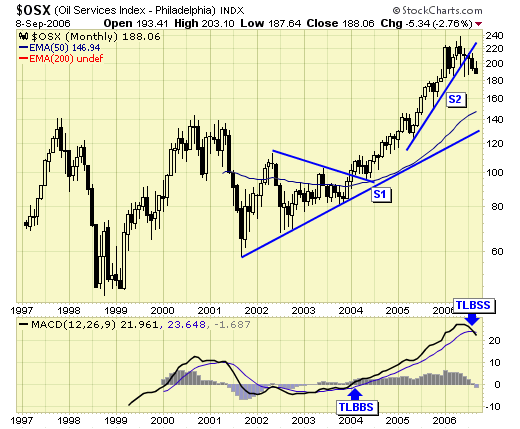 $OSX also gave us a long term sell signal, officially ending the major buy signal from 2004.
Summary
When I first published the upside target of $80 on crude oil a few weeks ago, I received a few nasty emails from those who disagreed. They presented me with arguments on peak oil, the Mideast crisis, China, India, etc etc…..What these folks do not realize, or fail to accept, is the fact that the futures markets are the trading place where some of the most knowledgeable traders make their living, and many if not all of these "fundamental issues" have been taken into consideration and priced into the current markets. Price is the most effective and efficient indicator, and should not be ignored, regardless what the story of the week is.
Based on our current analysis and trading models, there are only two viable positions for traders and investors: cash or short.
09/11/2006
Jack Chan
website: www.simplyprofits.org