Crude oil and OIH
By Jack Chan at
www.simplyprofits.org
August 19th, 2006
After visiting Alaska for a few days, and having conducted an unscientific survey among bar patrons in different local watering holes, there is a general consensus among Alaskans that the price of crude oil has more to do with price manipulation than the crisis in Mideast, or even the recent event at BP. Truly enlightening, isnít it? Market intelligence such as this is priceless, well, at a cost of a few beers anyways.
As always, we are not concerned with why, only when.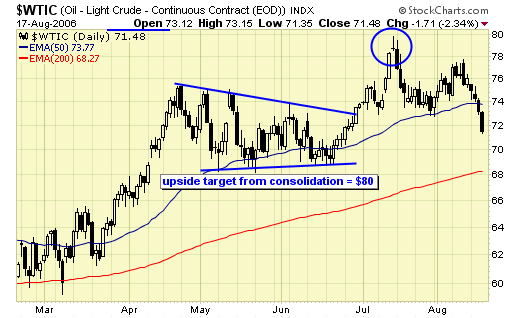 In my last commentary before the Alaska vacation, I have picked the top at $80 and that was challenged a few days ago, but failed. As prices are constantly gyrating between resistance and support, now that we have broken below the 50ema, the next logical support is the 200ema which is just a few dollars away.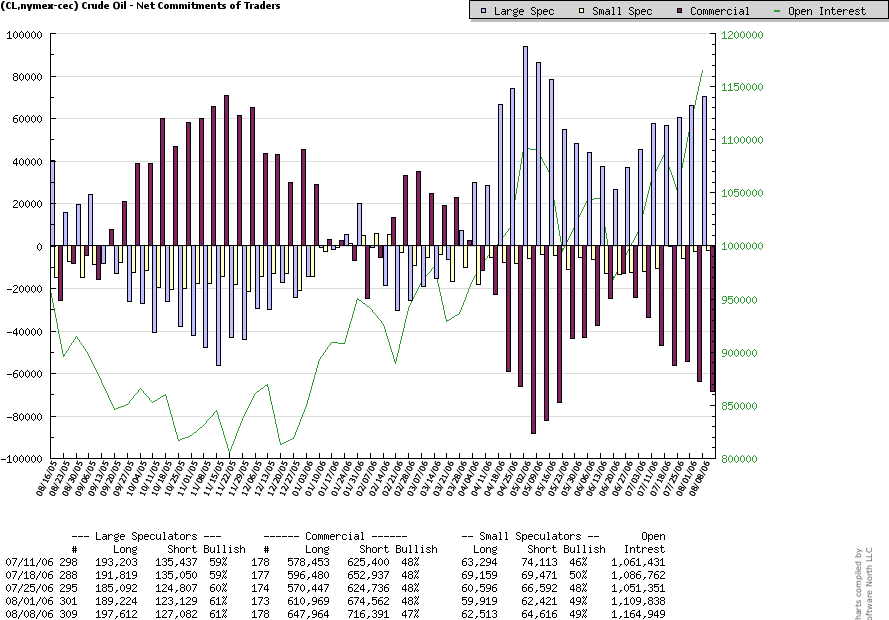 Trouble is, despite lower prices, the stand off between commercials and speculators continue. From this COT chart alone, you would think crude oil is at a new high, with open interests reaching new highs while specs continue to pile in. Something has to giveÖ.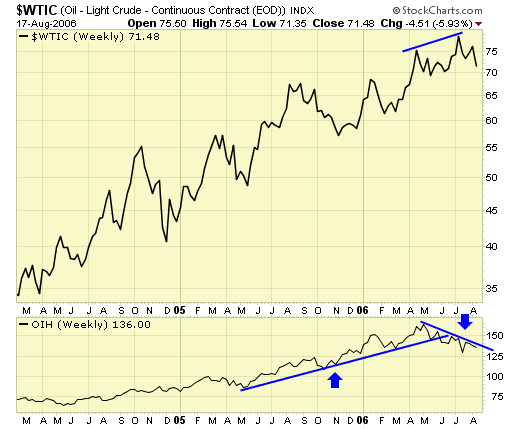 For the first time in three years, energy stocks failed to confirm the new high in crude oil, resulting in a bearish divergence. Also, the up trend in OIH has ended and current trend is down.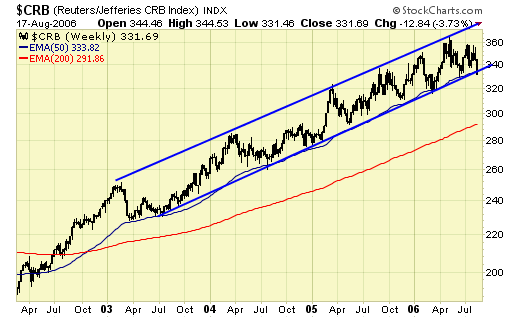 Looking at the CRB index, this four year uptrend must hold. Prices are currently testing the lower channel, a breakdown here could result in panic selling.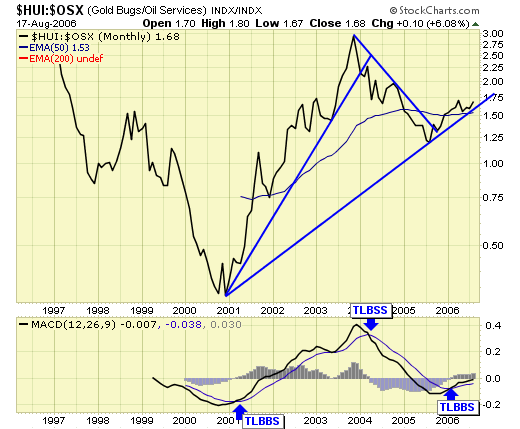 This relative performance model has helped us to overweigh the gold sector during the buy signals in the resource sectors of gold and energy in Nov 2005, and likely again going forward as long as the uptrend continues.
Summary
From all current indications, price of crude oil has more room to the downside, and taking energy stocks lower with it. Whether this will result in lower gold prices as well remains to be seen, but the fact is gold stocks are outperforming energy stocks, although both are struggling. Lower energy prices are definitely good news for the broad market, especially the beaten up tech sector, which just gave us a buy signal and an up cycle.
End of report
Jack Chan
August 18th, 2006
website:
www.simplyprofits.org