Energy stocks are breaking down
By Jack Chan at www.simplyprofits.org
7/24/2006
This is a follow up report to my last week's report "Crude oil to $100?". If you have not read my previous report, you can do so at this link: http://www.321energy.com/editorials/chan/chan071806.html
Attention: As an analyst and a trader, my job is to analyse and trade. But I have learned to differentiate between the two. I trade on my signals and set ups, not my analysis. Analysis provides the road map so we know where we are going. Signals and set ups are the traffic lights, we must obey them in order to navigate safely. Knowing the average trader having trouble donning on two hats, I will make every effort to separate my analysis from my signals in all of my commentary going forward.
The analysis
Crude oil did drop from my $80 target, and gave us a sell signal this past week. Where does it go from here? The 200ema seems to be a reasonable target.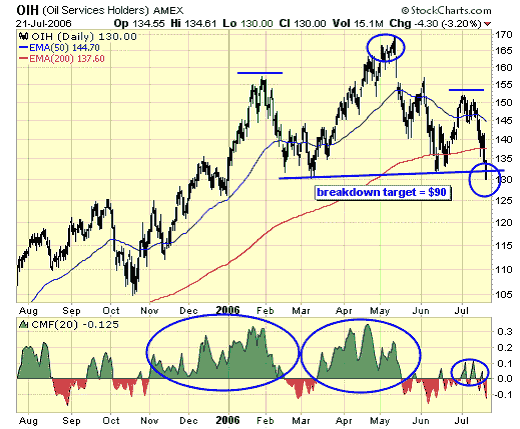 The "head & shoulder" topping pattern is now confirmed, with prices closing below the neckline this past week. A downside target is $90.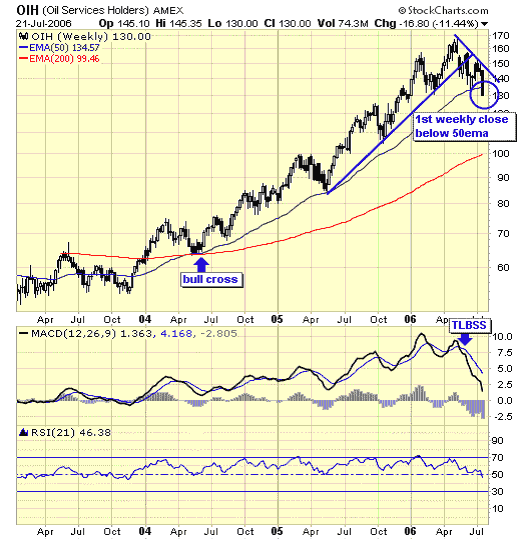 The weekly chart shows a weekly close below the 50ema for the first time since the "bull cross" in 2004, thus ending the impulsive phase of this bull market, and we are now in a corrective phase. A reasonable target is the 200ema at $100. If it overshoots a little, the head & shoulder breakdown target of $90 seems achievable.
The signals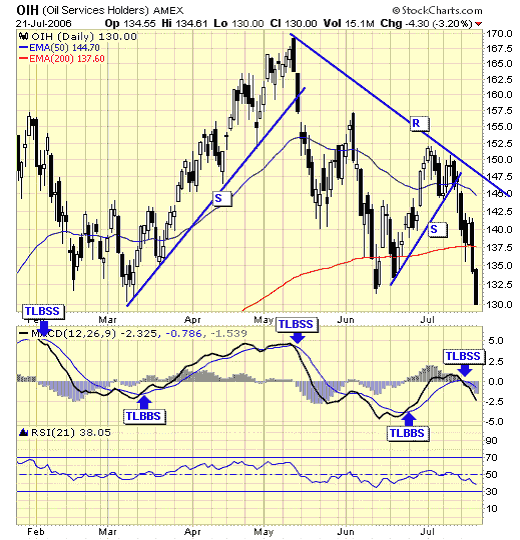 OIH – currently on a sell signal, traders should be short or in cash.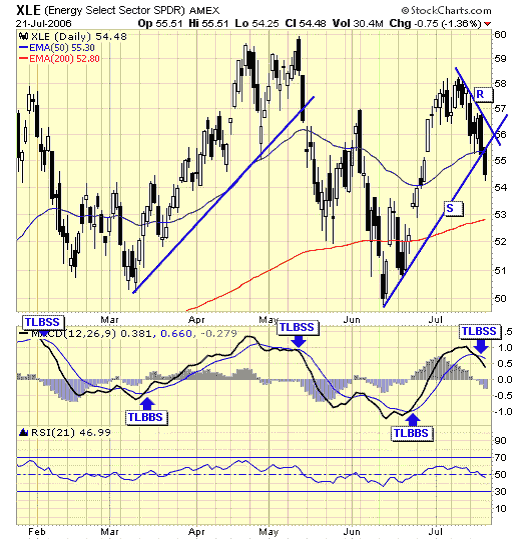 XLE – currently on a sell signal. Traders should be short or in cash.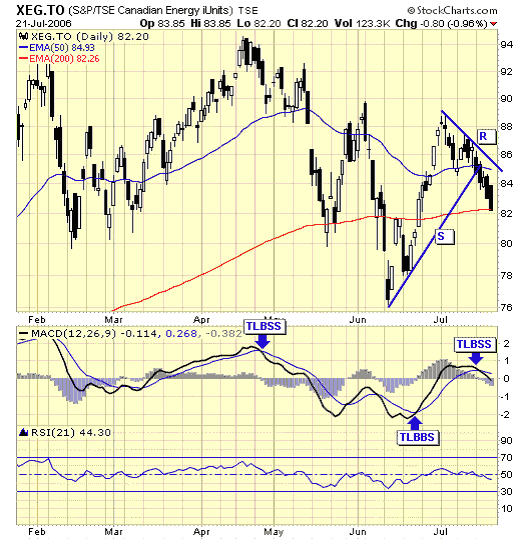 XEG.TO – Canadian traders should be short or in cash also. This Cdn energy ETF is very difficult to short due to its illiquidity. There is a new solution…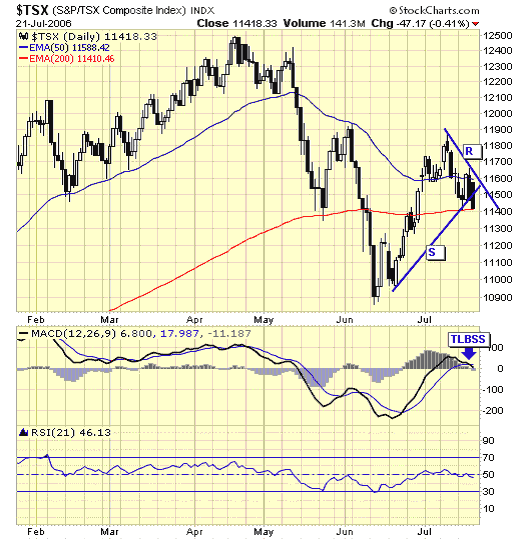 The Toronto index is heavily weighted with energy and metals, and the current sell signal allows Cdn traders to short the index with an inversed fund, the $TSX bear fund, which became available recently in Canada. These bear funds are RRSP eligible and make an excellent hedge for those who are invested in Canada, and for traders looking for short term gains. Details on these funds, when and how to buy them, are for subscribers only.
Summary
There you have it.
current analysis suggests lower prices ahead for the energy sector. Our trading model is on sell signal, therefore, traders should be short or in cash. Know your risk and manage it, do not become complacent. Markets can turn on a dime, and capital preservation is priority number one. Jack Chan
July 24th, 2006
website:
www.simplyprofits.org