Oil for China
Dr Thomas Chaize
December 16th, 2009
Email:
dani2989@voila.fr
www.dani2989.com
"
News
" of the week in world oil prices is that Chinese oil companies are in talks to buy 6 billion barrels of oil in Nigeria for 50 billion dollars, part of which are offshore fields unused by Western companies. To give you an order of magnitude, 6 billion barrels this is equivalent to half of Total reserves, or almost twice of oil reserves of Italian company Eni.
Since the beginning of the crisis, Chinese oil companies have signed contracts with Brazil (10 billion), Kazakhstan ($ 10 billion), Angola (1.3 billion), Ecuador (1 billion), Iran (4.7 billion dollars), Chad (0.9 billion), Russia (25 billion), Argentina (17 billion dollars), Singapore, Peru and Burma . They also purchased two Canadian oil companies (499 million and $ 7.2 billion) with assets in Nigeria, Gabon, Iraq, Libya and taken stakes in major projects in the gas in Australia (41 billion) and sand sands in Canada. While Europe and North America kept on a drip the banking sector, China bought into balance all that was available in oil.
China is acting like a Rockefeller in the early oil when everybody doubted, it buys "believed with oil, fall is no reason to fear but a chance to buy" John Davison Rockefeller. China has not only the obsession with oil, it also buys coal mines, uranium and invests heavily in renewable energy. Energy policy in China is very, very consistent.
Yes, China does so to support its future growth and there is a great way to convert his mountain of greenbacks. But if we look a little further, I think Chinese are acting with such consistency and determination because they are convinced of the imminence of peak oil ...
Find the mailing Dr. Thomas Chaize on gold, silver, oil ... on its website by
clicking here.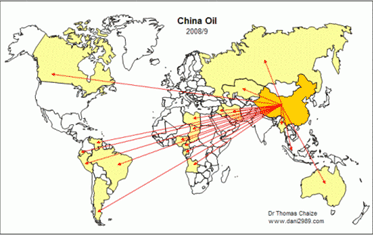 Dr Thomas Chaize
December 16th, 2009
Email: dani2989@voila.fr

This analysis is available for members of the mailing list free site Dr.Thomas Chaize.
To subscribe to the free mailing list here.
Paid subscriptions and reports here (Geothermal).