The price of a barrel of oil in the short term
Thomas Chaize
February 18th, 2009
Email:
dani2989@voila.fr
www.dani2989.com
The price of oil is in horizontal channel in the short term between 35 to 50 dollars.
To short term
(1 to 3 months) :
Two solutions:
Out of the $ 50 resistance: bull signal, $ 65 minimum target.
Out of support for $ 35: bear signal, $ 20 target.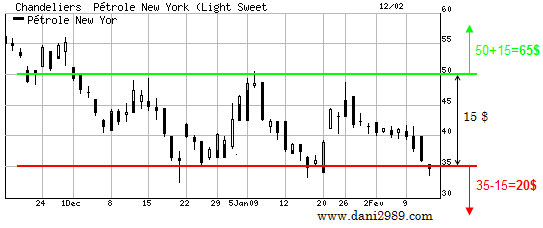 To Medium-term
(2 years) :
The price of oil barrel is building a foundation on the $ 35, the strength of this support must be monitored.
The severance of $ 35 is "possible" and not "probable." This breakdown of $ 35 would result in a decrease in the area of $ 20 a barrel. Ultimately this would have a devastating effect on the long-term production.
To the long term
(5 years): Violent consolidation to these recent months does not affect the upward trend in the long term.
We have seen a small drop in global demand accompanied by a violent collapse of oil prices, now it destroyed new projects.
We will then assisted the opposite scenario, ie a small decrease in supply and prices satellization barrel.
"
Believed in oil, fall is not a reason to fear but opportunity to purchase
"
John Davison Rockefeller
Dr Thomas Chaize
November 6th, 2008February 18th, 2009Email: dani2989@voila.fr

This analysis is only available to the members of the mailing lists free site :
To register you on the free mailing list :
http://www.dani2989.com/mailing%20list/mailinglist.htm
(You can left at any time my mailing list with a simple email at the same address)